Former prime minister Dr Mahathir Mohamad claimed that Gombak MP Azmin Ali harbours ambitions to become the prime minister too, after the latter accused Mahathir of conceiving Perikatan Nasional (PN) as a means to retain power.
"That is why he has aligned himself with (Bersatu president Muhyiddin Yassin) and it has become clear today that Muhyiddin has placed Azmin as de facto deputy prime minister," Mahathir said in a statement today.
The Langkawi MP denied Azmin's allegations and said his stance of rejecting cooperation with Umno as a whole remains to this day.
If he was indeed the one who conceived the coalition, Mahathir asked rhetorically why he had rejected PN's offer to become prime minister.
"If there is anyone who cheerfully planned the formation of PN and (Bersatu's) exit from Pakatan Harapan, it must have been Azmin and Muhyiddin since they reaped the most benefits," he said.
He reminded that when the Sheraton Move took place in February, Azmin's position within PKR was threatened because of his strained relations with party president Anwar Ibrahim and his supporters.
Azmin was PKR deputy president at the time before defecting with several PKR lawmakers to join PN, which together with Bersatu's withdrawal from Harapan culminated in the collapse of the Harapan-led administration.
For the record, the deputy prime minister post is currently vacant. Instead, Muhyiddin had appointed four "senior ministers" to his cabinet.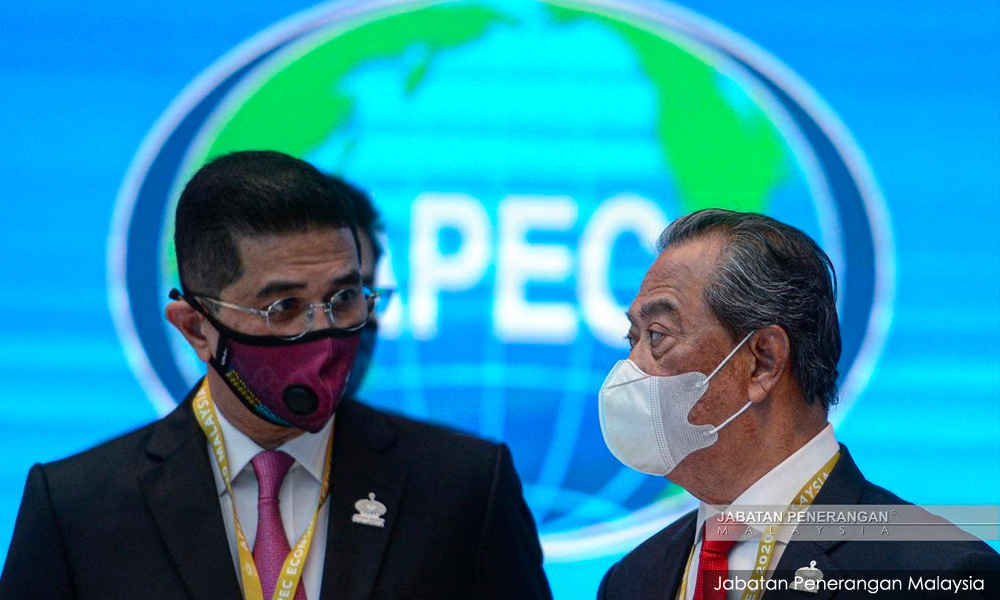 Azmin is the senior minister in charge of the economic cluster as well as the international trade and industry minister.
It was previously reported that Muhyiddin had refused to appoint Umno president Ahmad Zahid Hamidi as his deputy due to the court cases pending against the latter, though he is open to appointing other suitable candidates from Umno to the post.
Zahid had urged party leaders not to pressure Muhyiddin on the matter.
Meanwhile, Mahathir explained his controversial attendance at the Malay Dignity Congress on Oct 6 last year was to deny "kleptocrats" a platform to further its agenda against non-Malays.
He said Bersatu leaders Muhyiddin and Hamzah Zainuddin had been trying to persuade him that Anwar and DAP were planning to topple him, and he has to respond by joining forces with Malay parties.
At the same time, the nonagenarian said Umno had been instigating Malays to resent Harapan by alleging that it is being dominated by DAP and by playing up racial issues such as the Rome Statute, the death of firefighter Muhammad Adib Mohd Kassim in a riot and alleged Liberation Tigers of Tamil Eelam sympathisers among DAP ranks.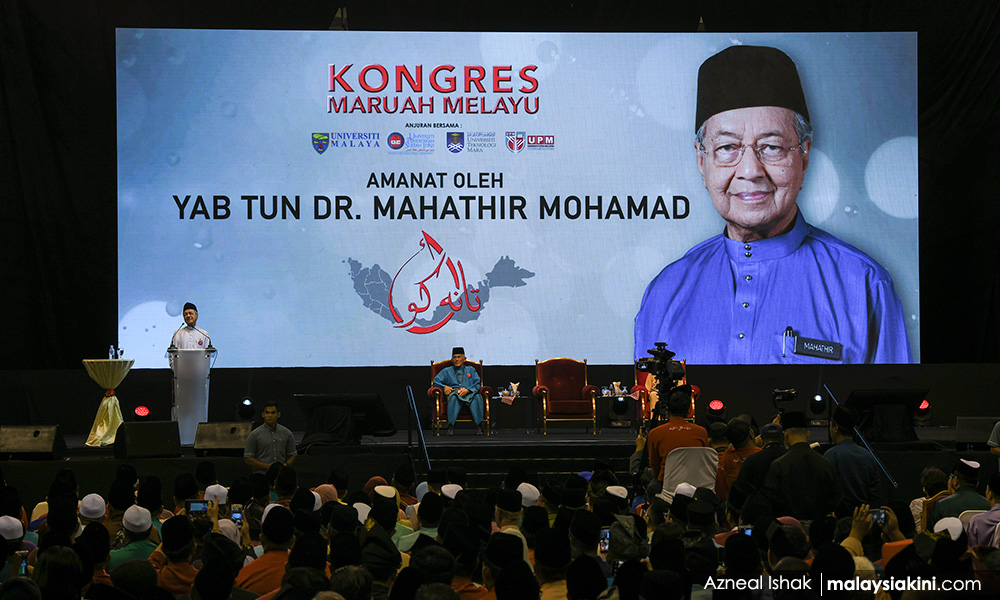 "As proof, today, all issues that arose regarding Malays/Islam is no longer an issue and is kept quiet just like that.
"That is why I agreed to attend the Malay Dignity Congress that is now being used to accuse me of supporting the formation of the Malay Dignity Congress.
"If anyone remembers, I used my attendance at the congress to remind Malays of the need to work hard and change their attitudes if they wish to remain competitive," Mahathir said.
"For me, it is better that I attend and lead the congress than to allow kleptocrats to use it as a platform to further their racist agenda against non-Malays and non-Muslims," he added.
In an interview published in The Star yesterday, Azmin had pointed out that the most prominent Malay leaders except Anwar were present at the congress.
He questioned why Mahathir had attended the event together with Umno and PAS if he was indeed opposed to working with Umno. - Mkini