Kelantan police have taken action against several jewellery shops around Kota Bharu due to buyers rushing to buy gold and failing to comply with Covid-19 standard operating procedures (SOPs).
State police chief Shafien Mamat said nine compounds have so far been issued to jewellery shop owners yesterday and today for failing to comply with the SOPs.
"We know that many people want to buy gold, but you have to make sure you wear your face masks and observe social distancing.
"At the same time, I have already instructed the police to monitor jewellery shops more often and take action if anyone fails to comply with the SOPs," he said when contacted today.
Gold prices have drastically dropped since the beginning of November, from a high of US$1,952.19 per ounce on Nov 6 but falling to US$1,789.03 per ounce as of today.
This has caused a 'gold rush' with many people crowding jewellery shops in order to buy gold jewellery.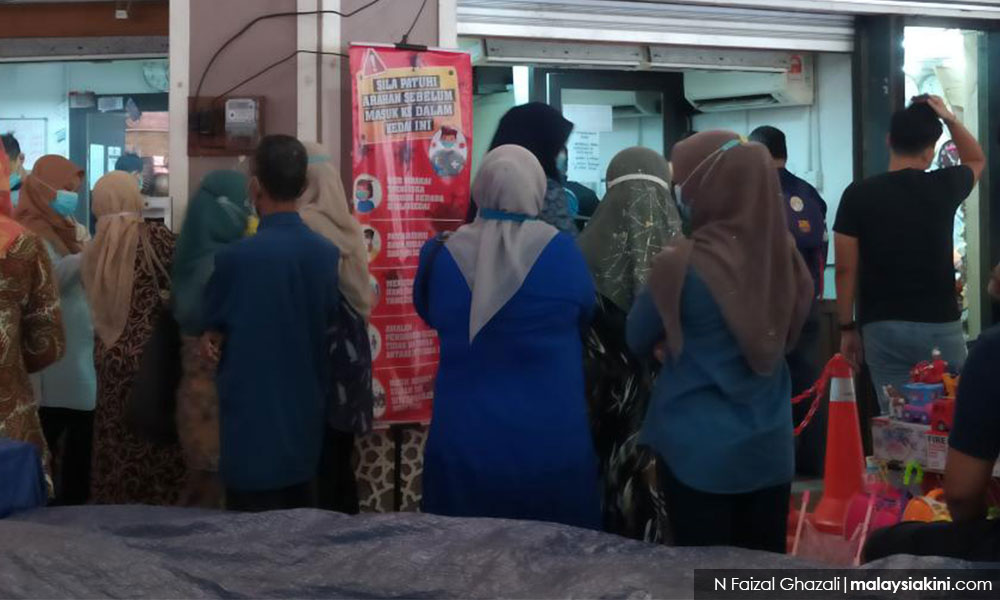 Malaysiakini's checks found that jewellery shops around Kota Bharu are full of buyers.
In some of the shops, customers were seen not complying with the Covid-19 SOPs as set by the government, such as failing to observe social distancing as they surround the jewellery display cases.
One customer, 36-year-old Rahayu Razali, said she and her sister had travelled from Jelawat, Bachok to Kota Bharu to buy gold jewellery.
"Many gold enthusiasts, including us, are taking this opportunity to buy the jewellery we've always wanted. Because now that gold prices have gone down, we can save and do not need to pay such a huge cost compared to when gold prices were sky-high.
"Of course there are many people because everyone is taking this opportunity to buy gold at a low price. About the SOPs, it should come down to each individual to take care and comply with the steps.
"Alhamdullilah, we can have assets and savings for the future," she said.
Meanwhile, Kelantan Health Department director Dr Zaini Hussin also reminded those buying and selling gold to pay attention to the SOsP because Covid-19 cases in Kelantan are increasing.
"So far, Kelantan already has three clusters, and we hope to get everyone's cooperation to break the chain of infection for Covid-19," he said. - Mkini