Pejuang's Kuang assemblyperson, Sallehudin Amiruddin said Azmin Ali was lying about former prime minister Dr Mahathir Mohamad's involvement in the Sheraton Move in February which resulted in the fall of the Pakatan Harapan government.
"I was at the Sheraton Hotel, and I was told that the statutory declarations were gathered without the knowledge of Mahathir and Mukhriz Mahathir.
"(I was told) they would form a new government called Perikatan Nasional (PN). The two prime minister candidates were Mahathir and (Prime Minister) Muhyiddin Yassin," Sallehudin said in a statement today.
He said Mahathir had refused to lead the PN government because that would mean he has to work with Umno en-bloc.
If Mahathir had set aside his principles and dignity, Sallehudin said he would have remained prime minister until today.
"It doesn't make sense for Azmin to say the idea to form PN was for Mahathir to become prime minister.
"The one who has grand ambitions of becoming prime minister is Azmin," he added.
This was proven, Sallehudin said, when Azmin, who is now the international trade and industry minister, submitted his own name as Selangor menteri besar in 2014.
The same thing happened after the last general election when Azmin again submitted his own name as the Selangor menteri besar without consulting the other Pakatan Harapan component parties.
"It was proven yet again when Azmin tried to go through the back door and asked Mahathir to appoint him as the deputy prime minister for Harapan.
"Mahathir rejected because the position of deputy prime minister had been promised to (then PKR president Dr) Wan Azizah Wan Ismail," Sallehudin said.
He claimed that Azmin is a power-hungry politician and that his statements today is to prevent Muhyiddin from appointing Umno president Ahmad Zahid Hamidi as deputy prime minister.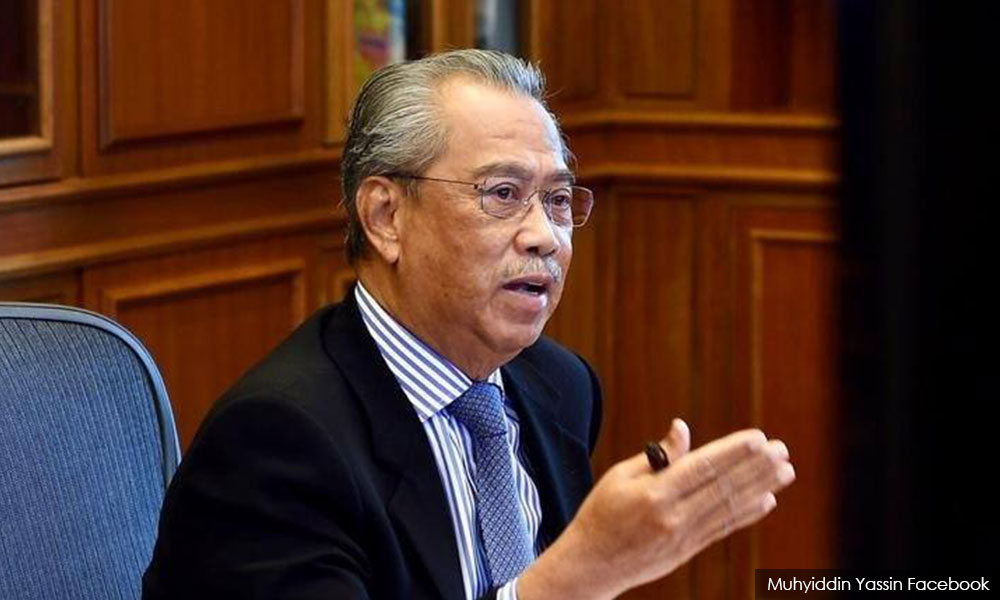 Currently, there is no deputy prime minister in the PN administration. Instead, Muhyiddin had appointed four senior ministers in charge of important portfolios, with Azmin being the one in charge of finance and economics.
In a separate statement, Pejuang information chief Ulya Aqamah Husamudin also said the idea of PN was "nothing but a mischievous scheme plotted by Azmin and Muhyiddin".
He said a few days before the last Harapan presidential council meeting, Azmin had given information that there were ploys to overthrow Mahathir during the said meeting.
However, during the presidential council meeting, what Azmin said did not come to pass as Harapan agreed to give full support and prerogative to Mahathir to decide on the transition plan, Ulya said.
"Even though the alleged overthrow did not happen, the traitors still wanted to continue with your plan.
"Mahathir pointed out that Azmin's allegations were wrong in the Bersatu supreme council meeting and it did not make sense to leave Harapan when Harapan was supporting Mahathir 100 percent.
"Muhyiddin still tried to push his agenda and convince that Mahathir will still be the prime minister for PN, meeting opposing arguments from the likes of Mukhriz, (former sports and youth minister) Syed Saddiq Syed Abdul Rahman and myself," he added.
Ulya said Mahathir had clearly stated in the Bersatu supreme council meeting that he does not want to break his promise to Harapan and that he cannot accept being a prime minister supported by the "kleptocrats".
Bersatu had then agreed to leave the decision to Mahathir, who then told Muhyiddin to call off any plans of meeting with the palace, with Azmin's faction, as well as with Umno and PAS, all of which Ulya claimed was pre-planned by Muhyiddin without consent.
"However, instead of cancelling all these plans, Muhyiddin and Azmin still continued the ploy, which led to the gathering in Sheraton.
"Having lost command of his own party due to the betrayal of Muhyiddin as president, Mahathir saw that with or without his consent, Muhyiddin and Azmin will still continue to overthrow Harapan.
"Mahathir did not want to break his promise for transition and did not want to be part of the notorious Sheraton Move (so he) resigned as prime minister.
"Azmin should stop feeding narratives which suit his plans. The rakyat will never forgive you for what you have done. The cause of this political instability is because of the greed from Azmin and Muhyiddin," Ulya said.
It was reported earlier today that Azmin had claimed the idea to form PN came from Mahathir himself as a way to make him a prime minister supported by all MPs across all parties. - Mkini