The National Union of Bank Employees (Nube) is urging the Employees Provident Fund (EPF), as a major shareholder of MBSB Bank Bhd, to sack the bank's acting CEO over alleged union-busting practices.
After five rounds of talks with the Kuala Lumpur and Selangor Industrial Relations Departments (IRDs), over 300 union members held an hour-long picket outside five MBSB Bank branches across Malaysia today.
The union called on the EPF, which holds a 65.4 percent stake in the bank's owning company, Malaysia Building Society Bhd (MBSB) to end the alleged union-busting tactics of MBSB Bank acting CEO Nor Azam M Taib and his Chief People Officer (CPO) Farid Basir by sacking them.
Nube secretary A Karuna, picketing at the Bangi branch in Selangor with 60 other members said since Nor Azam's arrival at the company last April, union members have been discriminated against, manipulated, union activities hindered, and vulnerable women members bullied.
Karuna added that while the union is keen to return to talks to resolve a list of 10 issues stemming from various actions taken by the bank, they have lost confidence in Nor Azam's ability to lead the talks with integrity.
Meanwhile, when contacted, the bank confirmed knowledge of the picket saying it respected union members' rights to peaceful assembly.
"We are focused on ensuring that this will not bring disruption to our services for our customers in all our 47 branches within Malaysia.
"We are currently in ongoing discussions with the IRD concerning some of the claims by union members and will continue to seek guidance from them in our objective to resolve this matter amicably.
"MBSB Bank is committed to growing alongside the evolving banking industry, which has accelerated further due to digital transformation and the changing customer behaviour.
"Our strategy and plans are made in respect of this ambition and our aspiration of becoming a top progressive Islamic bank together with our employees.
"In line with this, we remain committed to upskilling and reskilling as part of their talent development and career progression," the bank said in a statement.
Picketers were spotted by passers-by at the bank's Bandar Baru Bangi, Penang, Ipoh, Malacca, and Kuala Terengganu branches today afternoon.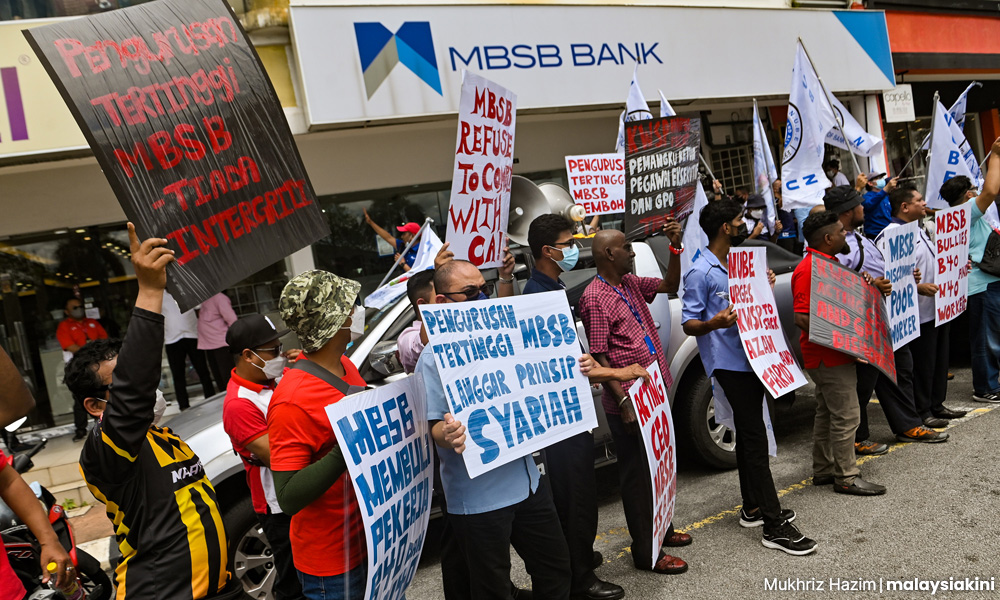 Passing drivers honked to show support while the police were present to guide traffic, take photos, and observe the picket.
IRD officers, who were at the Bangi branch picket, made their way past the picket line and into the bank, to which Karuna questioned why did not stop to speak to union members.
Both sides have filed complaints with the IRD under the Industrial Relations Act 2020. Nube filed two complaints under Section 8 highlighting union-busting tactics while the bank filed a complaint under Section 9(1A).
Karuna explained that Section 9(1A) provides the scope to determine if a worker fell under a clerical job scope and could join the union or was in the executive category which would deny them union membership.
She said the complaint under Section 9(1A) was lodged in the case of a worker in Bangi who has since been denied her performance bonus and annual increment.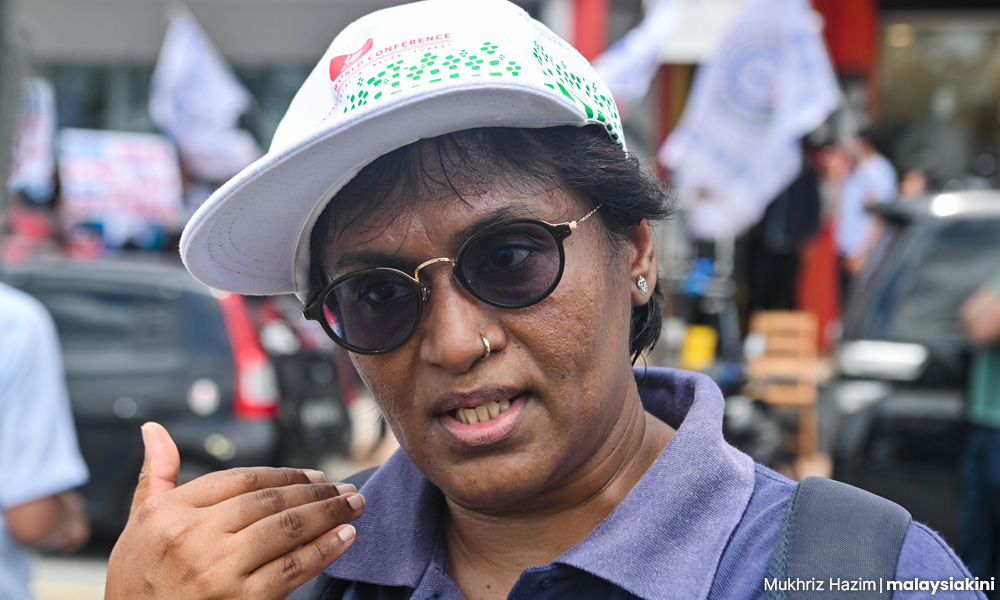 Karuna regretted that the bank would resort to "bullying a vulnerable female worker" while the Section 9(1A) complaint with the IRD was still ongoing.
Discriminating against B40, M40
Karuna said that, more recently, the bank discriminated against union members in the B40 and M40 (bottom and middle 40 percent of income earners).
"Last month, Nor Azam introduced a one-off RM1,000 payment to all those earning RM5,000 and below and called it the acting CEO's merit award but failed to pay 300 union members who fell under the same category," she said.
One such employee with 10 years of service at the Bangi branch told Malaysiakini he was disheartened the bank denied him the payout while his colleagues who were not union members received it.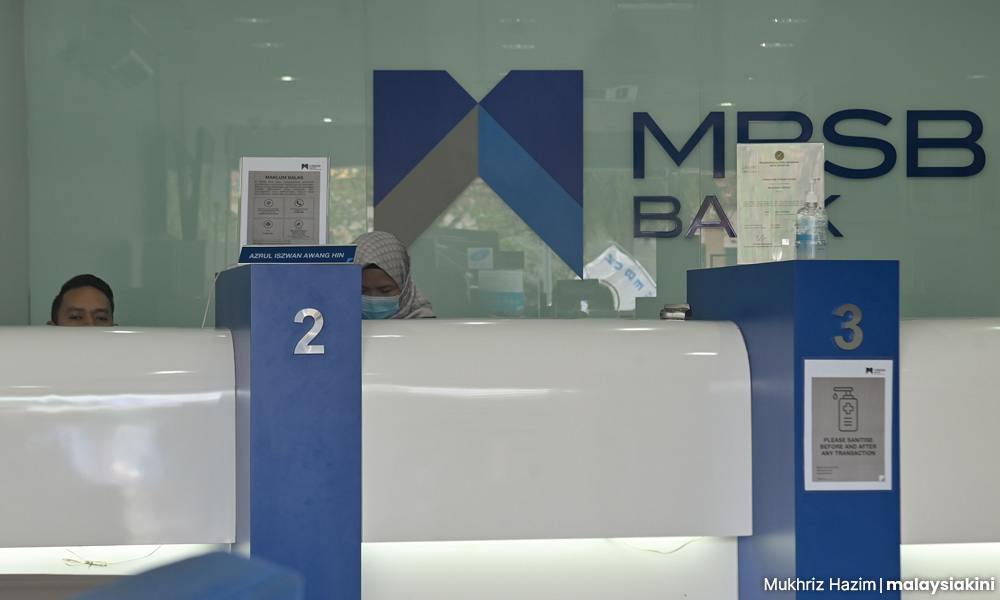 The employee, who declined to be named for fear of losing his job, said he worked his way up the ranks but was very saddened by the discriminatory behaviour of the bank.
Earning a monthly salary of RM2,500, the employee said he could have used the RM1,000 for the daily expenses of his family.
"I am married and my mother lives with us.
"My supervisor could only say that it was the decision of higher-ranking officers," he said.
The employee who is also subject to complying with a dress code set by the bank said the bank created its own rules which could cost him at least RM200 to comply.
"I have to buy new shirts, trousers, and shoes," he lamented.
Karuna said by imposing a dress code but not providing an allowance or providing the uniform to employees, the bank was in breach of the collective agreement which requires the bank to provide uniforms if they were required.
Covid-19 testing
Another serious complaint, Karuna explained, was employees being forced to foot the bill for Covid-19 tests.
She said once interstate travel restrictions were lifted, MBSB Bank forced employees to bear the cost of the RTK-Antigen and PCR tests for Covid-19.
She said employees were also forced to use their annual leave for quarantining before returning to work.
"This was in breach of industry practice," she said. - Mkini