PARLIAMENT | Two weeks after coming under fire for linking food to autism, PAS lawmaker Dr Halimah Ali has issued an apology - if her remarks were misunderstood.
This is after another lawmaker tried to refer her to Parliament's rights and privileges committee.
In her statement, read out in the Dewan Rakyat today, Halimah (Perikatan Nasional-Kapar) said she was only looking out for the public's interest.
"If any remarks were misunderstood, saya menyusun 10 jari," she said, using a Malay metaphor of putting one's hands together as a sign of apology.
Halimah then continued with a pantun (poem) about speaking up for the people and keeping the government in check.
Refer to Hansard
Halimah (above) reiterated her many calls to refer to the Hansard - Parliament's official transcript - in regard to her remarks.
Her statement had been jointly agreed upon with Dewan Rakyat speaker Johari Abdul, who opened the floor for Halimah to address the Lower House.
This was in response to Dr Kelvin Yii's (Pakatan Harapan-Bandar Kuching) motion to refer the PAS parliamentarian to the Rights and Privileges Committee for uttering untrue and irresponsible remarks on autism and disabilities.
On Feb 14, while debating the royal address, Halimah had cautioned the government against providing "low-quality" food to the public claiming it could expose them to cancer and autism.
"I want to talk about food security. These are basic needs. I, as a medical doctor, fear that when food security is desperate, it can bewilder the government.
"We don't want shortcuts; we don't want compromises from the supply of low-quality food.
"I have no problem with the term 'rahmah' or such, but don't let it reach a point where the poor B40 are given low-quality food supply that may also cause them to be exposed to cancer, autoimmune diseases, autism, and such", she had said, as per the Hansard.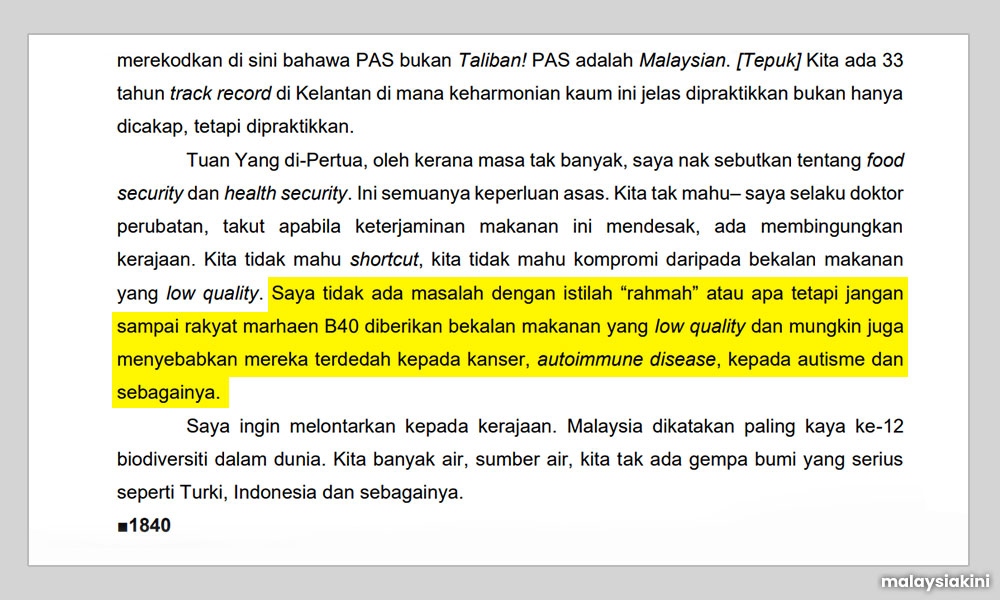 Her mentioning the term "rahmah" strongly implied that she was referring to the government's Menu Rahmah programme.
Widely panned
The government introduced the Menu Rahmah programme in January as an effort to tackle the rising cost of living.
Under the initiative, eateries and businesses would provide meals at RM5 and below.
Halimah's remarks were widely panned, including by autism groups.
The lawmaker has denied that she was talking about Menu Rahmah, citing how she had not used the word "menu" in her speech on Feb 14, and blamed the media for the backlash against her. - Mkini