Do presidents, prime ministers and other heads of government steal? Yes, that's a crude, point-blank poser, just as I intend it to be.
I don't think I have to be diplomatic or politically correct in my words, not when I'm on this dreaded subject of corruption.
And no, not after what we have seen and witnessed taking place within the corridors of power – millions, if not billions, being siphoned off by those in power and their cohorts.
Some people think that when they are in power, they are invincible and could steal with impunity. They are probably intoxicated with power too, believing that they will be sitting on the throne forever, and forgetting that we have an election every five years.
Media reports in these past few days alone of politicians and businesspeople being charged for alleged corruption must surely have got most of us fuming mad.
Assuming there was no change of government after GE15, we would never know of such blatant abuse of power and daylight robbery of public funds aimed to help genuine bumiputera contractors in dire straits. I'm referring to the Jana Wibawa scandal, of course.
Seriously, there are times when I don't think our leaders, even prime ministers, deserve any respect from us at all. Not when we know how adept they have been in abusing power. We should pluck up our courage and tell these so-called political leaders off, right into their faces, if and when we can.
Remember folk, (and I'm never tired of issuing this reminder) the people are the masters - politicians including the prime minister are paid from the public coffers to work for the citizenry. When they misbehave, it is our duty and responsibility to tick them off.
"The evil of corruption reaches into every corner of the world. It lies at the heart of the most urgent problems we face". That's a quote from former UK prime minister David Cameron.
Let me bring up the subject of corruption and British prime ministers; just the few recent ones from Cameron onwards.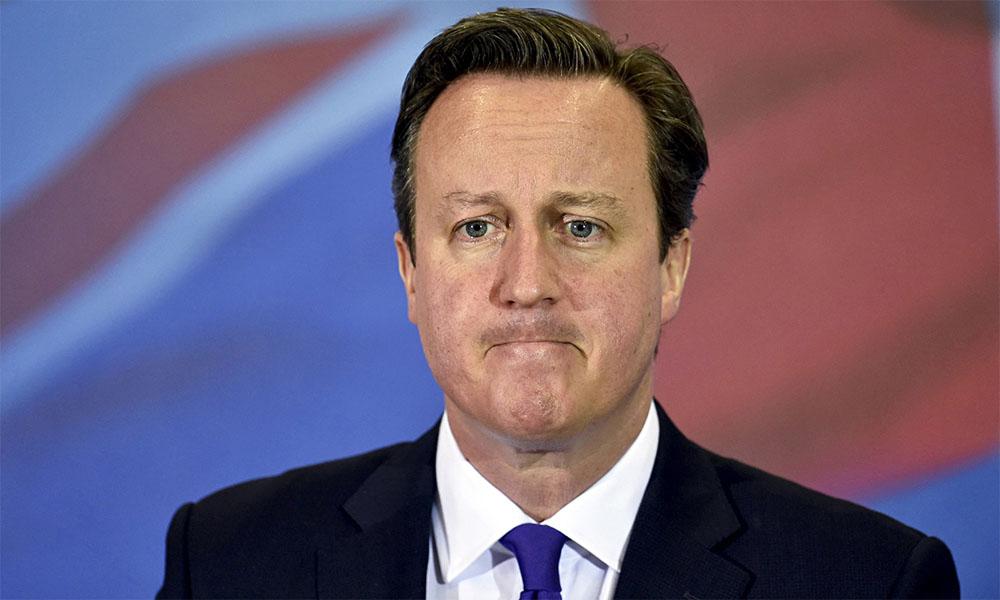 Since Cameron had spoken up so eloquently against the scourges of corruption, do you think he was corrupt during his six-year tenure as PM from 2010 to 2016? No, I don't think so.
Then, Theresa May was on the job from 2016 to 2019. Did she steal while in office? Nay, I don't think so.
Boris Johnson succeeded May and was in office from 2019 till September 2022. Was Johnson corrupt in office? Many doubt it as they knew he was busy with his new wife and having a baby at Number 10. Then, he was also caught partying in Downing Street during the pandemic lockdown.
Liz Truss spent seven weeks as the British prime minister, the shortest serving British PM ever. She didn't even have time to warm her seat at Number 10, let alone be tempted by the trappings of power.
As for the current PM, Rishi Sunak, in office since last October, he has a lot on his plate to think of than making sleazy deals.
As I write this, Sunak is trying to get Brexit's unfinished business done, seal a deal with Northern Ireland Protocol and draw battle lines with allies in a fight with Truss' faction within the Conservative Party.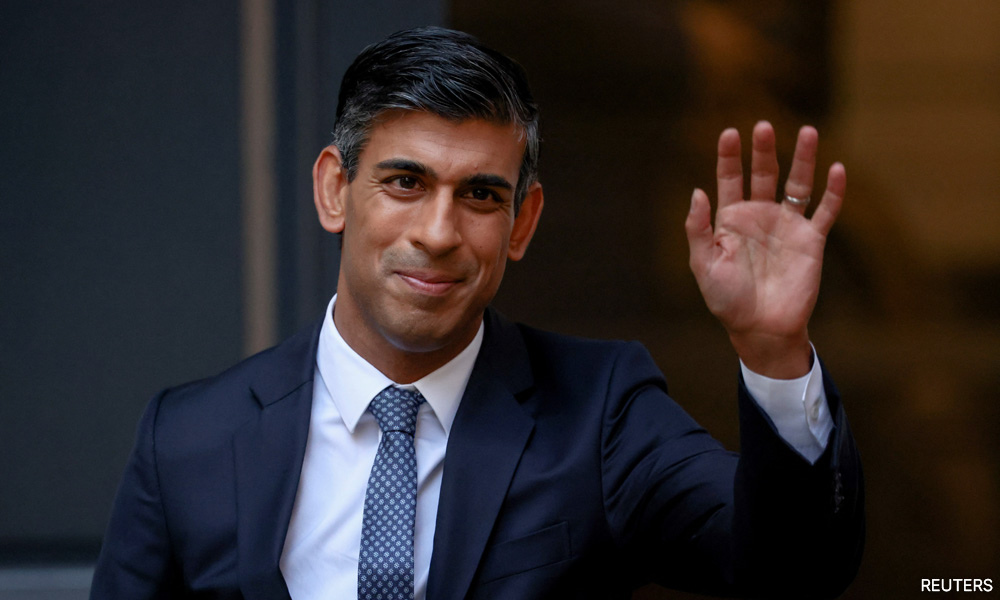 I have reasons for bringing up the previous five prime ministers of Britain here. Place them with our last five Malaysian prime ministers and let's compare notes.
From Cameron to May to Johnson to Truss to Sunak, we have not heard of any corruption scandals involving them. None at all. We have also not heard of them squandering millions of pounds on unnecessary, meaningless projects such as promoting the silly slogans of each prime minister, like in Malaysia.
The previous four British PMs were quick to tender their resignations as soon as they knew they were no longer tenable for the job.
On our previous PMs from Najib Abdul Razak to Dr Mahathir Mohamad to Muhyiddin Yassin to Ismail Sabri Yaakob, I cannot really state that they resigned voluntarily. Two of them were defeated in general elections and two were forced out by internal party struggles.
Well, did any of them steal when they were in power? One is already serving time after being found guilty of money laundering and graft charges. Another is said to be restless amid a MACC probe.
Anwar must walk the talk
As for our current PM, Anwar Ibrahim, I want to state that I believe he will not steal. Why am I so confident that Anwar will not be tempted? To be honest, I have no choice but to place my trust in him.
So, don't you dare touch a single sen which is not yours to take, Anwar. The whole of Malaysia is depending on you to fight corruption just as you promised to when you took office.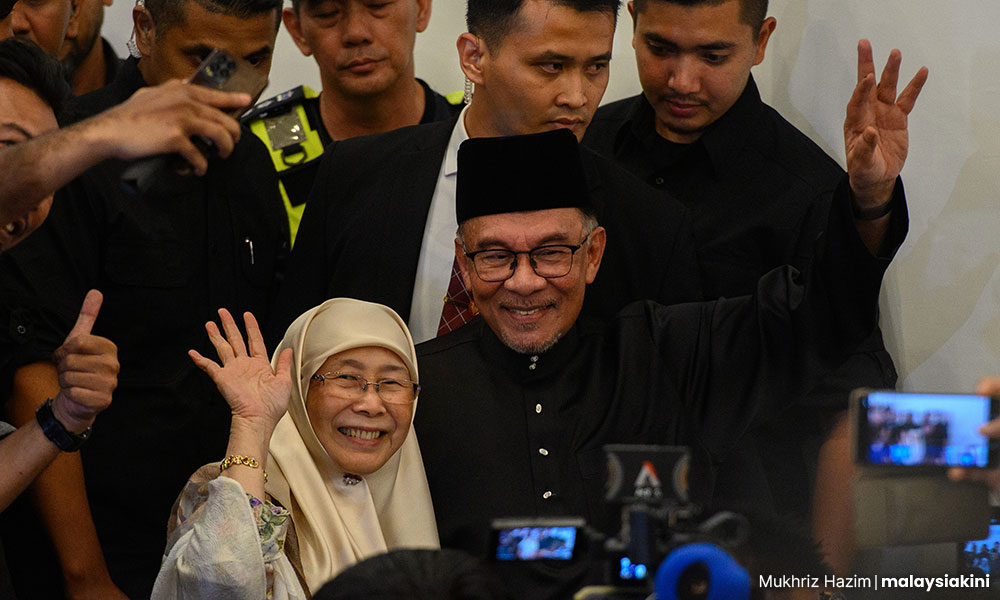 Anwar had entered the New Year with a pledge that he would be going after those who stole from the nation's coffers while in office.
And he is setting that in motion now.
I've also noted Anwar's serious tone when he made it clear in no uncertain terms, saying that although such practices were in the past, he was not going to let them (the guilty, corrupt ones) walk free.
The prime minister said the government would ensure the recovery of at least some of the billions of ringgit that were "unloaded" by former leaders.
I have to believe that our 10th prime minister means business and like many of you, I'm praying that Anwar's anti-graft crusade will succeed.
Oh, there is another reason why I believe Anwar will not steal. His good wife, Kak Wan (former deputy prime minister Dr Wan Azizah Wan Ismail), does not travel around the world shopping for diamond rings or Birkin handbags.
She is already satisfied with an RM50 Chinese or Japanese paper fan. With a responsible and understanding spouse like Azizah on his side, I'm very confident that Anwar will stay clean. - Mkini
---
FRANCIS PAUL SIAH is a veteran Sarawak editor and heads the Movement for Change, Sarawak (MoCS). He can be reached at sirsiah@gmail.com.
The views expressed here are those of the author/contributor and do not necessarily represent the views of MMKtT.