PARLIAMENT | Five individuals have been charged under the Sedition Act 1948 between 2018 and 2022.
Three have been convicted while another two trials are ongoing, the Dewan Rakyat was told.
During that period, there were 367 investigations under the Sedition Act.
Notably, the highest number of investigations papers (117) were opened in 2020 - the start of the Covid-19 pandemic.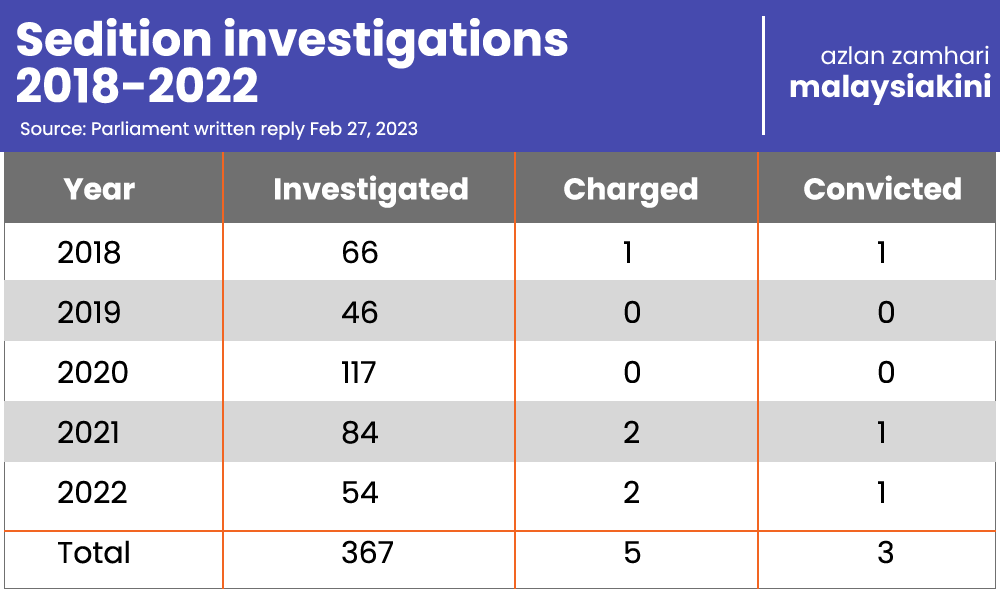 These figures were shared by Home Minister Saifuddin Nasution Ismail in a written reply to a question from Syerleena Abdul Rashid (Pakatan Harapan-Bukit Bendera).
The Sedition Act has often been cited as a law that has been abused to silence the government's critics and the press.
Among others, the law uses vague terminology such as "seditious tendency", "exciting disaffection", and "stirring up ill will", among others.
In 2015, the law was used to detain several journalists from the now-defunct The Malaysian Insider and publisher of The Edge, Ho Kay Tat.
Harapan promised to either repeal or amend the Sedition Act in its 2022 election manifesto. - Mkini