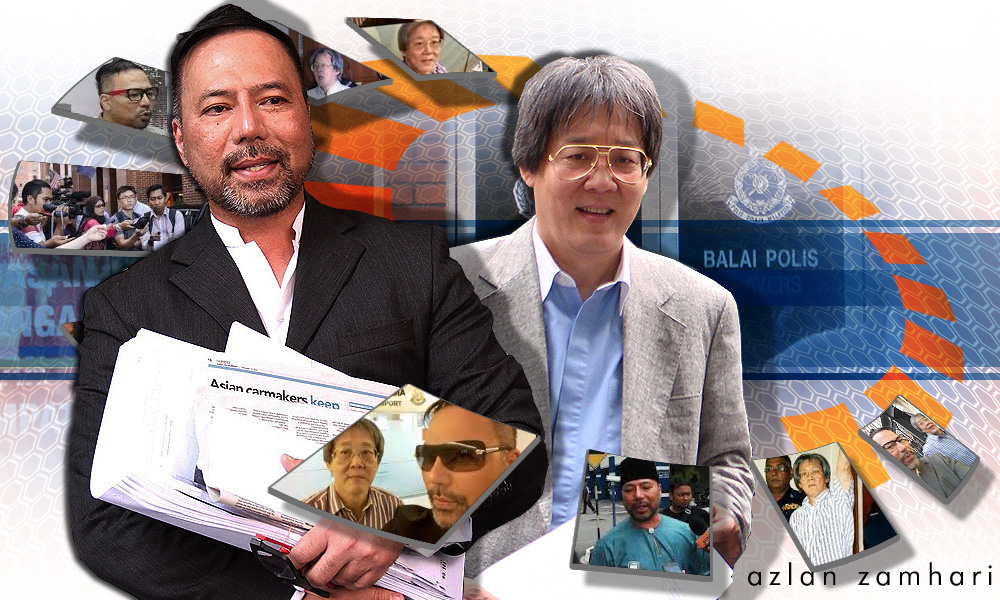 Khairuddin Abu Hassan and Matthias Chang are expected to file a suit against Prime Minister Najib Abdul Razak for their detention under the Security Offences (Special Measures) Act 2012.
Lawyer Haniff Khatri Abdulla, who is representing Khairuddin, said the lawyers have been directed to serve letters of demand on Najib, inspector-general of police Khalid Abu Bakar, Deputy Prime Minister Ahmad Zahid Hamidi and attorney-general Mohamed Apandi Ali.
"All of them had issued statements against my client Khairuddin following his arrest under
Sosma
.
"The claim is for malicious prosecution, defamation and unlawful detention that the two of them (Khairuddin and Matthias) faced, leading to the charge," Haniff told reporters after the case.
He said the suit would be filed after the letter of demands had been drawn up, and after Najib dissolves Parliament to call for the next general election.
This, he added, was to ensure that the 1MDB issue would be discussed during the general election campaign.
Haniff added that Khairuddin only lodged the reports overseas because there was no action taken against his complaints lodged in the country, since 2015, and after seeing the special task force established to investigate 1MDB, being disbanded.
Today, the Sessions Court in Kuala Lumpur
acquitted
Khairuddin and Chang on the charge of financial sabotage for lodging reports against 1MDB in five countries.
Haniff said they applied for the annulity of the charge against the duo as it was built on the base that the duo had been in police stations overseas to lodge reports, and said it was not an offence for Malaysians to do so.
Co-counsel Rafique Rashid Ali said after his client, Khairuddin, and Chong were released from Sosma on Nov 18, 2015, he and another lawyer had met with police chiefs in France and the United Kingdom, who he claimed had confirmed receving reports on 1MDB from Khairuddin.
'Victory for all Malaysians'
Meanwhile, Khairuddin said his acquittal, along with Chang's, is a victory for all Malaysians.
He said the fact that he had won in three courts, namely the High Court, Court of Appeal and Federal Court, showed that the reports he lodged against 1MDB overseas, were based on facts which are available and had strong basis.
"There are countries, including the US, Singapore, Luxembourgh and Switzerland, which have confirmed there is evidence of abuse and money laundering in 1MDB," he said, noting that there have also been arrests and prosecutions in some of the cases.
He thanked his lawyers, Parti Pribumi Bersatu Malaysia (Bersatu) chairperson Dr Mahathir Mohamad, his wife Dr Siti Hasmah Mohd Ali, as well as his own wife and children for the support offered during his ordeal. He also expressed his gratitude to the judiciary and the Prisons Department for dispencing justice and taking care of his wellbeing while in prison, respectively.
Khairuddin and Chang were detained at the Sungai Buloh prison between Sept 18 and Nov 18 2015. -Mkini