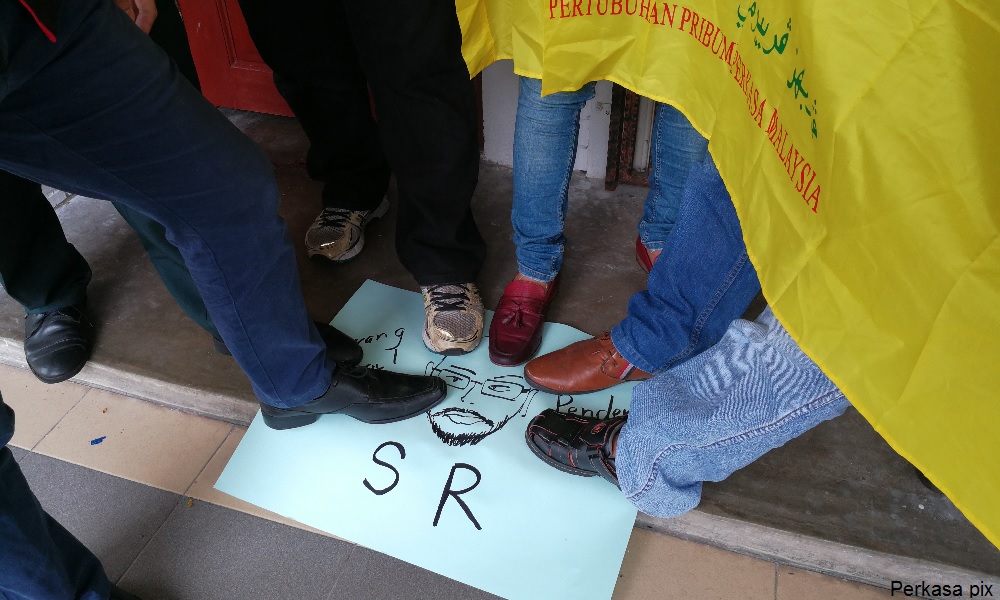 Perkasa Youth today protested outside Subang MP R Sivarasa's office in Kota Damansara and stomped on what appeared to be a caricature of the PKR leader.
The protest was led by Perkasa Youth chief Azrul Akmal Saharudin, who said the stunt was part of a campaign dubbed "Menapak Sivarasa Secukup Rasa" (Stomp on Sivarasa to your heart's content).
"It follows he's insolence in disobeying the Selangor Sultan Sharafuddin Idris Shah's edict preventing any unlicensed individuals from speaking at a mosque or its compound," he said in a statement today.
The group unfurled the Perkasa flag outside Sivarasa's office and stomped on a drawing of him which bore the words "SR" and "kurang ajar" (insolent).
The Selangor Sultan on Friday singled out Sivarasa, stating that he had crossed the line.
This was after photographs of Sivarasa speaking at Masjid An-Nur, Kampung Melayu Subang were circulated on social media.
Sivarasa had denied having given a political speech, stating that he was merely at the mosque to
provide contributions
and had briefly conveyed his Ramadan greetings when invited to speak.
The MP also said he will be
writing
to the Selangor Sultan to explain the incident.
Azrul slammed Sivarasa for not apologising the to monarch.
"Sivarasa not only went against the Selangor Sultan's edict but has been proud and arrogant by not apologising to the Selangor Sultan or showing remorse," he said.
Azrul claimed that Sivarasa had not only raised the ire of the Sultan but also of Muslims.
He urged for the defunct Internal Security Act 1960 to be reinstated so that the detention without trial law can be used in such instances.- Mkini