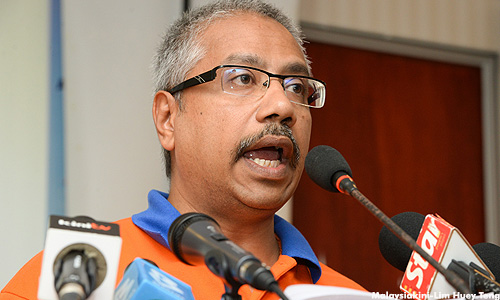 Persatuan Hindraf Malaysia (Hindraf) has written to the UN security council's counter-terrorism committee (CTC) asking it to advise Malaysia to revoke Indian national Zakir Naik's permanent residence (PR) over alleged terrorism-linked concerns.
Hindraf chairperson P Waythamoorthy in his letter yesterday to CTC chair Amr Abdellatif Aboulatta at the UN headquarters in New York, conveyed his NGO's complaints on the controversial preacher Zakir's presence and activities in Malaysia.
Waythamoorthy pointed out Malaysia is a member of the CTC and should therefore be advised on the "dangers" Zakir is believed to pose.
"The Malaysian social fabric made of a heterogeneous community, has a unique blend of harmonious relationship between each other irrespective of their race, religion or creed build over centuries.
"We are quite anxious with such character like Zakir Naik given impunity to move around freely, promoting enmity between different groups on grounds of religion, race, sectarianism and doing acts prejudicial to maintenance of our harmony in Malaysia.
"We are writing to your office with the hope that you could address this issue with the Malaysian representative who sits in your CTC to heed the warning on the anxiety of the Malaysian public and its long term damage direct and indirectly domestically and internationally," wrote Waythamoorthy.
He said this is particularly since Zakir is
unwilling
to return to India to face money-laundering and terrorism-related
charges
, and speculated the preacher may be shifting his base of operations to Malaysia.
Zakir's PR status in Malaysia has riled certain quarters, particularly the non-Muslims, some of whom have taken offence with several of the preacher's sermons.
Hindraf, in particular, was caught in a war of words last week with one of Zakir's many local advocates, Perlis mufti Asri Zainul Abidin, after the latter wrote a
poem
defending the preacher's PR.
Even BN's Health Minister Dr S Subramaniam criticised the award of Zakir's PR, accusing the preacher of "
inciting
divisive forces".
Waythamoorthy said amongst Zakir Naik's "notable followers" were Afghan-American suicide bomber Najibullah Zazi, Kafil Ahmed, Islamic State (IS) member Ayaz Sultan and other Indian-based figures variously linked to terrorist activities, such as Rahil Sheikh, Feroz Deshmukh, Rohan Imtiaz, Ibrahim Yazdani and Naimathullah Hussaini.
"We, in Malaysia, do not want our country to be used for terrorist installations or training camps, or for the preparation or organisation of terrorist acts intended to be committed either domestically or internationally," he said.
Noting the CTC's guiding principles include active and passive support of terrorists and international cooperation against terrorism, Waythamoorthy urged the committee to "advise" the Malaysian committee member of Malaysia's "obligation to deny Zakir, who is a fugitive, safe haven" and to therefore revoke his PR.
The CTC, he said, should also advise Malaysia to "apply the principle of extradition to avoid and prevent any future calamity by allowing Zakir to remain in Malaysia with the ability to move around freely in carrying out his ideology that is against public interest in Malaysia".- Mkini