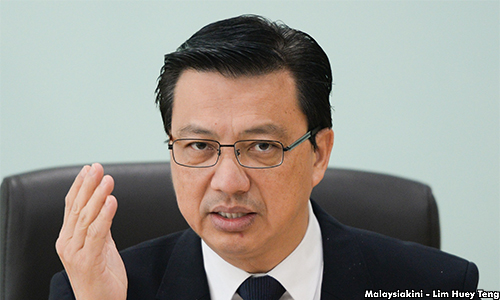 Vehicles from Thailand will be subjected to the road charge (RC) soon after the cabinet approved the payment collection such as the one being implemented at the Malaysia-Singapore border.
Transport Minister Liow Tiong Lai said negotiations were being carried out with the relevant parties, particularly the Finance Ministry and the government of states that are the gateway to Thailand, namely Perlis, Kedah, Perak and Kelantan.
"The fee to be imposed will be RM20. For every state that collects from their borders, we will return RM5 to the state government concerned such as practised in Johor," he said.
Liow disclosed this at a media conference after launching the 71st national level Road Transport Department Day celebrations at Bentong Square today.
Also present were RTD director-general Nadzri Siron, National Institute of Occupational Safety and Health chairperson Lee Lam Thye and Pahang Public Utilities and Environment Committee chairperson Mohd Soffi Abd Razak.
Liow, who is also Bentong member of parliament, said RC collection for vehicles from Singapore since it was implemented in Aug 15 last year stood at RM7.9 million.
However, he said, it was implemented not solely for profits but also for security purposes to ensure cloned cars from the republic did not enter the country.
"They must go back. We can track," he said, adding that previously a lot of "end-of-life" vehicles of over 10 years were sent to Malaysia.
In another development, he said 17,823 notices were issued since the Automatic Awareness Security System (Awas) which combines the demerit points on road offences system and automatic enforcement system was enforced on April 15.
Of the total, he said, 15,492 notices were related to speeding offences while the remaining 2,340 were for jumping the red light.
"At the camera area (AES), the compliance rate now is at 95 percent (from only 50 percent previously). People are slowing down and more discipline. I am so happy with the cooperation from the rakyat," he added.
- Bernama