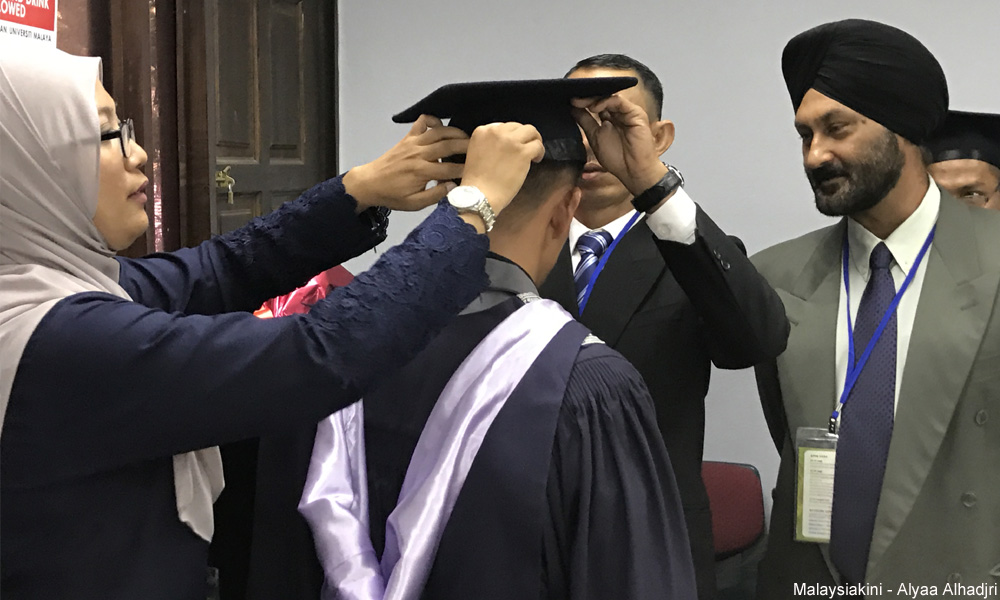 Fattah A* (not his real name) entered Kajang prison in 2001 as a teenager.
He spent three years behind bars before he was convicted for drug offences. As a minor, he was sparred the gallows and sentenced to life imprisonment.
After 16 years in prison, Fattah, along with another Kajang inmate, today joined over 600 graduates who received their certificates from Open University Malaysia.
The two Kajang inmates were awarded a degree in Master of Business Administration.
"Education is important because I can see the difference within me.
"In the past, when I make any decisions, I would only think of my own satisfaction. Now, I will think of the consequences to the society," the 30-year-old Sabahan told reporters before the convocation ceremony in Kuala Lumpur today.
Fattah had enrolled in the Sekolah Integriti Kajang programme and sat for his SPM examinations in 2006. He would later pass his STPM exams and complete a Bachelors Degree in Business Administration - also through OUM.
"I will continue my studies so long as I am given the opportunity to do so.
"I have ambitions to keep improving myself," said Fattah, adding that his next goal was to pursue a doctoral degree through OUM.
Fattah does not know when he will be released. He was sentenced to life imprisonment, under the pleasure of the Agong and has to depend on a pardon if he was ever to be released.
Even if he is eventually released, Fattah said that he was prepared to face the possibility that his qualifications may not remove the stigma of being an former convict.
"But it all depends on me. How I deal with the situation," he said, adding that his family has been giving him a lot of support.
OUG vice-president Shaari Abdul Hamid was honoured to cooperate with the Prisons Department and offer inmates a second chance.
"I was informed that he will be graduating today and was keen on further studies. So I came to meet him to inform him of the available options," he said.
According to Prisons Department director Nordin Muhamad, there are 167 inmates who will be taking the SPM examinations this year under the Integrity School programme.
He said inmates who were offered a chance to pursue their education goals are less likely to become repeat offenders.
To date, OUM has enrolled 45 inmates in various programmes. Six have graduated thus far.- Mkini