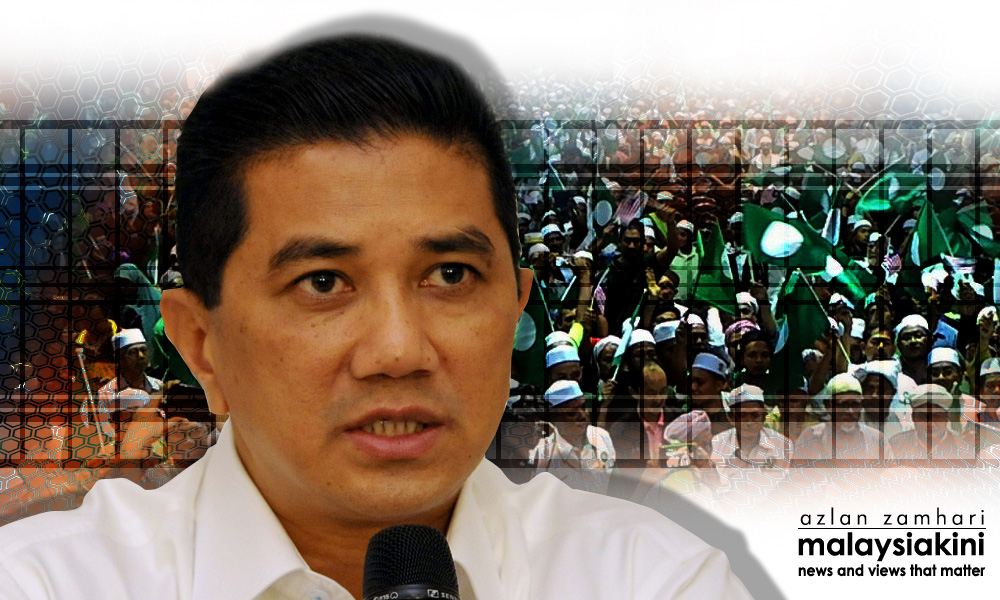 Although he was the target of
criticisms
at the PAS Youth muktamar, PKR deputy chief Azmin Ali said he would "put them all aside" for the sake of the country.
"My job is to continue the reformasi struggle to save the country," said the Selangor menteri besar at the party's state convention in Seberang Jaya, Penang today.
"Any coalition or group, even husband and wife would have differences, but are these differences an excuse to end the relationship?" he asked.
"Yes, we have differences but I invite everyone, those within and without the party, let's continue with our reformasi struggle if we want to see change in this country.
"Let's put aside personal and personality differences and resolve our differences gracefully (dengan sopan)."
Azmin's plea came in the wake of old time coalition partner PAS planning to sever ties with PKR for allegedly not supporting president Abdul Hadi Awang's move to table amendments to Syariah Courts (Criminal Juridiction) Act 1965 or Act 355 in Parliament.
Delegates at the PAS 63rd muktamar in Kedah have
fired
a series of salvos against Azmin and PKR and the Islamic party's Dewan Syura will decide on the matter after the muktamar, which ends on Monday.
Azmin said a political struggle is not about power.
If it is about power, there would be power struggle among enemies and friends, he added.
Azmin reminded party members that despite the attacks from certain quarters, PKR is not alone.
The DAP has supported PKR for years since the party was formed in 1999, Azmin recalled.
Today, PKR has new friends in Parti Amanah Negara and Parti Pribumi Bersatu Malaysia.
"The people vote for us not to see us fight. The people want to see us deliver change. No one will just vote for us to see the end of Umno".
Invited to attend PAS muktamar
Meanwhile, Azmin tried to dismiss the rift with PAS further by claiming that he was invited to attend the muktamar by the party's spiritual advisor Hashim Jasin.
However, he could not attend the event due to his trip to Taiwan and the state PKR convention, which was attended by 1,000 members today.
Later when met by reporters, Azmin said political leaders must not be too emotional or impatient.
"We must be patient and decisions must be made by consensus," he said when asked why he was afraid of expressing his real feelings about PAS.
On why he is not defending PKR's dignity by allowing PAS to denigrate the party, Azmin said: "The people will decide PKR's dignity."
Asked about his next move if PAS Dewan Syura approves of the delegates' proposal to end ties with PKR, he replied "don't speculate".
Azmin expressed confidence that PAS would decide on the matter in the spirit of a bigger coalition.
On PAS Youth chief Muhammad Khalil Abdul Hadi's
remark
that he has no power on PAS state executive councillors in Selangor, Azmin said that is "their own views".
Khalil had said this after PKR secretary-general Saifuddin Nasution told PAS Selangor excos to relinquish their posts if the party decides to cut ties with PKR.
"They have not made any decision and we will wait for the decision of the Dewan Syura.
"You must understand the process in PAS, decisions are not made at the muktamar but at the Dewan Syura," he said.
Regarding the delegates' criticism towards him, Azmin said it was part and parcel of the party's democracy.
"I have no problem with that".
Azmin also denied that Pakatan Harapan would fail to retain Selangor in the coming national polls due to the fall-out with PAS.
"PAS is still part of the Selangor government. Our only enemy is BN and Umno".- Mkini