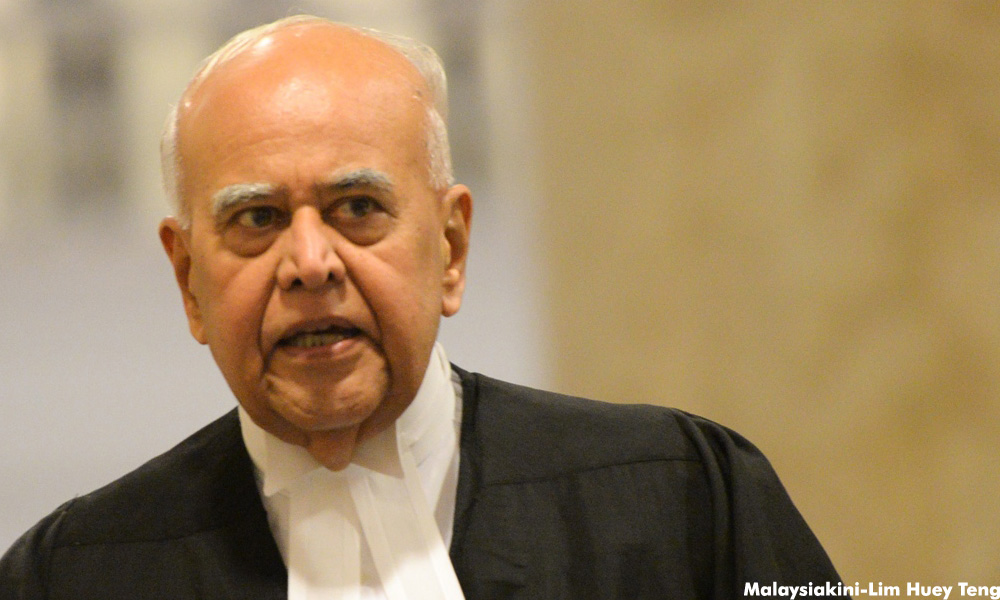 Kuala Lumpur High Court judge Abu Bakar Jais has got it all wrong when he decided to strike out the suit filed by former premier Dr Mahathir Mohamad and two others against Prime Minister Najib Abdul Razak, says former Federal Court judge Gopal Sri Ram.
Sri Ram, who had served in the Court of Appeal for 15 years before being elevated to the highest court in 2009, said the action brought by Mahathir is based on the well-established common law tort of misfeasance in public office.
"It is not brought under an act of parliament. It is also not an action brought for violation by the executive of a constitutionally-guaranteed right.
"Therefore, neither the Federal Constitution nor the Interpretation Acts have any relevance to establishing who is a public officer for the purposes of the tort of misfeasance in public office.
"There is, therefore, a fundamental error in the judgment. And the judge is as wrong as wrong can be," he said.
Sri Ram, who has seen a copy of the
judgment
, was asked to comment on the decision yesterday.
It was reported justice Abu Bakar
struck out
the RM2.642 billion suit Mahathir and former Umno grassroots leaders Khairuddin Abu Hassan and Anina Saadudin had filed against Najib, on the grounds that a prime minister is not a public officer but a member of a government administration.
He said his
reasoning
was based on the federal constitution and the Interpretations Act 1948 (1967).
'Judiciary put in bad light'
Sri Ram said the KL High Court judge, who has a reasonable command of the law, should be able to see this point of not going into the federal constitution and the Interpretations Act to determine who is a public officer.
He said Mahathir's lawyer Haniff Khatri Abdulla was right in his argument and that the suit should have gone to trial.
"To sum up, the court got the law wrong. It is decisions like this one that puts our judiciary in a bad light in the international legal scene.
"And there is no need for a court that is confident of its decision to frame its judgment in an apologetic tone. If the law is clear, then why the need for an apology?" he asked
Justice Abu Bakar in his decision yesterday noted there are perhaps strong reasons for Mahathir, Khairuddin and Anina to sue the prime minister, but argued they must first prove that the positions that Najib holds are public offices.
The judge added there may be millions of people who would support and understand why the plaintiffs are suing Najib.
"But for all and sundry, it is fundamental to appreciate a suit can only stand based on the law that is applicable. Our own law as explained, no matter how unreasonable it may be perceived, does not permit the plaintiffs' suit," the High Court judge explained.
Justice Abu Bakar further noted his judgment may result in him being unpopular but the court should decide a case based only on the laws applicable.- Mkini