Prime Minister Anwar Ibrahim must ensure that his cabinet members declare their assets to the public, Parti Sosialis Malaysia (PSM) said.
Party deputy chairperson S Arutchelvan said it is critical for the new administration to set a new precedent.
Arutchelvan (above) also lauded the Pakatan Harapan chairperson for wanting to form a lean cabinet, noting that his predecessors, Muhyiddin Yassin and Ismail Sabri Yaakob, had bloated cabinets as a result of having to please the different political forces.
"Anwar should play the game differently and let the rakyat judge him.
"For a start, he should ask all cabinet members to declare their assets to the public and not to the prime minister, as done in the past.
"When Anwar himself can declare his assets to the public, he must set the same standard of transparency for his ministers to convince the public that he is heading a clean government," Arutchelvan told Malaysiakini this evening.
In the run-up to the recent general election, Anwar declared that he had assets worth some RM11.2 million, which included a house and three plots of land worth RM10.35 million and about RM829,000 in cash and savings (charts below).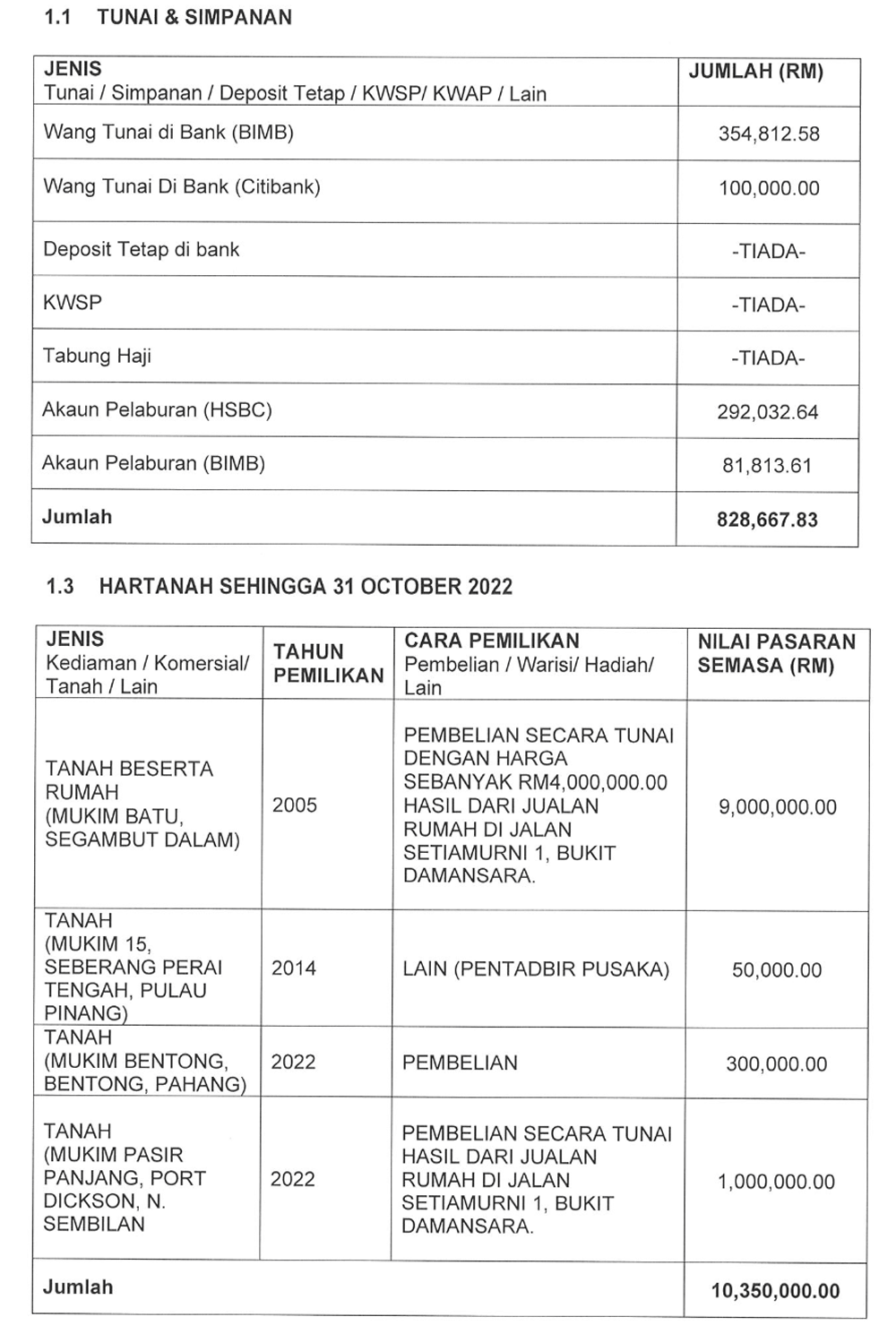 Anwar has promised to form the cabinet as soon as possible, after taking into account the views of all parties, including those who have advised him against appointing the "court cluster" or those with pending cases.
If he heeds this call, this would affect BN chairperson Ahmad Zahid Hamidi, whose support proved crucial for Anwar during the political deadlock, DAP chairperson Lim Guan Eng and Muda president Syed Saddiq Syed Abdul Rahman.
However, the prime minister hinted that there might be room in his cabinet for these individuals based on the legal principle of innocent until proven guilty, stating "but as we know from a legal standpoint, only when there is a sentencing... the rest will be considered".
Artuchelvan also said that transparency and good governance, which have long been espoused by Anwar and Harapan, must also apply to GLC appointments.
"Credible individuals should be hired for these positions. This will indeed boost investor confidence and help in economic recovery," he added. - Mkini