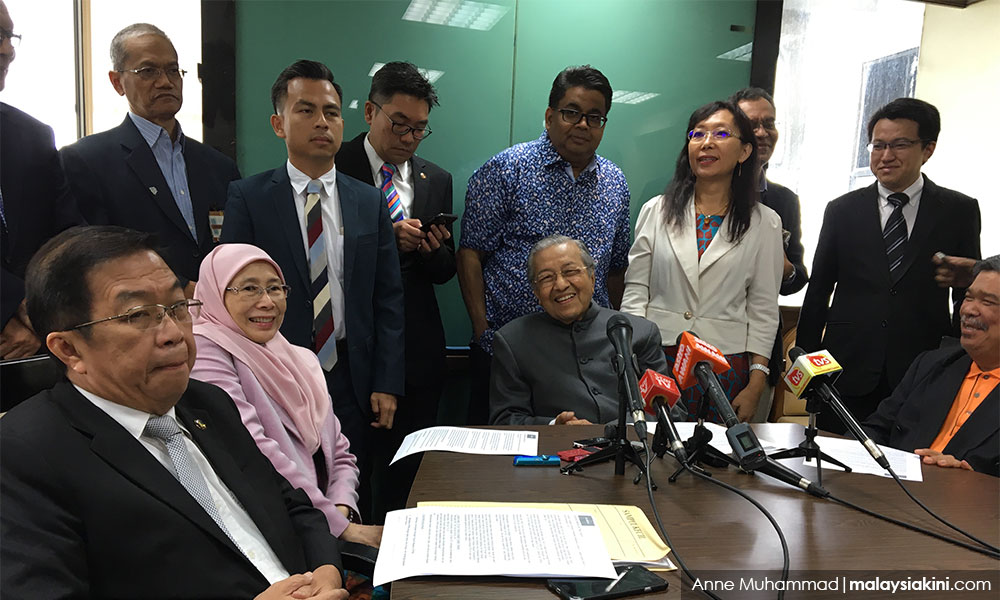 Dr Mahathir Mohamad has promised a "shark-hunting" fest during the first 100 days of Pakatan Harapan forming the federal government.
The opposition coalition's chairperson said "Malaysian Official 1 (MO1)" would not be spared from the dragnet either.
MO1 was first mentioned in the United States Department of Justice (DOJ) civil forfeiture suits related to 1MDB.
Minister in the Prime Minister's Department Abdul Rahman Dahlan later confirmed MO1 was Prime Minister Najib Abdul Razak.
However, he said since the filings did not mention the prime minister by name, the latter was not a subject of the investigation.
Speaking at a press conference in Parliament, Mahathir said the crackdown was to ensure Malaysia would be ranked among the top 10 corruption-free nations in the world.
"The MACC currently reports straight to the prime minister. They only catch the 'small fish' which are low-ranking or mid-level government servants.
"But sharks such as MO1 continue to be free. We promise to clean Malaysia from corruption, starting from the top leadership," he added.
Meanwhile, Mahathir said Harapan would also form a Royal Commission of Inquiry (RCI) into the alleged misappropriation of 1MDB funds as well as the Federal Land Development Authority (Felda) case.
The coalition, he added, would also look into establishing an independent body which would work on returning public funds which have been embezzled.
As for the MACC, Mahathir said the commission would be placed under the purview of Parliament instead of the prime minister.
The former premier said Harapan would also abolish direct negotiations for government contracts while political contributions must be made straight to the respective political parties as opposed to individuals.
He added that a cap of RM200,000 per year per transaction would be put in place while a contribution more than RM10,000 must be recorded.
Najib has denied abusing public funds for personal gain and blamed such allegations on those conspiring to topple him from power.
Attorney-general Mohamed Apandi Ali has also cleared Najib of any wrongdoing.- Mkini