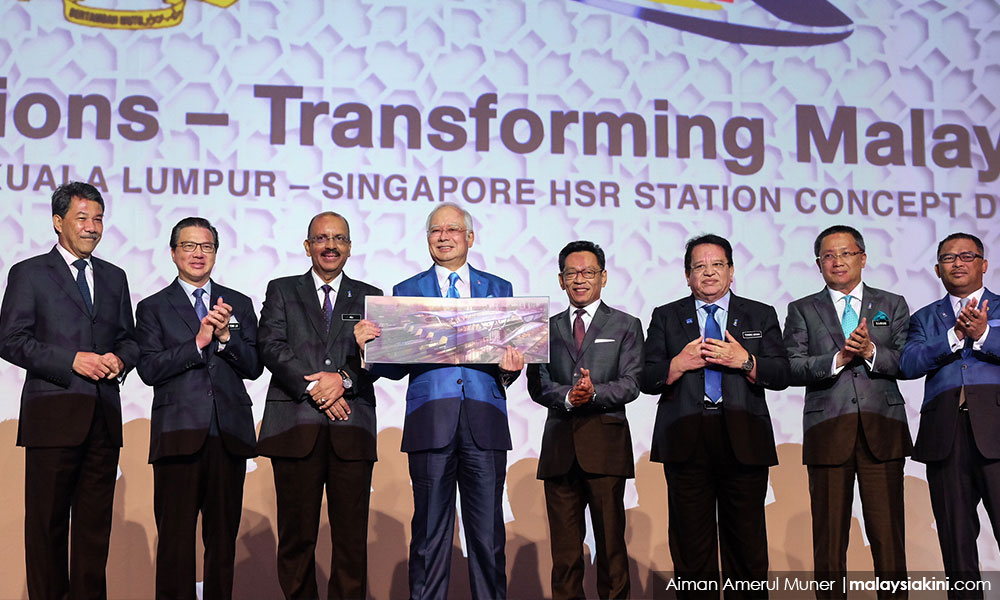 KINIGUIDE
| The Kuala Lumpur-Singapore High-Speed Rail (HSR), targeted for completion in 2026, has been described as a "game-changer" that will shorten travel time to only 90 minutes.
Comprising seven stations, six of which are in Malaysia, the HSR has been touted as a catalyst for the four states where the rail cuts across - Selangor, Negeri Sembilan, Malacca and Johor - as well as the Federal Territory of Kuala Lumpur.
The Singapore terminus will be in Jurong East.
The state-of-the-art architectural concepts unveiled for the Malaysian stations have been impressive but beyond the facade, competing arguments over the direction of the HSR have emerged.
The question, in particular, concerns why several HSR stations are set to be built in places which critics have described as "in the middle of nowhere".
The Seremban station, for instance, will be located in the middle of an oil palm plantation in Labu, 16km away from the Seremban town centre but right at the heart of Sime Darby's upcoming Malaysian Vision Valley (MVV) development.
However, MyHSR Corporation, which oversees the rail development, believes it has a good explanation.
Here, Malaysiakini compiles information on the six Malaysian stations to provide context to readers about the issue at hand and also the views for and against the HSR's current developmental direction.
Station 1: Bandar Malaysia
Proposed location: Bandar Malaysia, Sungai Besi
Around five to six kilometres from the Kuala Lumpur City Centre (KLCC) and KL Sentral, this terminus is perhaps the only Malaysian station that makes immediate strategic sense from a geographical point of view.
It will be constructed on the land of the former Royal Malaysian Air Force (RMAF) airport in Sungai Besi, which has been earmarked for the
Bandar Malaysia
integrated development.
Once completed, Bandar Malaysia will not only host the HSR station but also stations for the MRT2 (Sungai Buloh-Serdang-Putrajaya Line), MRT3 (Circle Line), KTM and Express Rail Link (ELR). It will also have easy access to some 12 highways.
Station 2 - Bangi-Putrajaya
Proposed location: Kampung Dato Abu Bakar Baginda, Kajang
This station was initially called Putrajaya but was subsequently renamed Bangi-Putrajaya, for obvious reasons - it was not in Putrajaya.
Kampung Dato Abu Bakar Baginda, an urbanising Malay village, has its address in Kajang. However, it does sit between Putrajaya and Bangi.
It is at the fringes of the administrative capital (9km) and more accessible to the growing township of Bandar Baru Bangi (7km).
Bandar Baru Bangi has been dubbed Malaysia's "Knowledge City" as it is home to 20 tertiary institutions, including Universiti Kebangsaan Malaysia (UKM), Universiti Tenaga Nasional (Uniten), and Open University Malaysia (OUM).
A new mini-township by developers Mah Sing, called "Southville City", is being built about 7km from the proposed station location.
As there is no other rail network connected to Kampung Dato Abu Bakar Baginda, this means anyone wanting to get to the Bangi-Putrajaya station will need to rely on private vehicles, buses or taxis, which can potentially increase travel time.
Station 3 - Seremban
Proposed location: Labu
Despite its name, the station will not be in Seremban. It will instead be in Labu, 16km southeast of the Negeri Sembilan capital.
Labu, which is a small town surrounded by green fields and oil palm plantations, has been earmarked as the location for the first phase of the Malaysian Vision Valley (MVV), an integrated economic development area that was announced in Budget 2016.
MVV, to be spearheaded by conglomerate Sime Darby Bhd's property arm, the 30-year project encompasses developments on Sime Darby's land banks in the region. Some 1.38 million jobs are projected to be generated.
However, the HSR station is expected to be ready in less than 10 years.
Station 4 - Malacca
Proposed location: Durian Tunggal, Alor Gajah
This station was initially named Ayer Keroh before it was changed to Malacca.
However, the actual site, in Durian Tunggal, is 16km away from the Malacca town centre.
Once considered to be a more rural part of Malacca, Durian Tunggal has seen increasing development.
At present, both the Ayer Keroh toll plaza and Universiti Teknikal Malaysia Melaka (Utem) are nearby, and numerous residential projects are being built in Durian Tunggal, though none on the scale of the above-mentioned megaprojects.
Malacca Chief Minister Idris Haron has announced various developments, including a car park, business districts and guest houses near the site of the station.
Station 5 - Muar
Location: Pagoh, Muar
The Muar station is the first of the three HSR stations planned for Johor.
Despite the station's name, its location in Pagoh is actually 25km away from Muar's population centre.
The station is located at the doorstep of a new township called Bandar Universiti Pagoh, also built by Sime Darby.
Touted as the "first township in Malaysia to be seamlessly integrated with a higher education hub", the development comprises three universities, a student village, a business park, commercial areas and residential areas.
Station 6 - Batu Pahat
Location: Genting Pura Kencana, Sri Gading
The Batu Pahat station will be built within the township of Genting Pura Kencana in Sri Gading, 11km away from the present Batu Pahat town centre.
A project launched by the Genting Plantations Bhd in 2006, Pura Kencana spans 8,000 acres and will comprise residential areas, shopping centres, schools, various public amenities and an RM14 million clubhouse.
Station 7 - Iskandar Puteri
Location: Gerbang Nusajaya, Gelang Patah
While the exact location of the last Malaysian HSR stop has yet to be announced, what is known is that it will be built within the Gerbang Nusajaya parcel of the Iskandar Development Region, along with two technological parks and a motorsports city.
This puts it about 26km away from the Johor Baru city centre.
However, it is only around nine kilometres from Gelang Patah town, which has grown rapidly in the last decade.
Are there any more stations?
Maybe. It was reported that Country Garden Pacific View, which is building the luxury Forest City township in Johor, has lobbied for the alignment of the HSR to be diverted to their development before it enters Singapore.
No decisions have been made but the Land Public Transport Commission (Spad) is at present
weighing
the proposal.
Why are so many stations being built far away from existing town centres?
For MyHSR Corporation, the keyword is "future" instead of "existing".
According to MyHSR chief executive officer Mohd Nur Ismal Mohamed Kamal, station locations were decided based on whether they would spur future development and create future townships.
There is also the consideration of keeping the HSR track alignment in a straight line and keeping private land acquisition to a minimum.
Sounds reasonable. Why are critics complaining?
Critics argue that having the HSR to bank on future townships instead of existing ones poses risks as new townships, which are the HSR's immediate catchment target, will take decades for the populations to grow to a viable size.
One such critic is DAP parliamentary researcher Chung Yi Fan, who said an example is Putrajaya.
"If you look at the past 20 years, the only city that has grown from scratch to become a sizeable population centre is Putrajaya, which has about 90,000 people today.
"And that is after the government has thrown every resource it has into developing it into the country's administrative capital.
"You can't support an HSR station when the surrounding population size is less than 100,000," he said.
People like Chung advocate for the HSR to be built nearer to well-established population centres, which can help rejuvenate existing towns.
How is MyHSR planning to overcome these risks and shortcomings?
While focusing on future developments, MyHSR also indicated that it plans to ensure existing townships will also be well connected to the stations through other public transportation.
MyHSR said it is working with Spad to ensure multi-modal connectivity for all stations, which will include feeder buses to ferry passengers to and from surrounding towns.
Who stands to benefit from this "future development-centric" approach?
Plantation companies that own large swathes of lands where the stations will be built on are said to be the biggest beneficiaries from the endeavour.
Equity research firm CIMB Research forecasts that among these companies will be Sime Darby, Genting Plantations and Kuala Lumpur Kepong Bhd (KLK).
"They each have their own property arm to develop the land but could selectively sell some of these lands to unlock value. This could boost near-term earnings via land sale gains," CIMB Research said in a 2016 report.
Sime Darby owns the land where the Seremban and Muar HSR stations will be built while Genting Plantations owns the tract of land where the Batu Pahat station is planned to be.
KLK has a 60 percent stake in developing the Iskandar Development Region, where the Iskandar Puteri station will be located.
The geographic location of the stations aside, the sites are also expected to benefit construction companies that will be able to fill their order books for years to come from projects linked to the HSR, as seen in the current MRT and LRT projects.
For commuters, the HSR trains, which can run at up to 320 km/hour, will not only slash travel time between the Klang Valley and Singapore but also improve connectivity within the west coast states of the peninsula.
However, the price point of the tickets, which has yet to be unveiled, will be an important factor on whether it will be a viable option for commuters.
The map above denotes the approximate locations of each of the seven HSR stations. Courtesy of Chung.- Mkini