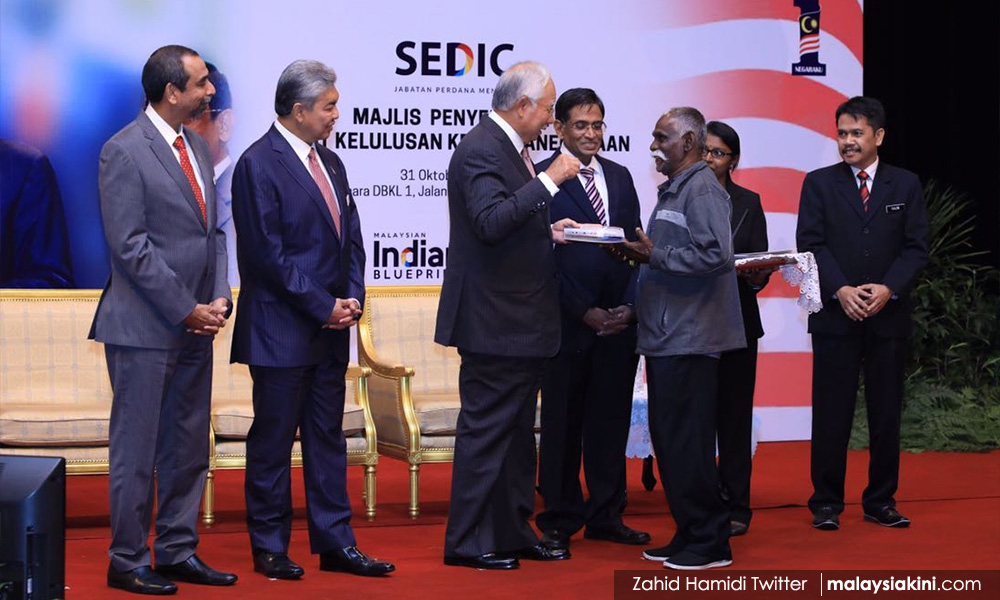 Prime Minister Najib Abdul Razak today rubbished the political opposition's claim that about 300,000 Malaysian Indians were without citizenship papers.
He said the claim was a lie because only about 2,500 citizenship applications had been received from Malaysian Indians, including those born before independence and whose births had not been registered.
The MyDaftar initiative which covered every part of the country did not find 300,000 stateless Malaysian Indians as claimed by the opposition, he said, adding that the matter had even been brought to the attention of the UK Parliament.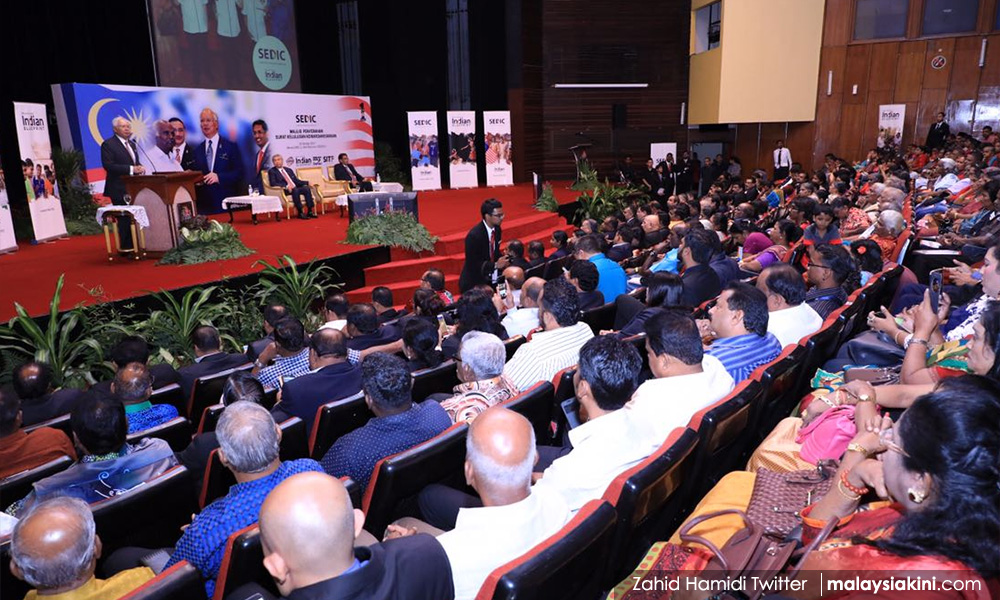 "This is a fairy tale. We only have 2,500 applications (for citizenship from Malaysian Indians). It is just like the claim that we brought in 40,000 Bangladeshi voters in the last general election, that the country would go bankrupt, and many other baseless stories," he said when handing over citizenship documents to Malaysian Indians here.
Also present at the event were Deputy Prime Minister Ahmad Zahid Hamidi, Federal Territories Minister Tengku Adnan Tengku Mansor, MIC president Dr S Subramaniam and leaders of MyPPP, All Malaysian Indian Progressive Front and Makkal Sakti.
Najib said the government he led was committed to solving the issue of Malaysian Indian citizenship and had set up the Special Implementation Task Force (SITF) under the Special Unit for Socio-Economic Development of the Indian Community (Sedic) which has been implementing the MyDaftar initiative since 2011.
The Mega MyDaftar initiative was launched early this year in tandem with the Malaysian Indian Blueprint to solve the Malaysian Indian citizenship issue totally.
At today's event, citizenship papers were handed over to 177 Malaysian Indians, among them those who were born before independence, those whose births were not registered and those who did not have personal identification documents.
"Although the Indian community comprises only 7.4 percent of the population, this minority group is not neglected by the government of today," said Najib, adding that the issues of the Indian community were not solved by a previous leader who had headed the national administration for 22 years.
The prime minister urged all political parties representing the Indian community to work together in empowering the minority group in tandem with the other communities.
"As I said when tabling Budget 2018, the Indian community does not need charity, but needs empowerment. That's why the government has provided for seven percent of Indians in the public service and at public institutions of higher learning. However, in principle, they must have citizenship.
"But, many take it easy. With citizenship, however, one can get all kinds of government aid, such as BR1M (1Malaysia People's Aid), Tekun loans, treatment at 1Malaysia clinics … we do not want anything but, when it is time, please help … that's all," he said.
-- Bernama