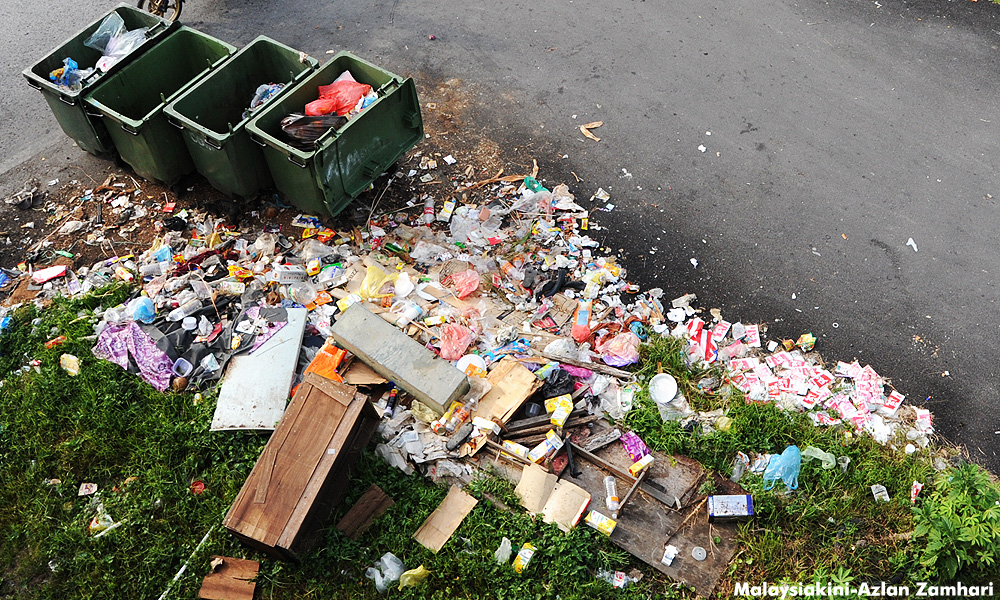 Have you ever walked around your neighbourhood and just shook your head at the sight of a beautiful park laid to waste by rubbish?
Even when the public musters the effort to dispose of their waste in the bins, it is always on an overflowing bin that takes a while to be emptied. When the wind blows, the overflowing garbage will spill over and it is back to square one again.
It is always funny to see how the local law enforcement works around here. We are no strangers to the signs of "Dilarang membuang sampah di kawasan ini. Denda RM 1,000" perched on a mountain of litter.
Worse yet, we see new signs like this mushrooming and treated the same way, nowhere close to solving the problem. The signs are not respected because the law is not respected.
Even efforts to have scheduled contractors to maintain our streets became a contributing factor to the very problem. For instance, the familiar sight of green zip knotted trails left by those who mow the grass. Often, their refuse would be cleaned up by another group of contractors. Back to square one all over again.
A community effort
We sometimes overlook a person's potential to be good-natured under the right circumstances. If people have no regard for the garbage littering their surroundings, the bin in the park would not be filled at all. The frustration comes when the bin is often overflowing and that is what discourages people from doing the right thing.
We don't have to look far to see a working example of good-natured citizens - look at the trash bags we tie up so neatly in the morning for the weekly trash truck pickups. It is an unspoken contract that we as a society should fulfil our civic duty to bag our trash properly and allow the sanitation workers to collect them easily rather than piling our trash at our front door every day and expecting them to bag it themselves.
Let us rethink our approach. Instead of having more dilarang signs, we should have a larger rubbish bin with regularly scheduled pickup times. With the right encouragement, we as a community can make our dirty landscapes a thing of the past.
Also, if our contractors are ignorant on waste management, a novel idea would be to switch roles with their colleagues who clean up after them. Let us build empathy and develop mutual respect for one another as we are all on the same team.
There is no need for punishments to right a wrong. Everyone has the potential to make good decisions under the right circumstances that encourages good behaviour.- Mkini