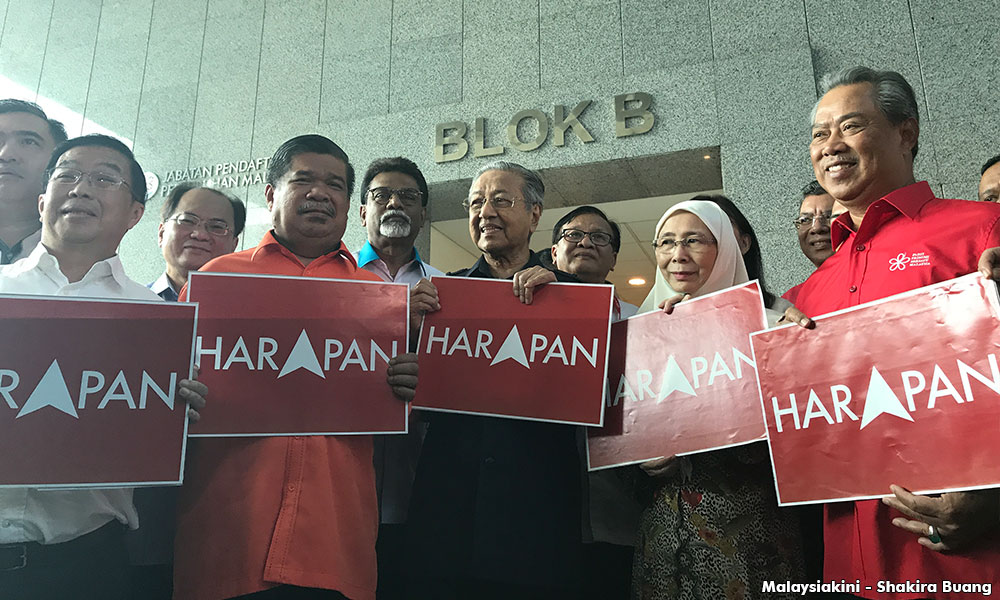 Pakatan Harapan has an alternative plan should the Registrar of Societies (ROS) decide against approving the opposition coalition's registration.
Harapan chairperson Dr Mahathir Mohamad said the plan would be disclosed later this week.
"We would have several follow up actions which would be announced this week. But we cannot reveal Plan B (for now)," he told reporters in Parliament this afternoon.
Mahathir also claimed that the government was deliberately delaying Harapan's registration out of fear that BN would lose in the next general election.
"So they would announce (Harapan's registration) three days before the election so that we won't have a logo and no rules to follow. We predict that the government would do all it can to frustrate us," he said.
Harapan submitted its application to the ROS on July 24 but has yet to receive a response.
The coalition, which comprises Bersatu, Amanah, DAP and PKR, also submitted a
new logo
upon the request of the ROS.
In a written parliamentary reply yesterday, the Home Ministry said the ROS must carry out a detailed check of the applications received to safeguard security and public interest.
The ministry was responding to Bayan Baru MP Sim Tze Tzin, who had asked the home minister to state the reasons for the delay.
Harapan legal bureau chief Gobind Singh Deo yesterday said the coalition is
mulling
taking the ROS to court over the matter.
Apart from not receiving any word regarding its application, he said the ROS has also not responded to Harapan's letter dated Aug 21 seeking a meeting to discuss the application. -Mkini