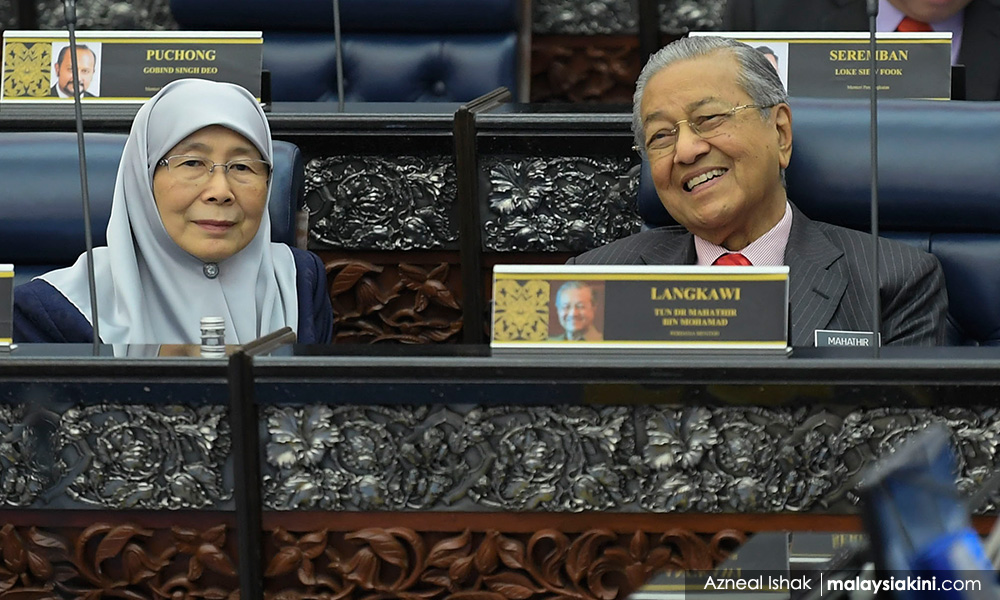 In what appeared to be a light-hearted reminder, Deputy Prime Minister Dr Wan Azizah referred to Dr Mahathir Mohamad's promise to hand over the leadership reins to her husband, Anwar Ibrahim.
She said this when quizzed on the prime minister's statement yesterday that there are
no vacancies
in his cabinet for the PKR president at present.
"Well, there are no cabinet vacancies," she told reporters in Cyberjaya this evening.
Pressed further, she quipped: "If the prime minister vacates (his post), that is what was promised, yes?"
Earlier, Anwar said he had no intention of becoming a member of Mahathir's cabinet and would
wait his turn
to assume the leadership based on the Pakatan Harapan consensus.
Mahathir's remarks had added fuel to the protracted speculation that Anwar would not succeed the premier.
Yesterday, the premier, when asked if Anwar would be given a position in the event of a cabinet reshuffle, said: "We are not adding, making any change or any increase in the number of members of the cabinet. There is no discussion on cabinet portfolio change as well."
"Since nobody has indicated they want to resign, we have no vacancy. When we have (any) vacancy, we will consider suitable candidates," he added.
However, DAP lawmaker Charles Santiago had
dismissed this
as a "ridiculous explanation."
In his message in conjunction with Merdeka, the Klang MP painted a bleak picture on the status of the Pakatan Harapan government but urged the people not to give up hope.
"I am privy to the whispers on the ground. People are now willing to give Anwar a chance, fearing Mahathir is back to his old tricks," he said.
Meanwhile, Wan Azizah was in Cyberjaya on an official visit to CyberSecurity Malaysia.
She was there to take a closer look at the infrastructure and facilities available at CyberSecurity Malaysia and the technology used.
"It's important for us to keep up with cybersecurity technology and also be aware that we are a target for cyberattacks," she said.
She also visited the Digital Forensic Lab which is responsible for the development and research of digital forensic science in Malaysia. - Mkini