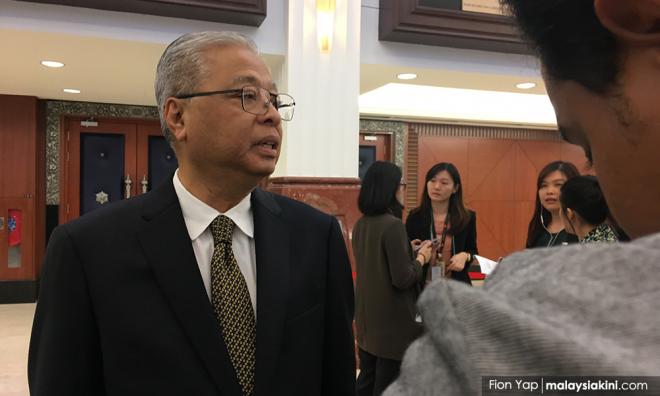 While BN has yet to name its candidate, Umno vice-president Ismail Sabri Yaakob (above) today assured that the coalition would be fielding a younger candidate than that chosen by Pakatan Harapan to contest the Tanjung Piai parliamentary by-election.
Even so, he declined to reveal to reporters any details on the candidate, including race and gender.
"(BN will field a candidate) who is younger than Pakatan Harapan's. A young person," he said to reporters at Parliament lobby today.
This comes as Gerakan today revealed its candidate for the coming polls on Nov 16 - 38-year-old party deputy secretary-general
Wendy Subramaniam
.
Aside from Gerakan, Harapan has also announced its candidate - Tanjung Piai Bersatu chief
Karmaine Sardini
, 66 (
below
).
Touching on Karmaine, Ismail, who is also the opposition leader in Parliament, said he had not expected the ruling coalition to field someone of that age.
"It defied what we were expecting. We thought they (Harapan) would field a young candidate, as a pilot had been mentioned, young, but suddenly, they field a pensioner.
"I do not wish to say anything that might be deemed to insult him, but he is already 66-years-old. It was unexpected," the Bera lawmaker said.
"What can he do? If we ask, he will say a 95-year-old can even be PM (prime minister)."
Prior to Harapan announcing its candidate, it was
speculated
that one of the candidates being considered was a commercial pilot Md Fauzi Md Tamaji, aged 50, of Bersatu, who hailed from Pontian.
In the 14th General Election, Karmaine had contested the
Pontian
seat, losing to BN's Ahmad Maslan by just 833 votes.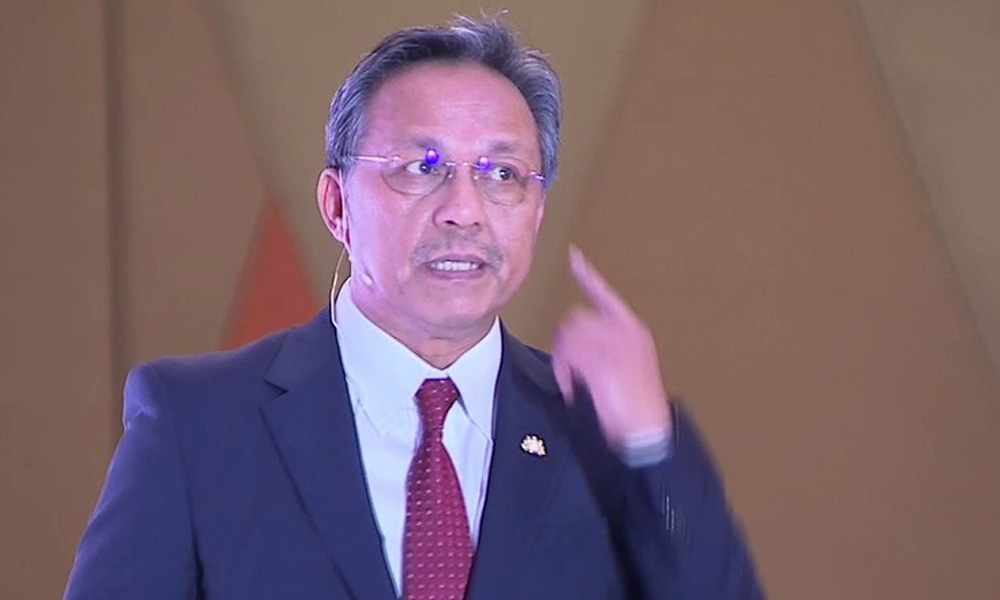 Johor Umno chief Hasni Mohammad (
above
) recently came
under fire
for comments he made suggesting the 66-year-old Harapan candidate may kick the bucket.
Meanwhile, Ismail Sabri denied the cause of BN's delay in announcing its candidate was down to MCA and Umno being unable to see eye-to-eye on the matter.
"No lah. We have not announced (the candidate) as it is not time for us to do so. When it is time, we will announce," he told reporters, adding the two BN component parties have reached an accord.
Nomination day for the polls is set for this Saturday, Nov 2.
"Yesterday we just launched the BN (election) machinery. We did not wish to do two things at once, so we launched the machinery first, and will then announce the candidate."
"There is an accord. Maybe tomorrow, the president with the state BN communications chairperson will announce (the candidate) when the time is right.
"We must strengthen the machinery first [...] there is no need to make a big announcement. It is just to decide on who contests," he said.
"It is not Nov 2, yet."
The
Tanjung Piai
by-election was called following the death of Bersatu incumbent Dr Md Farid Md Rafik, 42, from a heart attack last month.
It is expected to be a three-way contest between Harapan, Gerakan and its former ally, BN.
Prior to Bersatu winning the seat in GE14, it was a long-time MCA seat. Farid defeated two-term incumbent Wee Jeck Seng by only 524 votes. - Mkini