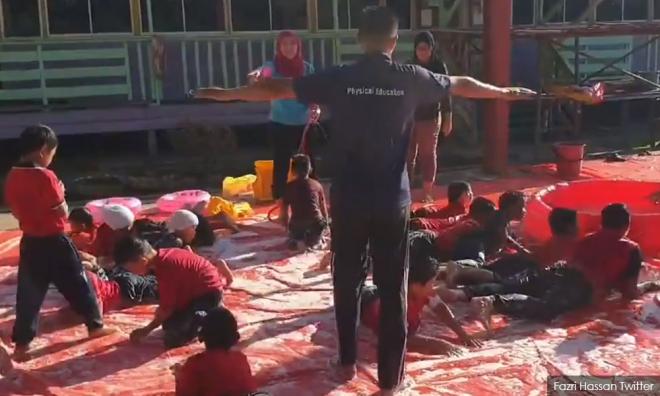 Limited resources is not an excuse for the special education teachers in Sabah to give the best education to their students.
Unable to build a swimming pool or take their students to a public swimming pool, the special education teachers at Sekolah Kebangsaan Gas Sandakan, Sabah, found a creative alternative to teach basic aquatic training.
"The teachers here built our own 'swimming pool' for the students, using canvas.
"There were two pieces of canvas that we laid out at the open-air school hall.
"One canvas is big enough for the 20 students but I laid down two as it was much more comfortable for them to move," said Fazri Hassan (photo, below), a teacher at SK Gas Sandakan.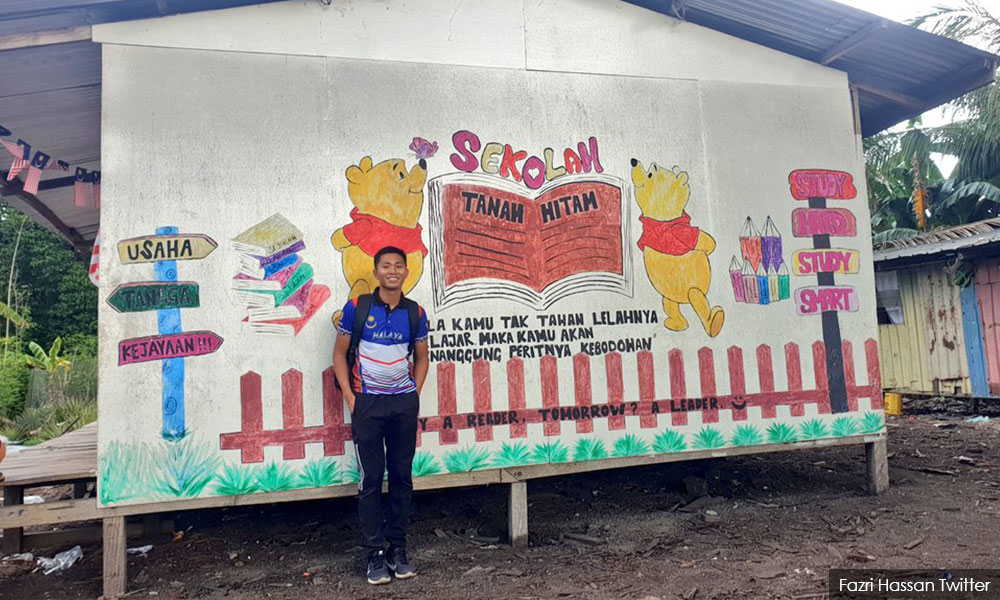 Students are told to lie down on the canvas and learn the techniques of floating and falling, flutter kick on the water surface and more.
The teachers also poured water on the students to make them feel as if they were in a pool.
They also used inflatable paddle pools for the activity.
"Before that we also had a sensory walk to help stimulate the special students," the 26-year-old teacher said.
Some 20 students from three classes participated. They are from Years Two, Three and Five and the class was conducted during Physical Education.
"The idea (of using canvas and inflatable pools) came from a discussion with Physical Education teachers for special education," Fazri said.
"I feel it is my responsibility to ensure my students receive these lessons (basic aquatic) even as the school has less resources."
Despite the less favourable conditions, the teachers were happy they were able to bring smiles to their students' faces.
The video, which was uploaded on social media site Twitter last week, drew the attention of social media users who commended the teachers' efforts.
Fazri captioned the video: "No pool, no problem."
"The teachers make big sacrifices to make the students happy. Thank you teacher," said one Twitter user.
Fazri said the school's less adequate facilities do not dampen the hopes of teachers at SK Gas Sandakan, who will continue to strive to give the best for their special students so that they can be contributing members of society.
"I hope that the community out there will give the special students an opportunity to be self-reliant when they grow up, just as much as their job opportunities," he said.