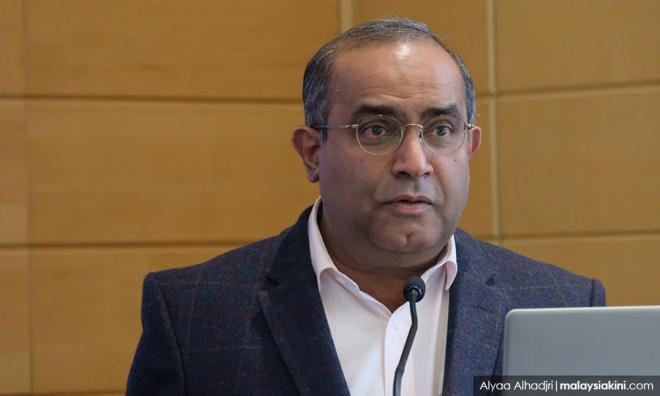 Political appointments to government-linked entities continue to be a practised under Prime Minister Dr Mahathir Mohamad's administration despite Pakatan Harapan's promises of reforms, according to a recent study.
In particular, think tank Institute for Democracy and Economic Affairs (Ideas) senior fellow Prof Edmund Terence Gomez (above) highlighted the appointments of six Harapan candidates who lost in the last general election but appointed as board members of four statutory bodies under the Rural and Regional Development Ministry.
This was in addition to two winning candidates who were also appointed to the GLCs. Of the total eight appointed as directors, five are from Bersatu, two from Amanah and one is from PKR.
"You appoint these directors and they (will) get a stipend (and) so they become very loyal to the leaders.
"Through this system, because they get a stipend, they get access to this government money which is then channelled into the financing of politics," said Gomez, who presented the findings of Ideas' first "GLC Monitor - The State of Play since GE14" report.
He further suggested the appointments were an attempt by Bersatu, through Rural and Regional Development Minister Rina Harun, to consolidate support for Harapan in areas deemed as strongholds of BN and PAS.
"This ministry is important to Bersatu because through this ministry you will reach the Malay heartlands (and) the hardcore poor in Sabah," he said.
"Bersatu is doing exactly what Umno did, using the same system, playing the same patronage games.
"They are using this to reach down to the grassroots and they are giving directorship to people who lost (the election) to keep them loyal to the party," he said, adding that second prime minister, the late Abdul Razak Hussein, had set up the ministry to reach out to the hardcore poor.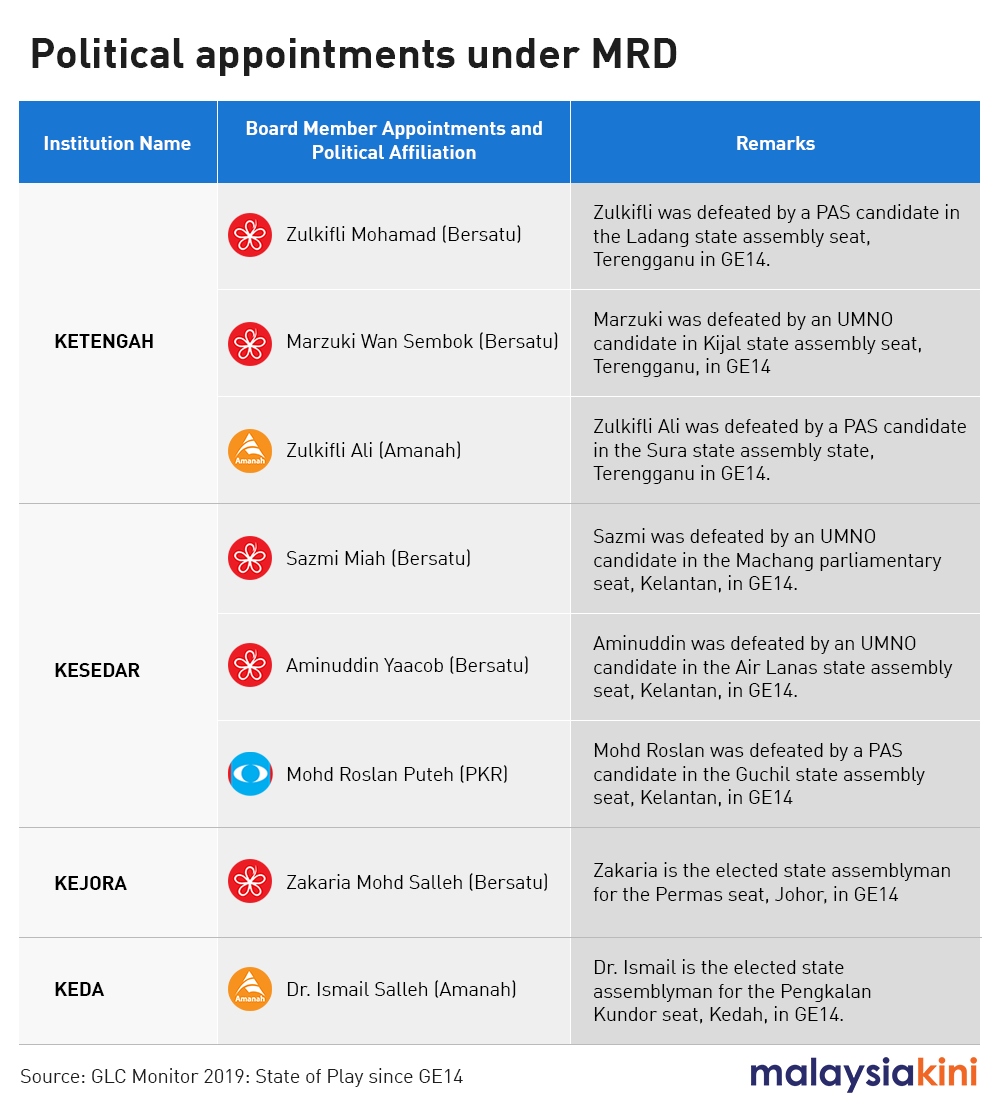 Gomez noted how Abdul Razak's successors had over time "hijacked" the ministry through its GLCs and statutory bodies to be a "tool for patronage".
"We don't need the GLCs but they became mechanisms through which patronage politics is practised in rural areas," he added.
Under Prime Minister Dr Mahathir Mohamad's move to reform GLCs, Gomez noted that the Rural and Regional Development Ministry now controls five state development statutory bodies, Mara and a long list of other GLCs.
He stressed that the eight appointments have gone against Harapan's manifesto promise to end such political appointments.
While the first part of Ideas' GLC monitoring report focused on uncovering the political connections to GLCs, Gomez said its subsequent findings will reveal more details of attempts to sell off their companies.
The report released this morning was co-authored by Gomez, Ideas research manager Lau Zheng Zhou and Ideas research intern Yash Shewandas - Mkini