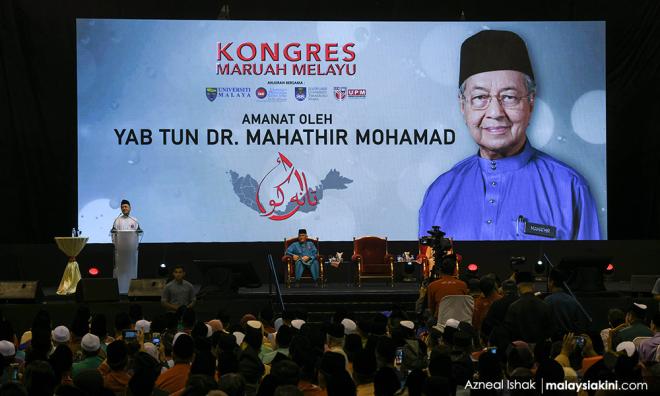 I wonder why some Malaysians are worried about Kongres Maruah Melayu (KMM, Malay Dignity Congress). We want free speech yet we complain about it and also complain about the lone protest at a university convocation.
Free speech is generally a monologue.
The organisers felt there are problems with some groups but chose not to have a dialogue to solve the problems. Apparently, the issues include mocking of religion, wanting to undermine their dignity, the sovereignty and special position of the Malay race and the Malay rulers.
Time was spent to arrive at and present five resolutions focusing on five different clusters. Most of these are not new and one must have heard it at Umno general assemblies. As usual, not all can be implemented by the Pakatan Harapan government, since there are more important issues in the election manifesto that have yet to be fulfilled.
That is why I asked when is KMM 2.0? Further, they may need to check on discipline and time management because the congress itself started half-an-hour late.
It would have been more fruitful if the organisers had engaged with the other groups and arrived at practicable solutions. As in most negotiations, there must be some give and take.
Could it be an ego thing with the organisers? Or the other groups to now take the initiative to sit down together and discuss for the sake of national interest? Could this happen? Honestly, I want it to happen but feeling the heat and tempo and both sides quoting the Constitution, I am not too sure.
The other groups are now saying that the fundamental rights of the non-Muslims and non-Malays may be extinguished and this may lead to grave consequences.
This is where I think the minister in charge of national unity and social wellbeing (P Waythamoorthy) has to do his part. But he is saying national unity is still strong just because Deepavali open houses are attended by people of all races and all walks of life.
Has he been reading the news and also social media with all the hate messages and videos that have become viral? I hope his advisers could highlight the latest situation to him.
If what the minister said is true, I have a feeling this is all political talk and no point for the KMM organisers to approach the government to help solve non-existent issues.
By the way, the KMM political cluster did blame the Malay leaders from both sides for the current political situation for the Malays. If the Malay leaders are the cause, how on earth are they going to help solve the problems? How then can the Malays shout about 'maruah'?
So, can anyone please tell me when is the KMM 2.0? I may want to attend it.
What say you? - Mkini