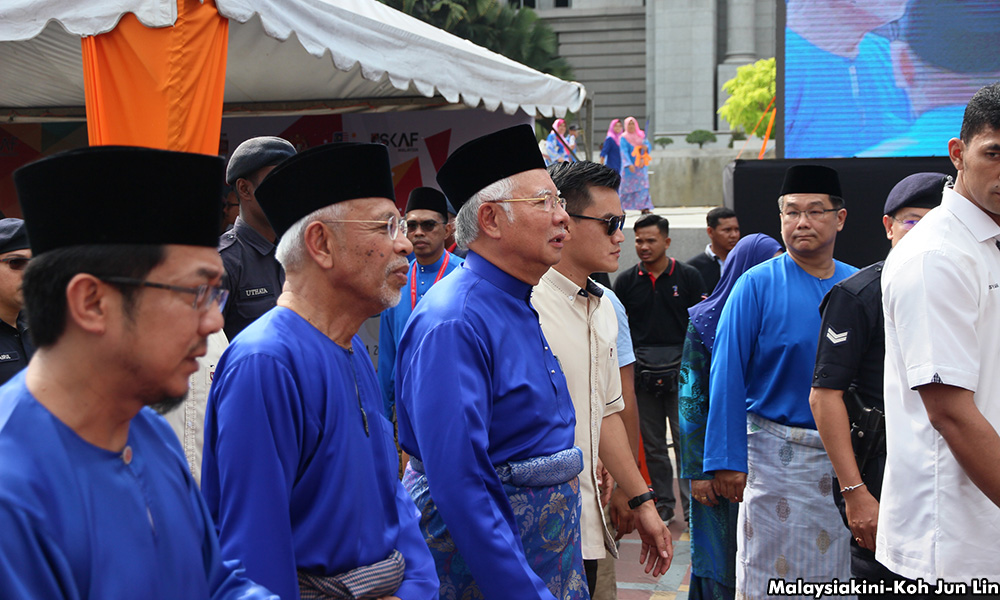 Felda dissidents have six months, starting in August, to return to the fold or risk missing out on a slew of new incentives announced by Prime Minister Najib Abdul Razak today.
Najib said 94,956 qualified settlers whose land is managed by Felda and whose products are sold to Felda are eligible to the six incentives he announced this morning, but other settlers would also be given a chance.
"In the name of graciousness and in the spirit of togetherness - for the first time officially - I wish to announce that we will be giving a chance to 17,679 settlers who did not send their products to Felda, and settlers who have sued Felda, to return and make peace of Felda.
"However, the time for returning to Felda is six months starting August 2017, and must fulfil the conditions set by Felda.
"So if they manage to fulfil these conditions, then they would be eligible to receive this incentive package," he said in a speech today while officiating the national-level Felda Settlers' Day celebrations in Putrajaya.
Najib announced RM474.78 million has been allocated to pay each Felda settler a cash incentive of RM5,000. Payments are scheduled to start at the end of August.
The announcement comes just a month after Najib announced a RM500-per-family Hari Raya incentive for Felda settlers, while Felda Global Ventures (FGV) would pay a dividend of RM280 for each settler.
Today, Najib also announced 77,934 settlers who are still repaying their FGV equity loans would have part of their balance disposed of at "a rate of ringgit-to-ringgit". RM128.10 million has been allocated for this, he said.
The 1,626 settlers who have already repaid the loan would instead receive a reward of RM1,820.
Meanwhile, RM519 million has been allocated to disposes of up to RM5,000 in replanting debts for each settler who chooses to replant their plantations via Felda.
A replanting overdraft debt disposal fund would also be set up to dispose of operating cost debts exceeding RM40,000. This would be allocated RM300 million over the next five years.
Najib said the Malaysian Palm Oil Board (MPOB) has also approved the establishment of a special replanting grant for Felda, at the rate of RM7,5000 per hectare until 2020.
"This involves an area of 24,280.31 hectares with an allocation of RM166.6 million over the four-year period," he said.
In addition, he said Felda settlements would also be given permission to build more than one house per site.
He said there are 4,711 settlers who own two houses per site, and this can also be implemented on 70,506 potentially suitable sites.
He said state governments have agreed in-principle on this issue, and will work with the federal government on this. -Mkini