| Semenyih residents have been told how amazed Prime Minister Dr Mahathir Mohamad was with the development in Semenyih when he drove past the once-sleepy township.
This was the message constantly brought by several Pakatan Harapan ministers on the campaign trail while canvassing for the coalition's by-election candidate Muhammad Aiman Zainali.
In the past decade, the former tin mining town and rubber estate has witnessed massive development and industry pouring in.
Before that, Semenyih was the choice for people who could not afford to purchase decent houses in the central region of the Klang Valley.
To some extent, the rapid development has shocked locals who now feel the sting of the rising cost of living.
There are 13 traditional Malay villages and two Emergency-era new villages surrounded by dozens of development projects, with some featuring luxurious bungalows priced above RM1 million.
There are no big-brand outlets in the semi-urban area apart from Tesco, which is competing with Econsave and 99 Speedmart, and other smaller grocery shops.
An eatery which offers nasi lemak kelate (photo) for RM2 in Kampung Bahru Semenyih attracts many. Meanwhile, a plate of rice and vegetables costs RM9 at a local mamak restaurant.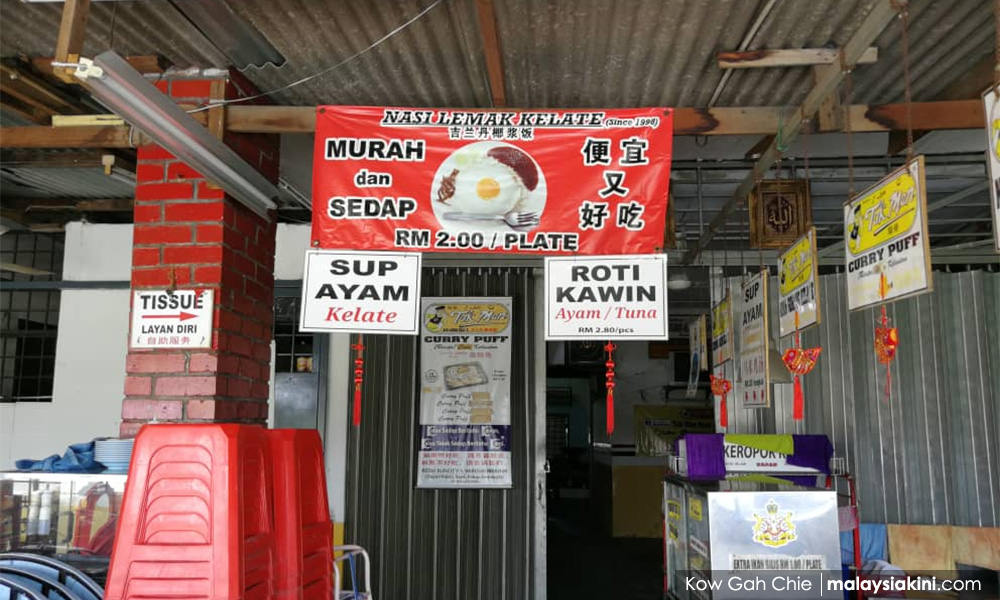 Life is extremely tough for Balan Danadal, a 56-year-old forced to stop working as a lorry driver after losing his vision in one eye due to complications from diabetes three years ago.
His 54-year-old wife has now become the main breadwinner of the family, with the support of three children who are doing odd jobs.
"My wife earns about RM600 per month as a part-time cleaner and she does not receive a minimum wage," he said.
"With this money, we have to pay house loans worth RM800 and fork out another RM100 to pay water and electricity bills," he said.
Balan has to resort to cost-cutting his daily expense. For example, he has made a habit of buying his lunch at the same eatery in Bandar Rinching - which is usually a piece of roti canai and a cup of teh o which cost him RM2.20.
"I can only spend RM3 per day. Ten years ago, roti canai would cost only 60 sen a piece, but now it is RM1.20," he said, admitting he only feels half-full taking only one piece of roti canai.
Chicken and fish are luxuries his family enjoys every two weeks, he said.
Balan's family, which formerly resided at Rinching Estate, was compensated RM15,000 and purchased a house nearby 15 years ago.
Similarly, dozens of estates have been bulldozed and replaced by new residential areas.
Noting how fast-paced development has been encroaching upon local residents, Balan wishes the government would curb the expansion.
"Back in the 1970s, my parents, who worked at the rubber estate with a monthly income of RM160, could raise eight children. Now, we have to borrow sometimes," he said.
It was reported in 2016 that under the Kajang Municipal Council's Local Draft Plan 2035 (Replacement), over 1,000 acres of land in Semenyih and Berangan will be developed into residential areas.
The Selangor State Development Corporation was reportedly planning to develop 1,000 acres of land in Broga.
'Burdensome' maintenance fees
Fatimah Mohamad (right in photo), 37, and her family of four are renting one of the 33 low-cost flats in the Hulu Langat district.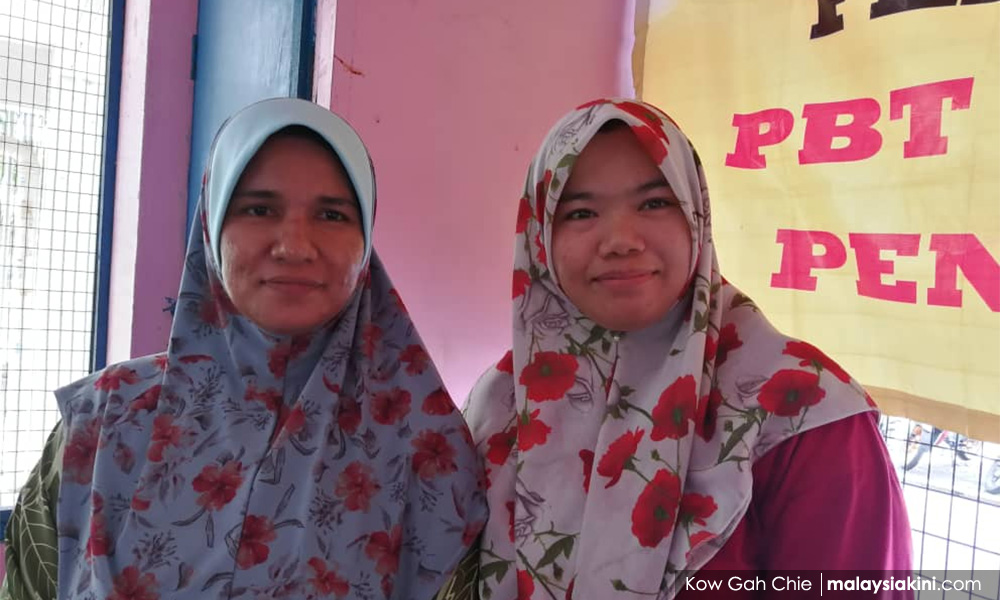 "I consider myself in the B40 (household income group) as my husband and I only earn monthly wages of RM1,500 respectively," she said.
"We spend our income mainly on food, grocery, tuition classes, school bus and children's nursery," she said, adding that she needed to give her children RM5 as pocket money each day as the food in the school is getting expensive.
She complained about the RM66 maintenance fee she has to fork out monthly for a company appointed by the Selangor state government to clean the common areas of the low-cost flats.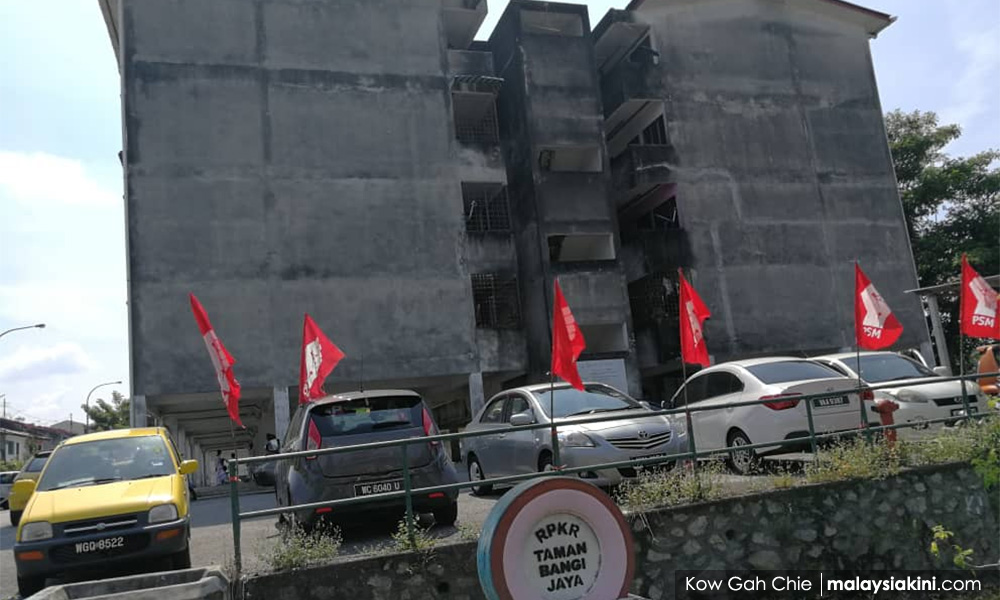 She wishes the state government would take over the maintenance and charge the residents RM80 annually, instead of the current monthly fee.
"It is too burdensome for us to pay the maintenance fees," she added.
Meanwhile, in Kampung Bahru Broga, 67-year-old Chen Dai Yew and her friend, who only wanted to be known as Ng, recounted the plight of local rubber tappers.
According to them, many in the village, who have worked all their lives as rubber tappers, can only earn a daily income between RM10 and RM30.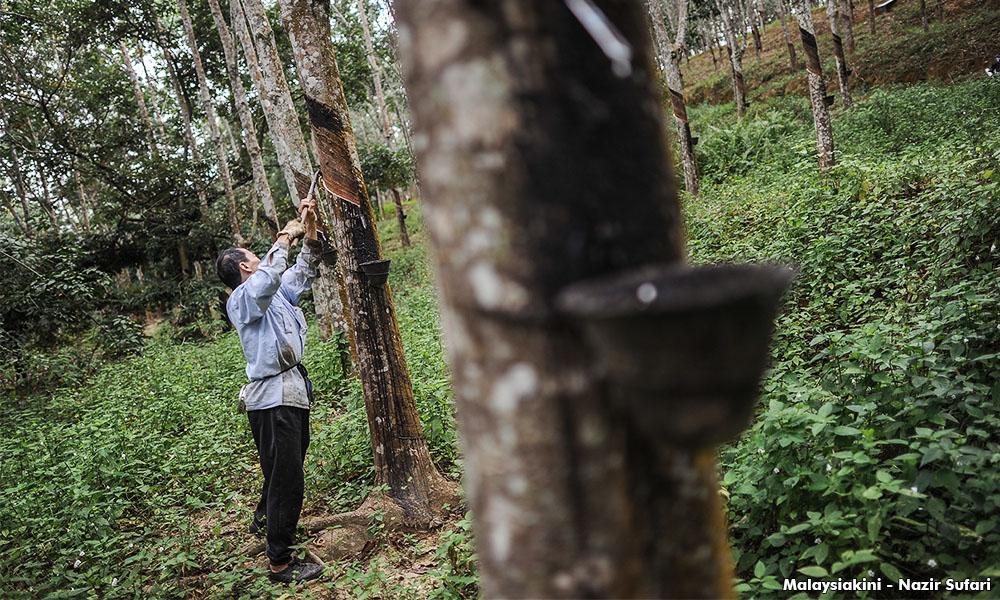 "During the era of (former prime minister) Abdullah Ahmad Badawi, the rubber price was at its best. This was followed by Najib Abdul Razak's era. We once enjoyed RM6 to RM7 per kg.
"Before the May 9 general election, the rubber price was RM2.70 per kg. But today, it is RM1.50 per kg," said Ng.
"I stopped as a rubber tapper two years ago due to the extreme pain in my knee. This is the injury every rubber tapper will suffer after decades of work," she said.
Chen, who rents a 10-acre rubber estate and manages it with the help of her husband, can earn RM30 per day.
Malaysiakini interviewed both Chen and Ng on the day DAP veteran Lim Kit Siang arrived at their village to campaign.
Ng said they were told food would be served and decided to come out. However, she and four of her friends were unable to get the food, partly due to her knee injury.
As a result, the group ordered two plates of fried noodle and shared it among themselves.
"This is something we often do when we have gatherings. We have known each other for decades and make an effort to see each other every now and then.
"Sometimes, those who are still able to work, will treat us," she said.
Ng and Chen said they are not willing to burden and trouble their children as they have their own families to look after. - Mkini