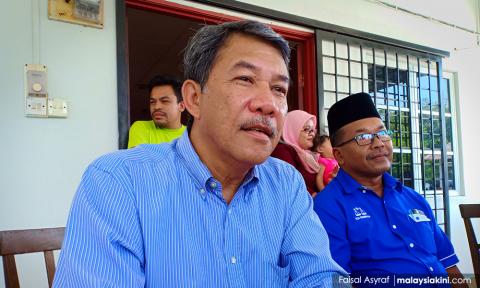 Umno and PAS will meet next Tuesday to discuss details of the growing cooperation between the two Malay/Muslim-based opposition parties, said Mohamad Hasan.
The Umno acting president said he would be leading the party's team in the discussion, while PAS would be led by its deputy president, Tuan Ibrahim Tuan Man.
"(This) March 5, Tuesday, Umno and PAS teams will sit together to discuss the terms and outline of our cooperation.
"After this, we will go to the states," he said in his speech at Kampung Sesapan Batu Rembau in Beranang, Semenyih last night.
Mohamad, or better known as Tok Mat, claimed that the move to cement their collaboration would strike fear among the Pakatan Harapan coalition, especially DAP.
Umno and PAS started working together after BN was defeated in the 14th general election in May last year.
Their cooperation further strengthened when the parties reached mutual agreement on candidates for a series of by-elections since the nationwide polls.
This includes the Semenyih state assembly seat by-election this Saturday, which saw PAS machinery assisting Umno in its electoral campaign.
According to Mohamad, the Umno-PAS cooperation was the biggest blessing (hikmah) of BN's defeat last year.
He said it did not only create a new direction in Malaysia's politics, but had also strengthened the unity among Malays in the country. - Mkini