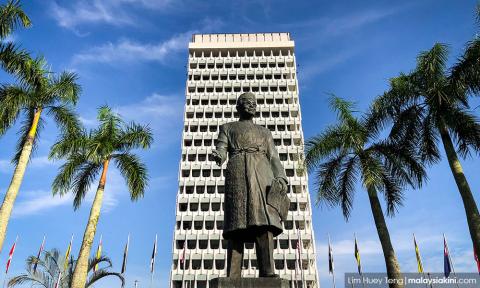 The undersigned groups of the Cluster for Freedom of Opinion and Expression urge the de facto Islamic affairs minister Mujahid Yusof Rawa and the Pakatan Harapan government to adopt new laws regulating hatred only after detailed consideration in drafting the new law, with both deep and wide consultation before its adoption.
We refer to the statement in the media by the minister, who is keen to
criminalise
the promotion of religious (and racial) hatred. Such a proposal would criminalise speech where the definition of 'hate' and determining intent runs the risk of being debatable and severely arbitrary.
It is important to recognise that the criminalisation of such 'hate speech' is the exception, and in practice, criminalisation is not the only plausible response to countering hate, incitement to violence or public disorder.
Furthermore, 'insults' or 'causing offence' is never an acceptable standard for a legislative response that results in criminalisation. Proposals to criminalise any form of hate speech must first affirm the right to freedom of speech and expression, that is guaranteed in Article 10 of our Federal Constitution.
It is equally important to recognise that freedom of opinion and expression is essential to realise all other rights, as defined by the Universal Declaration of Human Rights and protected under various international UN conventions.
There is a need to consider majority and minority religious or racial perspectives. In order to ensure a more just exercise of the power of the majority, legislation ideally should pay more attention to protecting the rights of minorities and/or minority perspectives.
Critical public statements and debates about religious activities, teachings and beliefs – provided that such criticisms do not amount to intentional incitement to public disorder and violence, or hate speech as defined by the
Rabat Plan of Action
– cannot be criminalised, and should be encouraged and welcomed if we are to effectively address the extremism that has fostered in Malaysia for so long.
Instead of adopting legislation that is yet to be made accessible to the public for proper consultation – one of the promises in the
Harapan manifesto
– more concerted efforts are needed to reduce sensitivities to critical opinions and expression through public education, public dialogues, and public debates.
At the very basic level, the improvement of communication skills must be encouraged among Malaysians who have been socialised in the racial, religious and hatred politics that has been largely abused by political and religious leaders and other interested parties.
We need more effective measures to promote an appreciation of diversity and understanding.
A
joint submission
by the UN Special Rapporteurs on freedom of opinion and expression, on freedom of religion or belief, and on racism, racial discrimination, xenophobia and related intolerance to the 2011 Expert Workshop on the Prohibition of National, Racial or Religious Hatred, acknowledges that the strategic response to hate speech is more speech.
More speech that educates about cultural differences; more speech that promotes diversity; and more speech to empower and give voice to minorities, for example, through the support of community media and their representation in mainstream media.
In fact, research on extremism and violent extremism shows that more speech, and supported speech, by vulnerable groups can be the best strategy to reach out to individuals, changing their mindsets.
The drafting of this religious and racial hatred law must be narrow to protect legitimate aims, where legitimate aims include for protection of national security, public order, public health, and respect for the rights of others (refer to article 19(3) of the
International Covenant on Civil and Political Rights
).
The provisions in such a law must be proportionate to the harm. Otherwise, such a law can be abused and used for selective prosecution as we have witnessed in the past.
Our new Malaysia cannot have a law that ends up protecting those in power or the majority, without due attention to the effective protection of vulnerable peoples in Malaysia.
For example, when hate speech by the majority is targeted against an individual because of her feminist ideas, or merely because of her sharing of her lived realities, or against the LGBTIQ community, more speech by those attacked and victimised in this way cannot take place without great personal cost.
The cost of their disappearance from public participation will mean that we have allowed extremism to thrive. Hence, the greater attention to protecting the speech of minorities, including minority perspectives, as long as these do not incite public disorder and violence, or amount to hate speech as defined by the Rabat Plan of Action.
We would like to emphatically reiterate that any law regulating hate speech has to consider those who have less access to power and privilege, and whose speech has more risk of being silenced through the tyranny and hate of the majority.
The law cannot be used or abused against those who have little space in expressing their critical views, including feminist views that trouble current gender-based discriminatory norms.
We also urge the government to make use of the expertise of civil society in the drafting of all new laws, including those that impact upon freedom of opinion and expression.
The Civil Society Cluster on Freedom of Opinion and Expression comprises:
Aliran
Centre for Independent Journalism
Gerakan Media Merdeka (Geramm)
KRYSS Network (KRYSS)
Pergerakan Tenaga Akademik Malaysia (Gerak)
Persatuan Sahabat Wanita Selangor