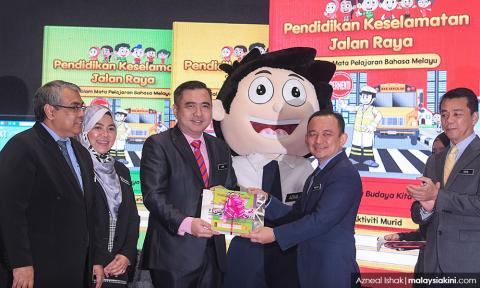 Transport Minister Anthony Loke wants the compulsory six-hour road safety course that's taken prior to driving lessons to be incorporated into the school curriculum.
According to Loke, the successful implementation of a school-based road safety programme could potentially exempt a student from sitting for the mandatory six-hour session.
He suggested Form Four as the ideal time to take such a module.
"I thought about how we can innovate the current policy. This module would offer an interesting option for our students," he said.
Currently, the course is offered at driving schools prior to a student getting their 'L' licence which allows them to start taking driving lessons.
With this suggestion, the students would not have to absorb so much information in a single six-hour sitting, Loke said a press conference at the Putrajaya International Convention Centre today.
"We attend a six-hour course, three hours (out of it) we sleep. Let's just be honest about this," he said.
He added that if students have learnt the road safety module in school, the Road Transport Department could exempt them from attending the six-hour course.
Education Minister Maszlee Malik, who was also present during the function, welcomed Loke's proposal.
"We have a policy committee to evaluate the curriculum and we welcome any creative, innovative ideas, like the one just proposed by Anthony Loke," said Maszlee.
Loke had earlier launched a new national road safety education module for primary schools.
It will be taught separately, replacing the current module which has been taught as part of the Bahasa Melayu syllabus since 2007. - Mkini