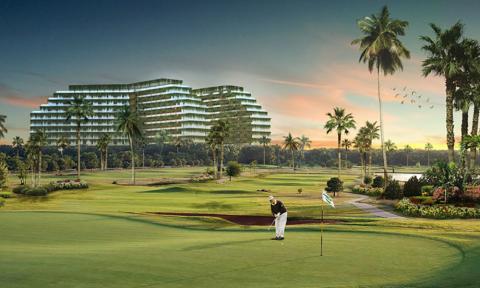 Yet again, the Forest City project in Johor has made headlines in recent weeks and has become the target of considerable press coverage – nationally and internationally. From being antagonised by certain quarters to a temporary ban on foreign owners and now environmental concerns over Sungai Pulai mangrove area, there seems to be a lot of national focus on Forest City for reasons best known to certain "people".
It was
reported
that part of the Sungai Pulai forest reserve is now being transformed into the 800ha Forest City Golf Course Resort and this has raised alarm bells amongst certain parties.
While I believe in the importance of preserving the environment, we also must look at the big picture and take a case-by-case approach in balancing development and environment. Everything we do today should be in a sustainable manner and not on the basis that "there are trees there so nothing can be done there".
Once upon a time, there were trees all over Malaysia but in order for development to happen, our forefathers and those before them had to clear some of this in order to develop and grow the economy and create jobs that could feed their families. And most of these development orders and planning was done by none other but by the governments of that time. At the same time, this does not mean we go out there and cut every single visible tree.
We cannot simply base our position on an ideology and reject any form of development without considering its potential benefit to the local economy. We need FDI badly and foreigners investing in Malaysian properties or spending money here bring hard cash into Malaysia.
In the case of Forest City, as much as it has drawn so many criticisms by various parties, local Johoreans are actually very supportive, excited and proud of the project. We are excited and supportive as it opens up opportunities and increases our local economy specifically local participation in economic development.
The project has not fully completed yet local businesses have benefited from the influx of tourists, international and local. More tourists mean more income for small businesses and this, in turn, increases our quality of life.
Development on this scale will also provide job opportunities amongst the locals. I was told that the hotel in the golf resort has over 150 local employees making up 90 per cent of the total hotel staff. And so far, the Forest City project has created 1,200 job opportunities for locals, equivalent to an 80 percent localisation rate of the total employee workforce.
This is equivalent to Forest City funding more than 1,350 Malaysian families with opportunities and paying for their living expenses. In times of the government wanting to reduce its "bloated" workforce, can we afford to cancel a development that provides livelihood and opportunities to our population? If these Malaysians lose their jobs, are the NGOs going to feed their families or will the federal government create new job opportunities for these families?
The Forest City Golf Resort and the Jack Nicklaus designed Forest City Legacy Course will attract golfing enthusiasts from all over the world and elevate the state of Johor's golfing tourism reputation in the region with a world-class championship course.
It is set to help revive golf tourism in Johor which was popular back in the 1990s but dwindled due to a gamut of factors including competition from golf clubs in Indonesia and Thailand. We are losing our tourism dollars to our neighbouring countries and also losing out in improving our economy and improving the value of the ringgit.
Last but not least, every development has a price tag to it. What is more important is that it has to be done responsibly and sustainably. There is nothing wrong with integrating and balancing our natural wealth with sustainable development for the benefit of the local community.
There is nothing wrong with criticising as well but please do it ethically and responsibly. Do not just do it to satisfy some privileged national powers and in the end families of the common Johoreans suffer through the loss of jobs and Johor gets lesser tourism revenue. - Mkini