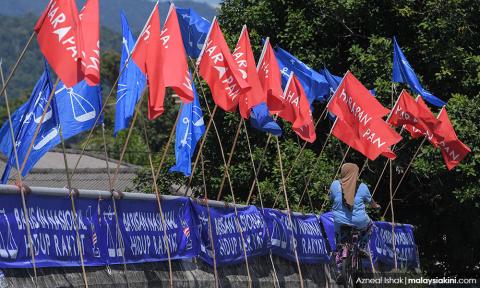 |
As the Semenyih by-election campaign entered the final lap, it became increasingly clear that the by-election for a state legislative assembly has national level consequences for the two main participants.
For the incumbent Pakatan Harapan, this campaign saw the coalition fielding far more top leaders and cabinet ministers as vote canvassers compared to the previous five by-elections.
While the past five by-elections saw second-tier Harapan leaders leading the campaigns, Bersatu assigned its president Muhyiddin Yassin to lead the charge and serve as the main spokesperson in Semenyih.
At stake is whether the proof of mandate is necessary to pursue reforms at a time when there is public grumbling over federal government for tightening purse strings and opinion polls showing Harapan's support trending downwards.
More importantly, this will be the first time Bersatu, which aspires to be a better and cleaner version of Umno, is given a chance to prove itself in a by-election.
For BN, this by-election represents a referendum on its closer ties with PAS - a point which almost every top-level Umno leader alludes to during ceramah stops.
Malay voters are constantly told that this new alliance is in the interest of Malays and Muslims, whom they describe are being threatened by Pakatan Harapan's policies, in particular DAP's.
Although the results of the election will have virtually zero impact on the balance of power in the Selangor legislative assembly, a win in Semenyih will reaffirm the efficacy of BN's strategy and chart the path for the coalition in the by-elections to come.
It is estimated that PAS supporters make up a substantial 15 percent of the Semenyih electorate, based on the results of the last general election. Thus, their support would be crucial to replicate BN's successful Cameron Highlands formula.
Strangely, PAS had chosen the campaign period to
pledge
its allegiance to Harapan's top leader Dr Mahathir Mohamad, while lesser PAS leaders have been helping BN's campaign in earnest.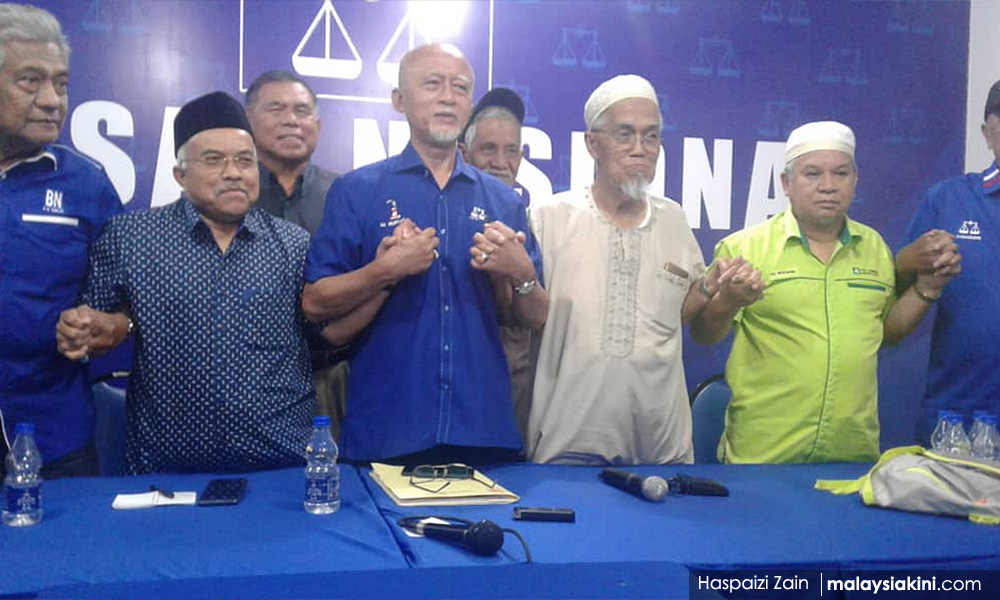 PAS' rank and file have been tasked with convincing their fellow supporters to vote BN.
The Islamist party's president Abdul Hadi Awang, who campaigned for BN in Cameron Highlands, will not be making a campaign appearance in Semenyih.
Mixed political signals
are not a unique feature for PAS, which was part of the Selangor Pakatan Rakyat state government despite having broken ties with PKR and DAP at the time.
So far, PAS' campaign does not address why the party has pledged to support Mahathir. Instead, their rhetoric is heavy on Malay and Muslim unity.
In particular, PAS' campaign message was that DAP was their main enemy and therefore PAS supporters should back the BN candidate.
Sorry isn't the hardest word
Racial and religious rhetoric by BN and PAS, coupled with the delay in implementing a lot of election promises, has left Harapan on the defensive.
Apart from Muhyiddin, Harapan hasdeployed two other "big guns" - PKR deputy president Mohammed Azmin Ali and Selangor Menteri Besar Amirudin Shari - to campaign regularly.
Many of the Harapan top leaders and cabinet ministers have been adopting an apologetic tone while campaigning, often stressing that they are on course towards a New Malaysia, while appealing for patience because the journey will take time.
They have constantly repeated that undoing BN's misdeeds over the past 60 years cannot be done in nine months, and promised reforms will eventually materialise.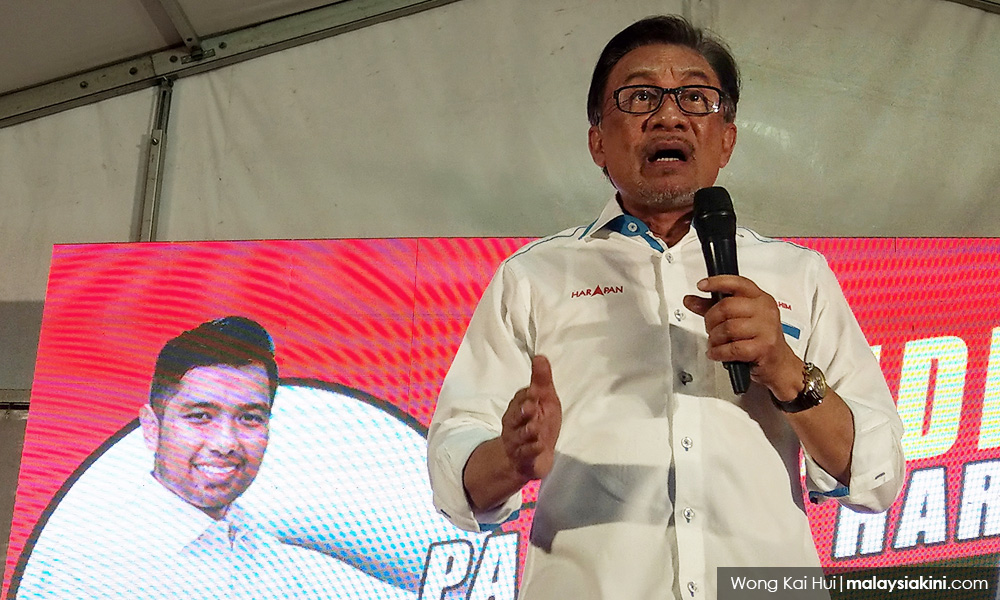 PKR president Anwar Ibrahim, for instance, openly apologised for this during a ceramah in Taman Seri Jenaris while assuring voters that reforms were steadily being carried out.
Harapan leaders are also acknowledging that there are local issues which remain unresolved, while appealing for voters to look towards the "bigger picture," such as eradicating graft and stymieing former premier Najib Abdul Razak's chances of staging a comeback.
'Bossku' gaining traction
Najib had debuted his "bossku" character in Cameron Highlands. which succeeded in drawing attention to himself and BN while serving as a distraction for Harapan's top vote canvassers.
Although the novelty has worn off for the media, the "bossku" tour of Semenyih has yielded an even better result than Cameron Highlands.
He is often mobbed at pre-announced locations, with supporters demanding selfies and handshakes. "Bossku" merchandise are also making brisk sales.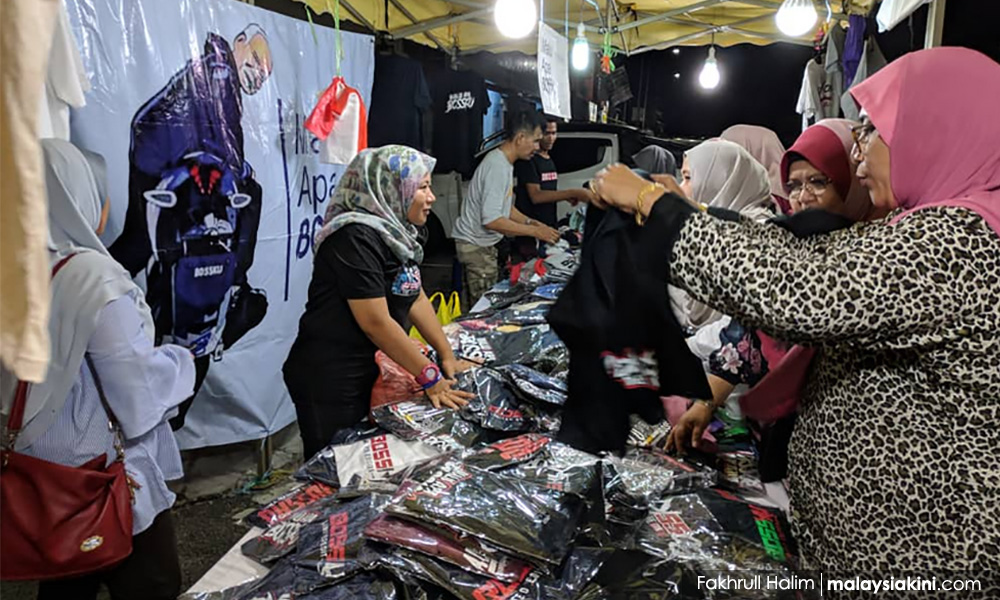 At night, Najib would join the ceramah circuit, often becoming the most charming and humorous speaker of the bunch, providing a counterpoint to his more firebrand colleagues.
For the most part, Harapan has learnt from their mistake in Cameron Highlands by not engaging Najib, instead chosing to dig up his past alleged misdeeds.
However, as long as Najib continues to enjoy freedom, he will serve as a symbol of defiance and make a mockery of Harapan's oft-repeated promise to jail him.
Harapan's candidate too green?
Adding to Harapan's problems is the fact that its candidate - Muhammad Aiman Zainal (photo below) - is a political greenhorn.
He constantly has to refer to his minders when questioned by the press and made an embarrassing gaffe by promising to solve all problems in the constituency a day after he is elected.
A strawpoll among voters found some believing that Aiman, who is working on his PhD in electrical engineering, was too middle-class for their liking.
Harapan's idea was to field someone young and professional, but the constituents, who are mostly working class, appear to have an appetite for a grassroots troubleshooter to address the many local issues.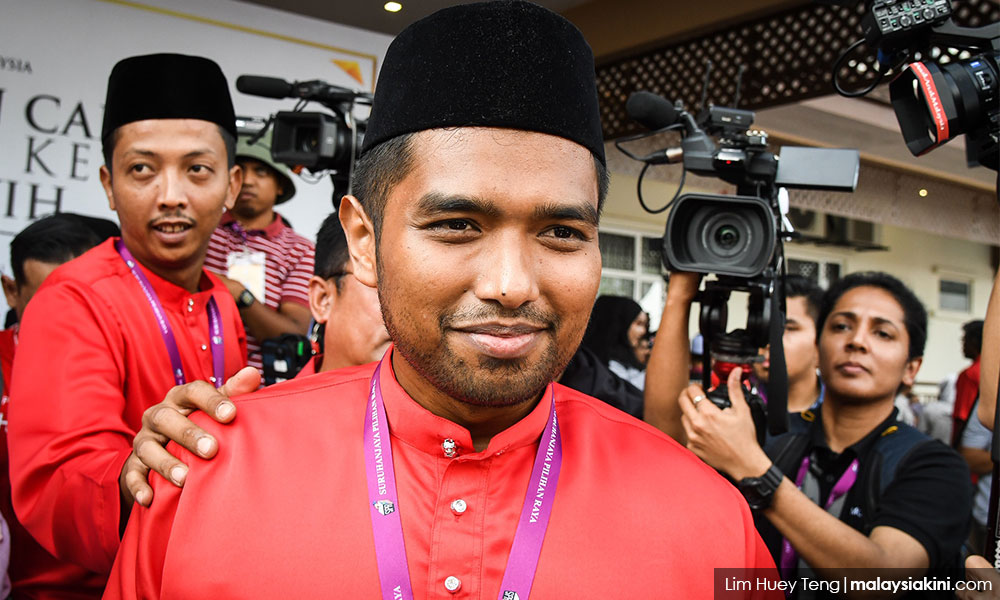 Some voters also told Malaysiakini that his late father-in-law Bakhtiar Mohd Noor, whose passing paved way for this by-election, was not fondly remembered since the latter's time in Umno.
Bakhtiar is local to Sungai Lalang, a small town within the constituency. He was a local Umno personality until he joined Bersatu.
In contrast, voters appeared to find BN's Zakaria Hanafi, a former civil servant and veteran Umno member, more relatable.
BN fortifying strongholds
Harapan did not begin the campaign with an advantage given that it had only secured 50.02 percent of the vote during the last general election.
So far, Malaysiakini has observed that Harapan's campaign was more focused on polling districts where the coalition won with less than 50 percent of the popular vote.
These areas include suburbs such as Kantan Permai, Bandar Rinching, Bandar Sri Kesuma and Bearanang.
This would suggest that the ruling coalition believed that it is confident of its level of support in polling districts it won during the last general election and will need to make some gains in areas where no contestant had a clear majority.
In contrast, BN appeared to be bunkering down in polling districts where it won comfortably, setting up bases in Batu 3 Kajang, Rinching Hulu, Sungai Lalang and villages surrounding Beranang town.
This would suggest that the opposition coalition expects that focusing resources to consolidate BN and PAS supporters - a strategy that worked very well in Cameron Highlands - would be enough to clinch victory in Semenyih.
With just two days to go before polling, all eyes will be the final messages during the two key rallies by Harapan and BN that will happen simultaneously tonight.
Mahathir will be addressing the Harapan rally, while Umno president Mohamad Hassan and PAS deputy president Tuan Ibrahim Tuan Man will feature at the BN rally. - Mkini