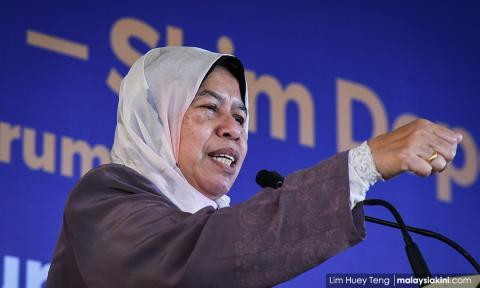 Tourism, Culture and Arts Minister Mohammaddin Ketapi's overwhelming concern for the people led him to announce the RM80,000 aid to repair a community hall in Beranang, Semenyih, according to his colleague.
Zuraida Kamaruddin said Mohammaddin did not realise that his announcement was against election laws.
"I think he was unsure because he always has the people's interest at heart, so he forgot about the by-election campaign period," she told reporters in Semenyih today.
Zuraida, who is the housing and local government minister, said Mohammadin's swift apology showed that the latter realised he had made a mistake.
"He became aware of his mistake, so he quickly apologised.
"This is the way of our new leaders. When we make a mistake, we quickly apologise. No need to 'ok, ek, ok, ek' (make excuses)," she added.
Mohammaddin had pledged RM80,000 to repair the Haji Md Silin hall during his speech at a programme organised by his ministry in Beranang.
About an hour later, the minister retracted the statement and apologised.
The Election Commission had previously explained that government functions held in areas undergoing a by-election are not viewed as an offence as long as there is no element of vote buying.
Asked if the RM80,000 would be cancelled, Zuraida said she believes it has just been postponed until after the polls.
"I have a lot of allocations (to announce as well), but I can't talk about it (now) or else you will say I am giving (the allocations) because there is a by-election.
"So I (too) will postpone (the announcement)," she added. - Mkini