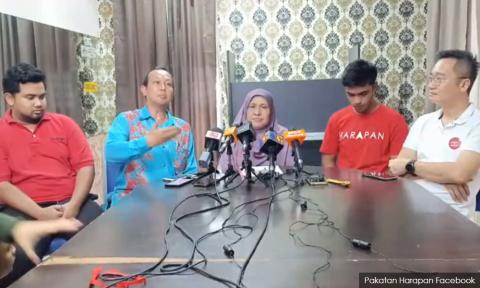 The families of four Pakatan Harapan state assemblypersons who died following the last general election have demanded an Umno man to retract his hurtful remarks.
They were responding to former Selangor opposition leader Mohamed Satim Diman who equated the deaths, which paved the way for four by-elections in the state, as a divine sign to voters.
"On behalf of my family and other families present here, we urge the person who made the remarks linked to the deaths of our beloved husbands and father to withdraw it," said Adibah Ahmad, the wife of the late Dr Shaharuddin Badaruddin, who was elected Seri Setia assemblyperson in GE14.
"The remark has hurt us as well as their friends and colleagues," she read a joint statement during a press conference in Semenyih today.
"There is no position, status, or political affiliations that can prevent Allah's will on life and death.
"This is Allah's will. We pray that there will no longer be any extreme campaign tactics which are against our culture and societal norms as Malaysians," she added.
The joint statement was also inked by Rohani Abdul Sattar (wife of the former Sungai Kandis assemblyperson Mat Shuhaimi Shafiei), Loh Hwa Hong (wife of the former Balakong assemblyperson Eddie Ng) and Fitri Al-Amin Bakhtiar (son of the former Semenyih assemblyperson Bakhtiar Mohd Nor).
During his
speech
in Semenyih last night, Satim rued the defeat of BN candidates in the previous by-elections in Selangor.
"He (Allah) is giving a warning. Firstly, BN lost in Sungai Kandis. It is okay because (people) had not seen the light. Then it came to Seri Setia, but BN lost too.
"Allah said, 'Are Muslims not getting it yet?' Then there was Balakong, but (people) still did not understand.
"'If (people) don't understand, then I will give you
Semenyih
'... Allah said, 'I'll cause a death here'. If (people) still cannot understand this, I don't know what to say," added the Puchong Umno chief. - Mkini