Umno deputy president Mohamad Hasan has claimed that Prime Minister Dr Mahathir Mohamad once admitted he still "loved Umno" and would never declare the party illegal.
Speaking during a ceramah in Semenyih last night, Mohamad said Mahathir made the admission during their meeting last October, an event which later sparked controversy.
Mohamad further alleged Mahathir later "twisted the facts" by claiming that he (Mohamad) had expressed an intention to join Bersatu.
"I told Tun, don't dissolve Umno. This is a Malay party, so it would also not be good for him (if Umno was dissolved).
"He (Mahathir) then said, 'Who wants to dissolve Umno? Mat Hasan, I love Umno more. I was Umno president for more than 22 years'," said Mohamad.
"But he (Mahathir) also said Umno has now been destroyed by Najib and other Umno leaders," he added.
Previously several
photographs
of Mohamad and other Umno leaders, including Noh Omar, Tengku Adnan Tengku Mansor and Shahidan Kassim, meeting with Mahathir had gone viral.
On Dec 13, Mohamad denied their meeting with Mahathir was about them jumping ship from Umno to Bersatu as widely speculated online.
Instead, he explained that the meeting was to discuss Mahathir's call for Umno president Ahmad Zahid Hamidi to dissolve the party.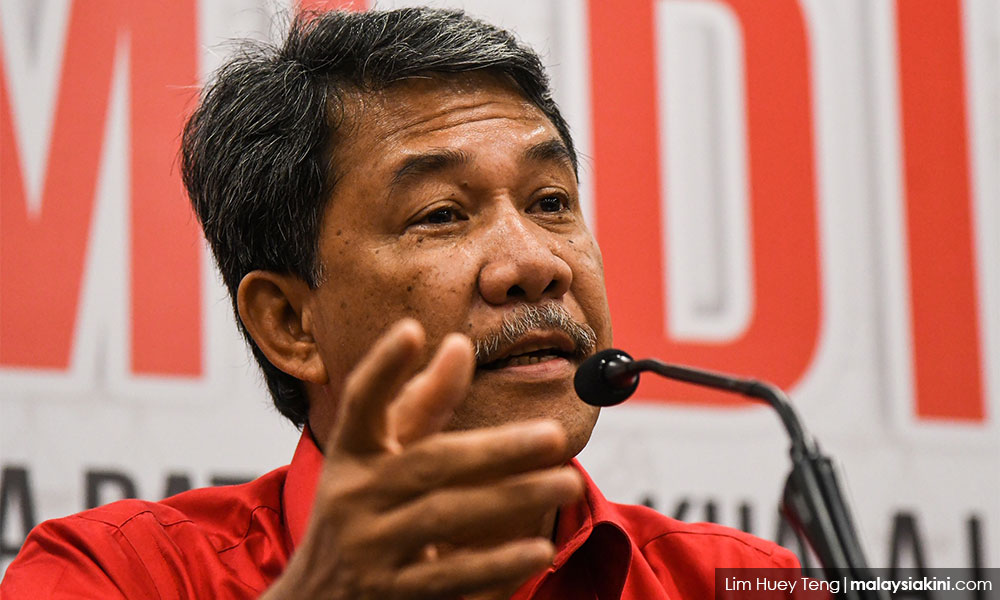 Commenting further on the meeting held following Mahathir's return from attending the 73rd UN summit in New York, Mohamad insisted the Harapan chairperson had attempted to twist the facts on what had transpired between them.
Similarly, Mohamad also claimed Mahathir had made a similarly misleading statement that PAS will not back Umno in the Semenyih polls as allegedly communicated during his
meeting
with PAS president Abdul Hadi Awang, PAS secretary-general Takiyuddin Hassan and Terengganu Menteri Besar Ahmad Samsuri Mokhtar.
"I asked Takiyuddin and he said, 'No such thing Tok. We went and discussed (oil) royalty and we discussed the appointment of (Economic Affairs Minister) Mohamed Azmin Ali as chairperson of Kelantan's state action committee'," said Mohamad. – mkini
Umno's Tok Mat bets political future on Rantau
KUALA LUMPUR – Acting Umno president Datuk Mohamad Hasan said he will contest the Rantau by-election even if it results in his political "death".
The former Negri Sembilan mentri besar was the three-time Rantau assemblyman who lost the seat after the Special Election Court annulled his uncontested victory from the 14th general election.
"I am contesting in Rantau. It is my hometown. I will not run away. (If I am to lose), let me 'die' in my hometown," he was quoted as saying by the Malaysiakini news portal.
He was stripped of the seat after the court decided that his would-be opponent, Rembau PKR division deputy chief Dr S. Streram, was unlawfully prevented from submitting his nomination papers, which led to Mohamad's automatic victory.
Rantau is the country's next major political bellwether after this Saturday's hotly-contested Semenyih by-election.
Umno is likely to deploy its full remaining might to aid the chances of its acting leader commonly called Tok Mat.
Mohamad will have the advantage of his previous incumbency in the area as well as the support of major party leaders in surrounding constituencies.
Former Umno Youth chief Khairy Jamaluddin is the MP for Rembau, the federal constituency that Rantau falls under.
Barisan Nasional secured a convincing win in the Cameron Highlands federal seat ahead of Semenyih in a campaign rife with racial and religious overtones.
There is growing concern that yet another victory for BN via the Umno-PAS cooperation could signal a dangerous return to polarised communal politics in Malaysia. – malay mail
MKINI / MALAY MAIL