Khairuddin Aman Razali says that PAS is prepared to lend its support to Dr Mahathir Mohamad if necessary, despite the prime minister stating that he did not need the party's backing.
"It's alright that Mahathir said he does not need PAS' support, but PAS will carry out its duty," the PAS central committee member told Malaysiakini when contacted today.
"If Mahathir needs support on issues relating to Islam and Malays, PAS will still support him."
Khairuddin added that PAS does not expect anything in return for its support.
PAS had previously pledged to back the prime minister, alleging there was an
internal plot
within Pakatan Harapan to oust him.
On Monday, however, Mahathir said he
did not need
PAS' support to remain prime minister.
Khairuddin, the Kuala Nerus MP, said his party's support is not conditional on Mahathir's personal capacity.
"It is based on the need to support the prime minister in the interest of Islam and Malays, that is facing pressure and demands from DAP," his statement read.
Khairuddin also took aim at PKR president Anwar Ibrahim, who is slated to succeed Mahathir as prime minister.
"It concerns issues of Islam coming under threat, and also Anwar's ambitions to become prime minister, so much so that he is willing to pawn his principles," he said.
'Plot to topple Dr M' claim triggered Anwar to open fire on PAS
PKR president Anwar Ibrahim chose to remain silent in the face of attacks from PAS in the years since the collapse of the Pakatan Rakyat coalition.
"I never responded once, because I considered PAS as an old buddy. I am that kind of a person," he told a press conference in Kuala Lumpur this evening.
According to Anwar, the final straw was when the Islamist party attempted to create a rift between him and Prime Minister Dr Mahathir Mohamad.
He said that PAS president Abdul Hadi Awang started spreading the rumour of a plot to topple Mahathir.
"I have discussed this with all leaders (in Pakatan Harapan), no one has heard of such a plan. We are bound by an agreement to support Mahathir as prime minister, so it is not possible to call it off.
"So, there is no basis. And PKR will give our support to Mahathir as we promised.
"Do not try to pit us against one another. This is the work of PAS, that is why I started to tegur (reprimand) them," he said.
Anwar added this was why he told PAS that they were open to criticise him and have differing opinions, but not to resort to lie or slander.
During the press conference, Anwar also touched on the continuity of Harapan's work when he assumes the premiership from Mahathir.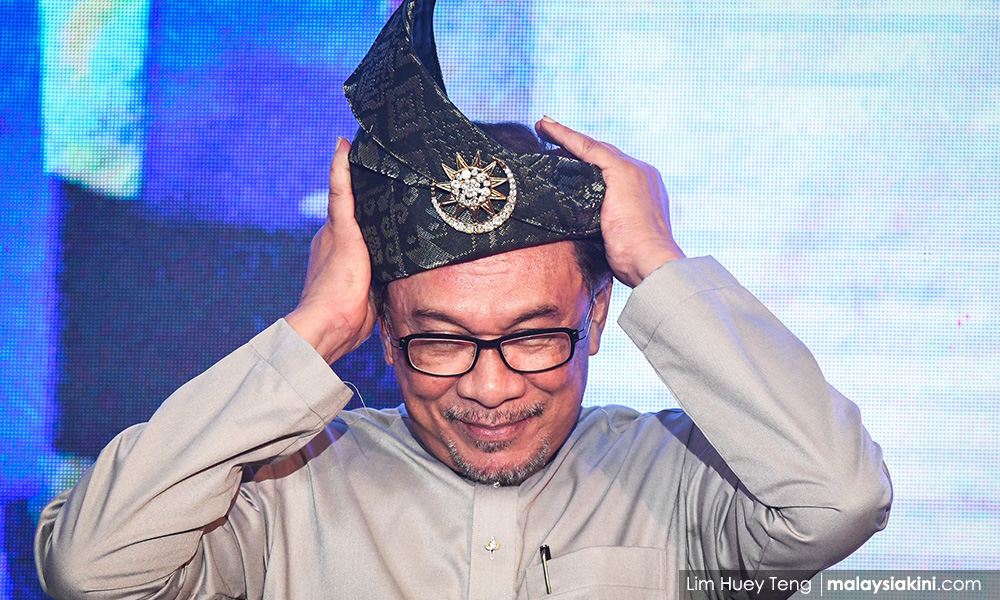 As he claimed, that some had misunderstood the transition as the formation of a new government.
"This is not correct. Because what is being done (by Putrajaya) under Mahathir's leadership today is based on Harapan manifesto, and we will try to continue it.
"Maybe there will be a slight difference in focus, but it would still be in the same direction," he said.
Anwar was speaking to reporters after launching Utusan Melayu Bhd's 'Hadiah Sastera Kumpulan Utusan', which saw him presenting awards to six winners of the literary award.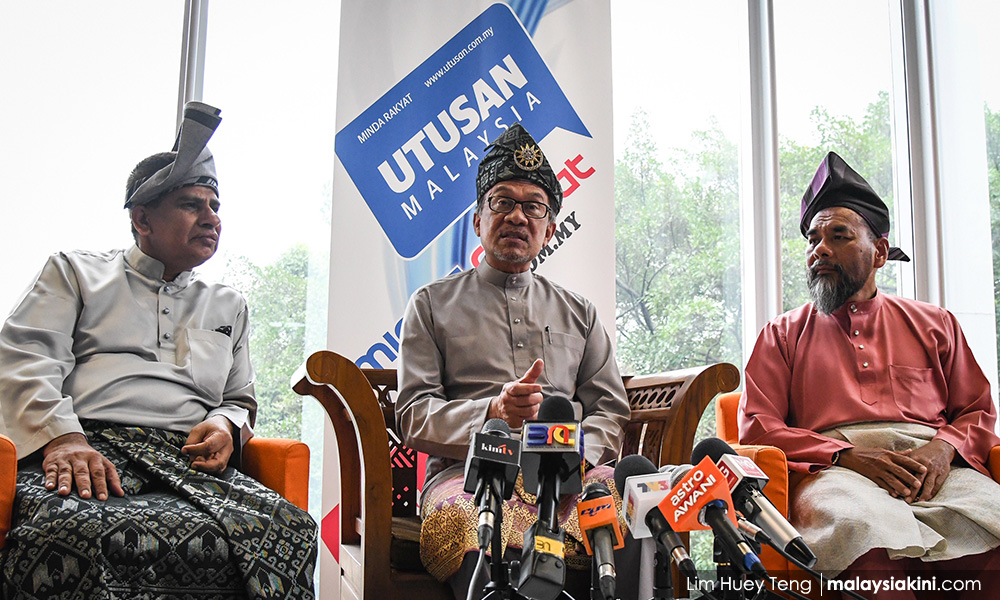 Today was the first time in 20 years that the PKR leader had set foot in the office, as Utusan Malaysia had been among his fiercest critics since his sacking as the deputy prime minister in 1998.
Anwar said he decided to accept Utusan's invitation as he could not deny the contributions of the newspaper, which he said has been synonymous with the development of the Malay community.
He also quipped that it had played important role in supporting his activism when he was a student leader, before the relationship turned sour with his sacking.
"When I sued Utusan before, and it issued an apology as part of our out-of-court settlement, I gave one condition then.
"I was still in Sungai Buloh Prison. I told them other things are not important, what I want is for them to send me all Utusan-published books, including literary works," he said.
This was met with a round of applause from the audience, before Anwar told them sarcastically not to clap just yet.
"Do not clap your hands yet… I have not received the books," he said, followed by laughter from the floor.