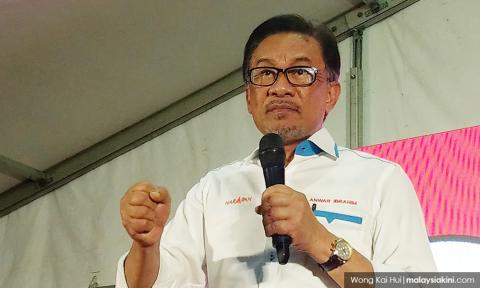 PKR president Anwar Ibrahim today pointed out that Sarawak Report editor Clare Rewcastle Brown had never claimed that PAS' funds originated from 1MDB, but from Umno instead.
According to Anwar, 1MDB-linked funds were not channelled directly to PAS, but to one of its former leaders who still maintains close ties with the party.
"1MDB funds were not given to PAS," he said.
Anwar claimed this former PAS leader received RM3 million, adding that there is record of the transfer of funds.
"So okay, we don't disturb PAS (on 1MDB funds). But what happened was that PAS did get money from Umno," he said.
On Feb 24, MACC chief Mohd Shukri Abdull stated that the commission
did not find
any money originating from 1MDB in PAS' account.
This confirmed what a well-placed source had earlier
told
Malaysiakini.
As the source noted, however, this was limited to the PAS official bank account, and not those of its leaders.
Following Shukri's comment, PAS secretary-general Takiyuddin Hassan said it proved that the allegations against the party were slander, and threatened to sue anyone who perpetuated the claim. - Mkini