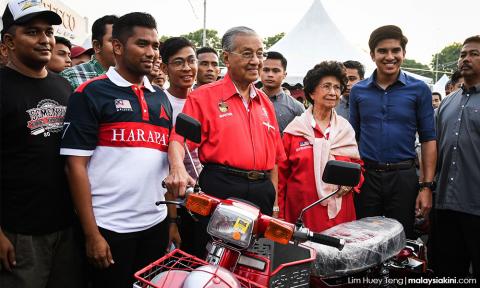 SEMENYIH POLLS
| Only thieves would want former prime minister Najib Abdul Razak as their boss, said Pakatan Harapan chairperson Dr Mahathir Mohamad.
"Bossku? I don't get it. Taking a thief as your boss.. They must be thieves too," Mahathir said in a brief speech during the Semenyih campaign today.
Najib is currently awaiting trial on charges of money-laundering, criminal breach of trust and corruption in relation to the 1MDB scandal.
The "Bossku" persona is Najib's new gimmick which he adopted during the Cameron Highlands by-election campaign last month.
Its image depicts him smiling and posing on a small motorcycle purportedly to identify with the mat rempit (youth bikers) who are among his supporters.
Mahathir's remarks about the "Bossku" character comes after the prime minister himself posed with a small motorbike surrounded by supporters.
About 100 motorbikes had been brought to the Semenyih Tesco parking lot for the "Santai 2 Roda" (Chilling on Two Wheels) event which Mahathir attended.