In the past week or so, speculation has been rife that
the

Harapan govt may cease to exist
; Dr Mahathir suddenly found himself at the end of several rumours regarding a possible
vote of no-confidence
that might see him
removed as Prime Minister.
You can
read more about that here
, but it does seem as tho for now anyway those rumours are just that –
rumours.
That being said, it won't be the first time that Mahathir would suddenly find himself out of Putrajaya. In fact, the last time he was 'unwillingly' pushed out of office, a certain Chinese federal minister ended up as the (acting) Prime Minister of Malaysia.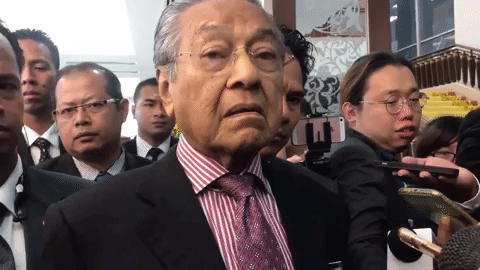 It all started with the biggest civil war in UMNO's history
"There existed two 'teams' in UMNO. Team A, led by Dr Mahathir, were a group of liberal Malay nationalists, while Team B had Tengku Razaleigh at the helm with a conservative Malay nationalist approach," – Mohd Faidz Mohd Zain, et al, UKM researchers,

as translated from their research paper
"Very sadly, I have to make a finding in law that, at the material time, UMNO was an unlawful society," – Judge Harun Hashim,

as quoted by Malaysian Bar
Following that decision, Mahathir, with no more party behind him, could no longer be the Prime Minister. As such, it led to…
Malaysia's first and only Chinese (Acting) Prime Minister…
Ling Liong Sik
was the
MCA President
and
Transport Minister
during the time of the drama, and
from

4 Feb 1988 to 16 Feb 1988
, Malaysia's
Acting Prime Minister
too due to the trouble that UMNO was in.
As for Ling himself, he would continue in his role as Transport Minister til his
retirement in 2003
. However, his time in politics would continue to ling-er on as in 2010, he was
charged with cheating the govt
in relation to the
PKFZ scandal
. He would however be
cleared of all charges
, with Dr M even siding with Ling in the case. Ling was also again in the spotlight as one of the veteran BN politicians
calling for Najib to resign
back in 2015, and was even spotted at a
Bersih
rally in Perth.
Could a non-Malay Prime Minister happen again… but for Liong-er?
"The process towards this end has started. Believe me, if we are all sensitive to the tastes of Malaysians, the issue of race and origin will no longer obstruct any Malaysian from holding any post… Cooperate in the political, economic and social fields and we will all eradicate racialism and accept just any Malaysian to become prime minister and fill any post," – Dr Mahathir, in 2000, as quoted by Utusan Online
Now some of you may have think that Mahathir has a point. A couple of decades ago for instance, no one could've foreseen that America would've had an African-American president, and yet Barack Obama would end up in the Oval Office, kinda showing that cultures can change over time. But then again, it's also perhaps worth mentioning that Mahathir's quote was
said in front of a crowd of MCA fellas during their 47th General Assembly
laa, so take what you will from that. In any case, unless you're a psychic, only time will tell.
-https://cilisos.my/