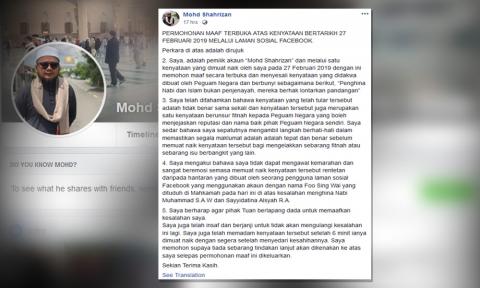 A man has apologised to attorney-general Tommy Thomas for uploading a "slanderous" post on social media which portrayed the latter as anti-Islam, although the man claimed the post in question was only up for six minutes.
The man, who goes by the username Mohd Shahrizan, issued the
apology
on Facebook yesterday evening.
The apology came just hours after the attorney-general lodged a
police report
over a claim circulating online which claimed he was against Islam.
Shahrizan yesterday said he wanted to apologise to Thomas after learning that a message he shared on his social media account was not true.
According to Shahrizan, the post in question read: "Those who insult Islam and Prophet are not criminals, they reserve the right to express their views". It was alleged that Thomas was the one who made the remarks.
"I was made to understand that the statement, which had gone viral, was entirely untrue and it was also slanderous towards the attorney-general, which could tarnish his reputation and good name.
"I realise that I should have been cautious to ensure all information was true before uploading the statement so as to prevent any slander or other issues," Shahrizan said.
The man further claimed that he had been unable to control his anger when publishing the statement, as he was emotional over a recent incident in which another netizen had allegedly insulted the Prophet Muhammad and his wife Aisha.
Assuring that he would not repeat the mistake, Shahrizan asked that Thomas not to proceed with any legal action against him, saying that he had taken down his post after just six minutes of uploading it.
Malaysiakini has learnt from a source within the Attorney-General's Chambers (AGC) that Thomas' police report which referred to a 'vicious message' was not related to Shahrizan's posting.
It was reported that Thomas' special officer had lodged the police report at Putrajaya police headquarters about 3.15pm yesterday.
The report was made following accusations from Umno and PAS that the AGC has not been firm with those accused of insulting Islam. - Mkini