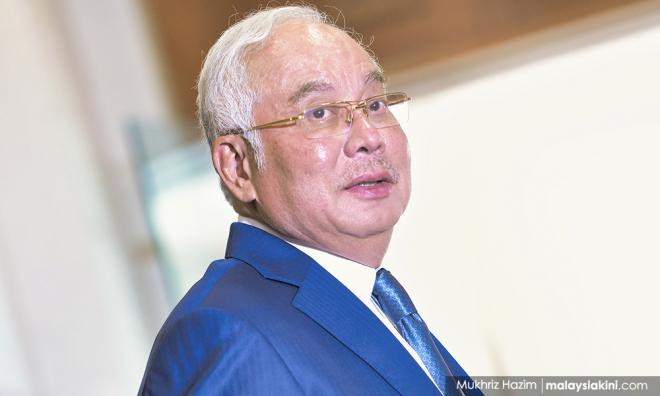 Today's hearing in 1MDB criminal trial against former prime minister Najib Abdul Razak is postponed to tomorrow as the Pekan MP has to be at parliament to deliver a speech.
Lead defence counsel Muhammad Shafee Abdullah told the court that Najib was initially slotted to speak between 11am and 12 noon during the parliamentary debate on Budget 2020.
According to Shafee, Najib's slot as well as six other BN MPs in the morning, however, got displaced by speeches by other parliamentarians, including PKR president Anwar Ibrahim, who is Port Dickson MP.
"He is raising some very critical issues in parliament today, and that has been prepared since the past two weeks. It is not easy to get 20 to 30 minutes speech (slot) unless you sneak in (during) budget debate. This is the budget debate," Shafee said.
The lawyer claimed that Najib had prior to this made an application to Dewan Rakyat speaker to slot him at 4.30pm so that he can attend the trial, but was not fulfilled.
"He made an application in parliament two weeks ago. But he got to know his slot a day before I told Yang Arif.
"If not, he would have applied to Yang Arif earlier (to vacate today's hearing session)."
Yesterday, Shafee had made a request to the court for today's session to start in the afternoon as he has to be at the Federal Court in the morning for another matter.
He also informed the court that Najib would have to be present in parliament to deliver his speech today, scheduled at 11am.
Meanwhile, lead deputy public prosecutor Gopal Sri Ram objected to the application by the defence to postpone today's hearing.
Gopal told the court that it was not enough reason for Najib to be absent from his trial just because he could not give up his slot at parliament.
"If there is any other good cause (to be absent from parliament), this is a good cause," he said.
Gopal said the prosecution had also brought other witnesses on standby to testify as they were not sure when the defence would complete their cross-examination on former 1MDB CEO, Shahrol Azral Ibrahim Halmi, who is ninth prosecution witness.
For the record, today was supposed to be the 22nd day of 1MDB trial against Najib, with Shahrol expected to resume with his testimony under cross-examination by Shafee. - Mkini