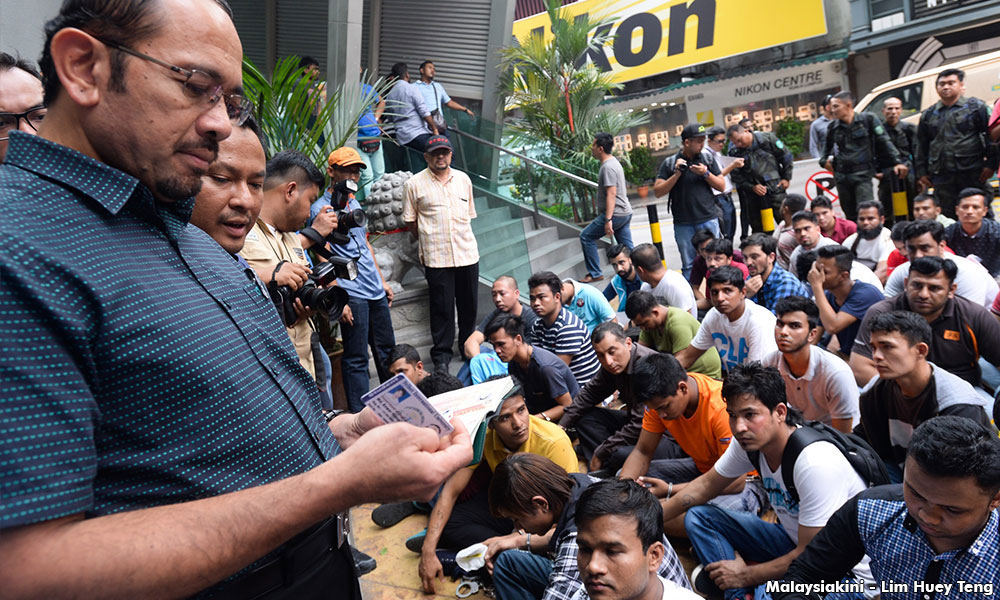 At midnight tonight, the immigration authorities are to launch a large-scale operation to flush out illegal immigrants in the country, following the passing of the deadline to register for the enforcement card or E-card.
As of 8am today, a total of 155,680 illegal immigrants working for 26,957 employers had applied for the E-card and 140,746 of the cards were issued. This is only 23 percent of the 600,000 cards targeted by the Immigration Department.
Immigration director-general of Immigration Mustafar Ali is not amused. In fact, he is disappointed with the attitude of the employers. The registration exercise was launched on Feb 15.
"I emphasised many times that the deadline for registration is midnight tonight, and the deadline will not be extended," he said at a press conference.
He said that after the deadline passed, the department would arrest illegal immigrants and prosecute their employers under sections 56(1) and 55B of the Immigration Act 1959/1963, including those employing immigrants with student passes.
A check by reporters today found the Immigration Department headquarters crowded with employers and their illegal immigrant workers waiting to register for the E-card at the 11th hour.
"While the deadline for applications is midnight, we expect our officers to be working up to 7am tomorrow to process all the documents received," said Mustafar.
He said the applications received after 11.30am had to be kept aside to complete processing those received earlier.
The most number of applicants were illegal immigrants from Bangladesh, followed by those from Indonesia, Myanmar and Nepal, he said.
Mustafar also said that immigration authorities had arrested several people who took advantage of the E-card registration to offer their services as agents.
"They were issuing false E-cards," he said, adding that employers had to apply for the cards without going through middlepersons.
- Bernama