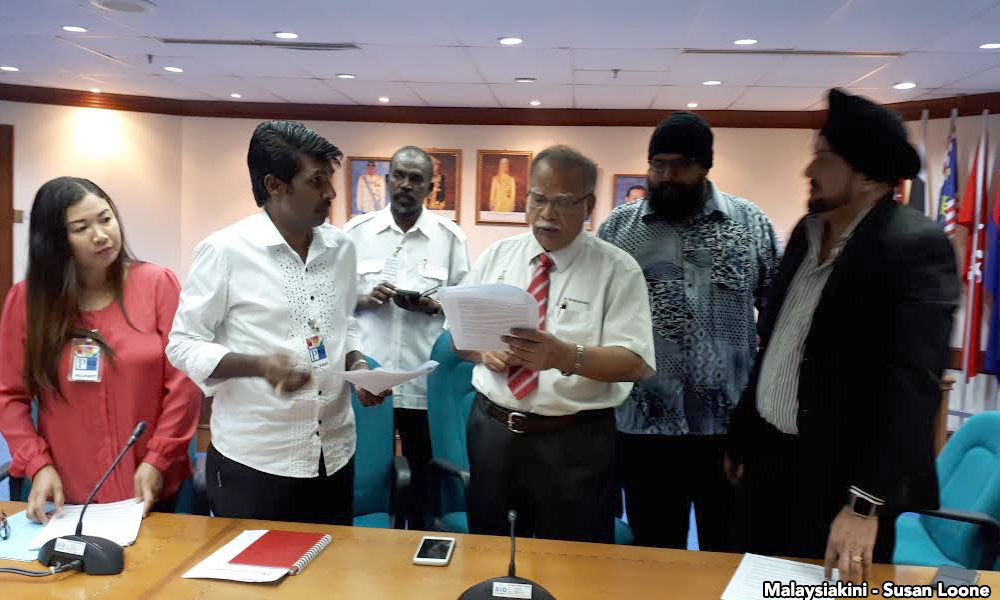 The Politeknik Seberang Perai (PSP) management team has denied telling a former Indian canteen operator to convert to Islam so that he can continue operating his stall, said Penang MIC Youth chief M Pirakash.
Pirakash said his team, including state MIC youth treasurer M Shanmugam and the party's state executive secretary L Muneshwaran has paid PSP director Zulkifli Ariffin a visit, and the latter denied the claims made by the canteen caterer Gopi Krishnan Gopal.
Pirakash also denied that Gopi Krishnan had to cease operations in PSP due to racial discrimination, echoing deputy education minister P Kamalanathan's remark that the contract was
terminated
due to administrative reasons.
PSP has refused to respond to Malaysiakini, while text messages to the polytechnic's public relations department went unheeded.
During the press event yesterday, Gopi Krishnan
lamented
about how he was subjected to syariah compliance rules when he is not a Muslim.
The 45-year-old former engineer, who runs the stall with his wife Annie Khor, serves Indian food to approximately 1,200 non-Muslim students, mostly vegetarians.
His contract ends today although Gopi Krishnan claimed to have complied with all the requirements, including purchasing chicken from a common halal vendor, as stated in the open tender application he applied for in May.
"The Indian canteen operator has been advised to get his halal certification but even after 10 months, he has still failed to obtain the certificate," said Pirakash in a statement last night.
'Ammunition against Putrajaya'
Pirakash said the halal certification was requested in accordance with the Ministry of Education's requirement for all canteen operators.
This requirement, he added, was not only imposed on Gopi Krishnan but the other 12 canteen operators, who applied for PSP's tender.
Pirakash said Zulkifli is always willing to resolve the issue in an amicable manner, and the latter has agreed to assist Gopi in obtaining a halal certificate.
The Penang MIC leader express concerns that Penang Deputy Chief Minister P Ramasamy, who joined Gopi Krishnan at the press conference yesterday, had politicised the issue.
Ramasamy had urged for the PSP management team and Kamalanathan to resign from their posts for not being able to resolve the matter.
"Our question is very simple here, why has he (Ramasamy) not taken the effort to visit the director to find out more about this issue, rather than using it as his political weapon against the federal government?" Pirakash asked.
"Could it be because the affected party, Gopi Krishnan, is a staunch supporter and a JKKK committee member in his constituency?" asked Pirakash.
"Let's all not jump to any conclusions, and find out more about what has transpired and taken place at the polytechnic.
"We truly understand the feelings of our fellow Indian brother who was affected by the issue, but let's not allow unwanted parties to take advantage of this situation and make it a racial issue," Pirakash said.
According to Ramasamy, who is DAP Prai assemblyperson, Gopi Krishnan is no longer in the JKKK committee.- Mkini