A sole breadwinner mother with two children, a stroke victim husband and a cancer patient mother to care for, is desperate for her salary to comply with the latest minimum wage order.
However, this contract cleaner at a school in rural Perak, who continues to draw a meagre monthly salary of RM1,100, is in a dilemma because it is the government that is the bad paymaster.
"Siti (not her real name) is still earning a monthly salary of RM1,100, which was the minimum wage implemented in 2019.
"The minimum wage has seen two adjustments since it was set at RM1,100 and Siti is supposed to be earning RM1,500 from May this year," PSM central committee member Rani Rasiah told Malaysiakini.
Although Siti's plight does not depict every B20 household in Malaysia, Rani questions why multiple ministries keep workers in forced labour conditions by flouting laws designed to protect the poor.
According to the Jaringan Pekerja Kontrak Kerajaan (JPKK), Siti is among the 250,000 contract cleaners and security guards employed in 10,800 government schools and 148 public hospitals in the country.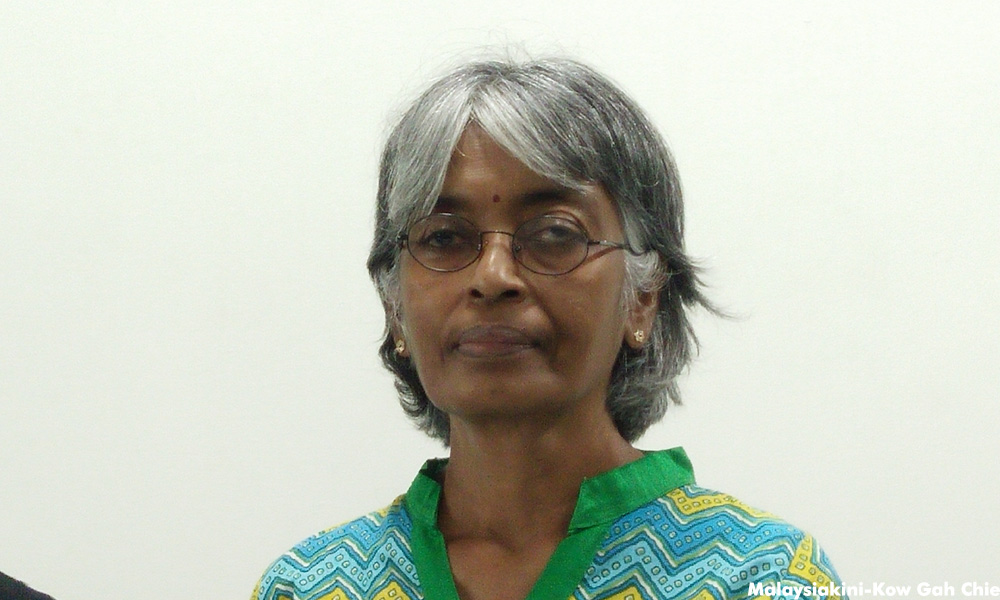 Rani estimates that 50 percent of these workers are losing money every month as they are not given the minimum wage but Human Resources Minister M Saravanan has declared them as not entitled to the latest national minimum wage.
Even cleaners and security guards working in government facilities based at the seat of the government, Putrajaya, have not received their mandated biennial wage increment.
Former human resources minister M Kulasegaran estimates that about 100,000 contract workers in government facilities are being denied minimum wages and the Malaysian Trades Union Congress (MTUC) has threatened to highlight this forced labour issue to international bodies.
Kulasegaran said in the October session of Parliament that during the Pakatan Harapan administration, contract workers' salaries were set aside and paid directly to contractors, and declared that this year was the first time in Malaysian history that it was not practised.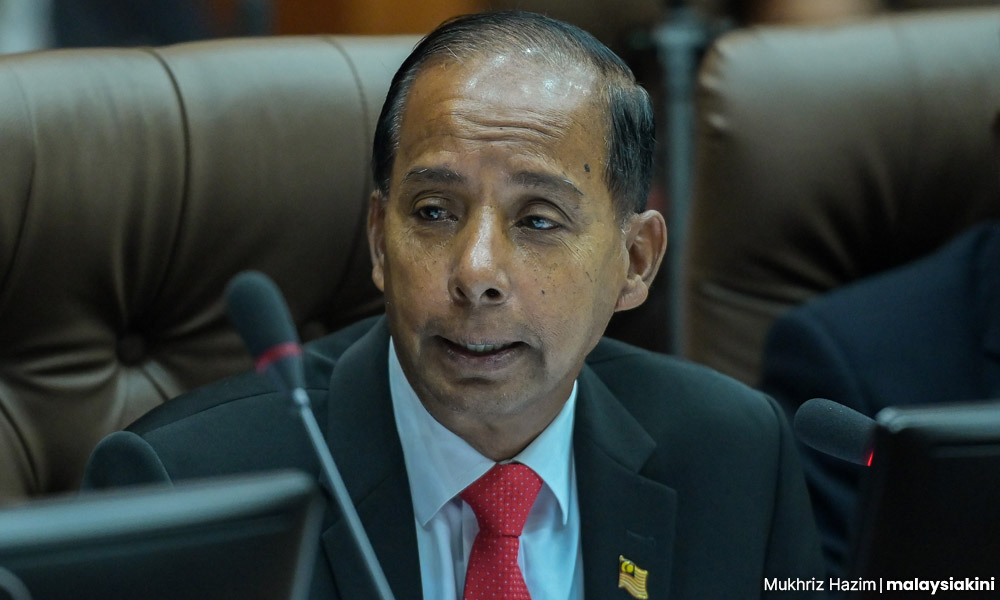 Another victim of the problem seems to be Siti's employer – who alleged that the Education Ministry was sitting on their 33 months of unpaid claims.
"Siti is struggling to make ends meet but she does not dare to complain for fear of losing the sole income that enables her to support her family, a fate not dissimilar to many families in this sector," Rani declared.
Rani spoke to Malaysiakini on behalf of Siti, who was too afraid to share her daily challenges of caring for her husband, mother and children while holding a full-time job as a school cleaner.
Government abandoning the poorest
Siti, in a message handed over to this journalist, said: "I am worried, madam. I am the sole breadwinner. Mother has cancer. My husband suffered a stroke. Children are schooling. If I am sacked, I don't have any other source of income."
When Rani filed third-party complaints on behalf of Siti, her colleagues and workers from other schools employed by different companies and employers plied their workers with correspondence to the government appealing for payments due.
Rani said Siti's employer sent them copies of the letters and a memorandum by a national coalition of contractors to the government, appealing for wage adjustment approval with corresponding automatic e-procurement adjustments made out to them (the employers).
"Employers fob off employees with the excuse that the government has not made necessary payments that meet the minimum wages owed to them.
"Although this is their excuse, the government's payment arrangement with their contractors is based on salaries paid.
"So, employers are supposed to pay the salaries first and submit their claims," Rani explained.
She said there was nothing stopping employers from complying with the new minimum wage order.
"If we accept that employers too are not receiving their payments, then the government must answer why it is abandoning the B40," Rani stressed.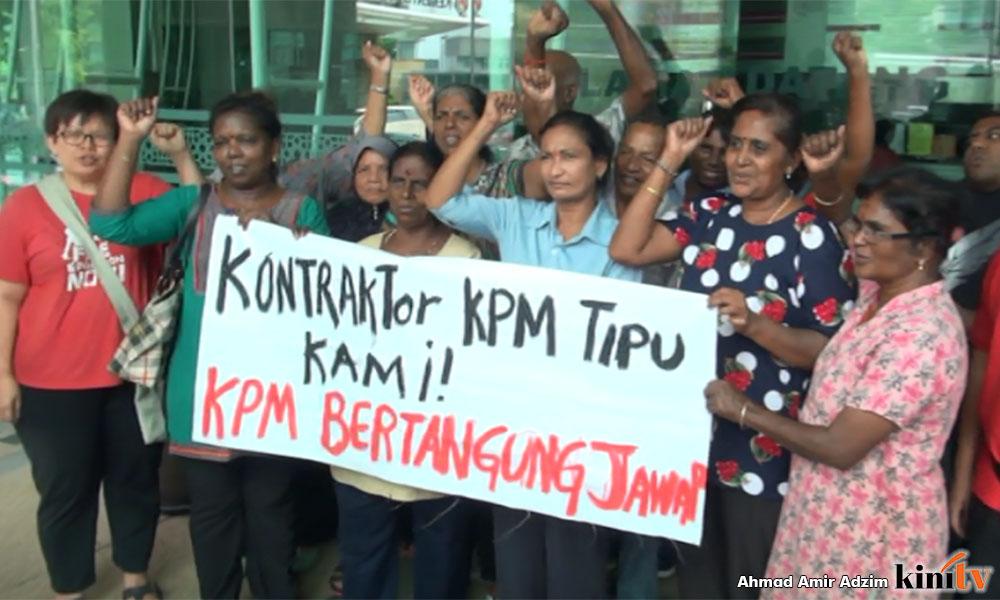 However, the employers' reasoning was strengthened by reports in August that Saravanan said contract cleaners and security guards employed to work in government buildings and facilities were bound by the terms in their existing contracts, which reflected the RM1,200 minimum wage.
Saravanan declared that these workers were not entitled to the minimum wage that came into effect on May 1 and had to wait for the finance minister to revise their contracts.
Siti losing RM400 monthly
"It has been two months since this announcement but nothing has changed for the workers and there doesn't seem to be any urgency to rectify the situation," Rani said, worried that these labour violations would carry on indefinitely.
Unfortunately, this does not address Siti's predicament or that her salary is still lower than the RM1,200 other workers enjoyed until the new increment was announced in May this year.
Rani explained that workers were losing money and there was little assurance of reimbursement for the unpaid increments they have lost this year.
"They are workers who are in the lowest bracket of the wage scale and are forced to lose RM300 every month as long as the government drags its feet on this matter.
"By end of October, the government would have denied each worker RM1,800 and Siti would be owed RM2,400 but we don't know if this will be factored in," Rani said, arguing that this was a form of forced labour and wage theft by the government.
Rani recalled how hundreds of workers were caught in a similar situation in 2013 and never received a whole year's unpaid increment of RM100 per month.
The government has been slow to recognise the non-compliance of the minimum wage order 2022 by its own contractors and even slower in rectifying the matter.
However, there are sectors that may have to wait much longer for wages that even Bank Negara has declared did not meet living wage standards.
A month after the latest minimum wage order was announced in March, the cabinet decided that certain sectors like tourism and the hotel industry would be exempted for a year to recover from the effects of the global pandemic downturn.
In making this announcement, Saravanan also acknowledged that informal workers in rural areas were earning monthly wages of between RM500 and RM600.
Although this was far below the first minimum wage of RM900 implemented a decade ago, Saravanan reasoned that forcing compliance on employers may put workers out of jobs.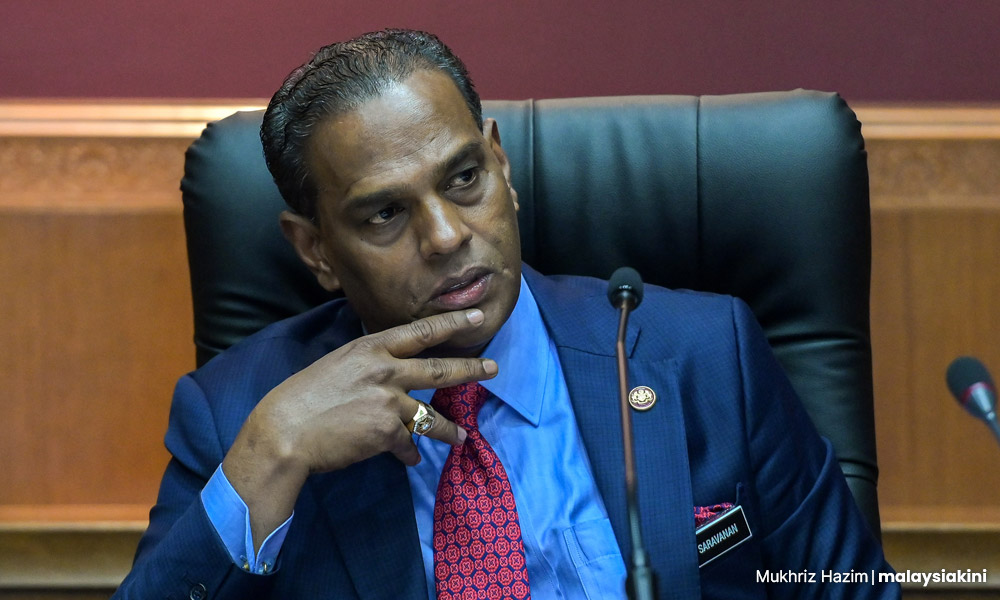 Others who were exempted from the implementation of the Minimum Wage Order 2022 until the end of the year were employers with less than five workers.
Among the documents employers shared with Siti was a memorandum from the Gabungan Persatuan Kontraktor 1Malaysia addressed to the Senior Education Minister Mohd Radzi Jidin.
It listed five requests to the ministry to bring the workers' minimum wage payments up to date.
Contractors in a bind
The requests in the memorandum sighted by Malaysiakini, stamped and signed on Aug 24, 2022, called for every government contract to comply with the Employment Act 1955 and relevant state and federal laws, respectively.
The memorandum also requested for every payment to be made in accordance with the Treasury circular issued by the Finance Ministry.
It urged that payments be made within 14 days of the invoice being issued.
Another letter to the Education Ministry deputy secretary-general Noor Azman Abdul Rahman, stamped received on Oct 13 from Gabungan Kontraktor KBK Wilayah Utara, requests a meeting to discuss unpaid claims.
The group is appealing to the ministry to approve the Minimum Wage Order 2020 and the commencement of automatic e-procurement adjustments to settle 33 months of alleged unpaid claims.
Nevertheless, the Labour Department was accepting complaints of non-compliance with the minimum wage order from contract workers as the department was bound to enforce the order.
To help workers claim their rights, Rani said she was forced to file third-party complaints instead of direct complaints by the workers themselves.
Not protected by Labour Department
"This was necessary as workers who made direct complaints have been unfairly terminated," she said.
Rani has filed 127 third-party complaints at respective district labour departments and submitted more than 100 names of errant contractors to the Education Ministry.
"We have helped some workers who were terminated to file complaints with the Industrial Relations Department for reinstatement but they still have to wait a few months without salary.
"The risk of losing their already meagre income, even if it was for a short period, can be very frightening to those who are getting by with no savings.
"No one from the B20 wage earner bracket can live without income for two months and employers know this," Rani said, adding that terminating a few workers, even if unfairly done, sends a chilling message to the other workers.
Rani lamented that the labour laws and rights that were on paper may look impressive but if workers feel too threatened to exact those rights, then these laws are useless.- Mkini