PKR's decision to drop incumbent Sungai Buloh MP R Sivasara after DAP dropped incumbent Klang MP Charles Santiago suggests that there is little space in the Pakatan Harapan coalition for Indian Malaysian representatives with intellect.
Ramanujam Ramakrishnan, the replacement for Sivarasa, and V Ganabatirau, the substitute for Charles, are not in the same league as those dropped by Harapan.
The diminution of the intellectual lustre of Indian representatives in Harapan began in GE14.
PKR fielded M Karupaiya, a school leaver who owns a transport business in Padang Serai, in preference to N Surendran, an accomplished human rights lawyer and sometimes counsel to party supremo Anwar Ibrahim during his sodomy trials in the last decade.
Karupaiya has been retained by PKR for GE15. His record in the proceedings of the 14th Parliament indicates he was a non-entity.
Ganabatirau, DAP's replacement for Charles, is nowhere near the latter in terms of performance and capability.
This was probably why he could not make a dent in Selangor Menteri Besar Amirudin Shaari, who earlier this year, sanctioned the formation of a council to advise him on how to alleviate poverty among B40 groups of the Indian population.
Ganabatirau, a state executive council member, was reportedly furious he was not included in the council, while Charles and Sivarasa are stellar members of the advisory body.
The humdrum is often discomfited at evidentiary reflections of their mediocrity.
Although factions are endemic to democratic politics, Santiago declined to fall in line with the evolving factions within DAP.
Focused on work
He stood aloof from them, preferring to concentrate on his work as MP. He grew better at the work with each passing year of his three terms (2008-2021) as a parliamentarian.
He became what the Italian social theorist, Antonio Gramsci, defined as the "organic intellectual".
This is someone cerebral whose immersion in the milieu of the work he has chosen for himself finds that after a period of time, he is able to gain the knowledge that informs with fact coupled with insights that light up pathways out the predicaments of people within his jurisdictional ken.
Gramsci's coinage - organic intellectual - was one of the great contributions to social thought in the first half of the 20th century, a device that enabled people of intellect to plunge into the hurly-burly of a polity to motor the development of the proletariat.
Charles' experiences must have been the same as Surendran's in his only term (2013-2018) as MP for Padang Serai and Sivarasa's (2008-2018) as MP in Sungai Buloh.
Representatives like them can only get better with time unless, of course, they allow themselves to wither on the wane.
For PKR to have allowed Karupaiya, who only joined the party in 2012, to replace Surendran at GE13 (May 2013) was nothing short of a joke.
As soon as he enlisted with PKR, Karupaiya began challenging Surendran to become Padang Serai division leader, by splurging on Tamil schools and Hindu temples in the constituency.
Profits from his transport business gave him the wherewithal to not only do so but also to donate to PKR's coffers, with considerable doubt as to whether the money actually went to the party or high-flying individuals.
Surendran, meanwhile, was doing pro bono work for Anwar.
The busyness of doing such work would sometimes prevent Surendran from returning to Padang Serai from the Klang Valley, where he was domiciled to do constituency work on the weekend.
Although lawyer Sivarasa vis-a-vis Sungai Buloh, was not at the same geographical disadvantage as Surendran pertaining to Padang Serai, he was advising Anwar on his legal travails and stayed true to him, in spite of growing doubts about his leanings in the Azmin Ali vs. Rafizi Ramli rivalry that began to "poison the well" within PKR from 2014 onwards.
Earlier this year, Sivarasa beat back a challenge from Ramanujam to remain as Sungai Buloh PKR division chief.
Victory was achieved in the teeth of the money expended on his campaign by a well-heeled Ramanujam, a businessperson and a former MIC bigwig, who was obliged to quit that party in 2014 because of a civil suit he lost.
Apparently, defeat in the divisional polls has not prevented Ramanujam from being nominated as the candidate to replace the victor at GE15.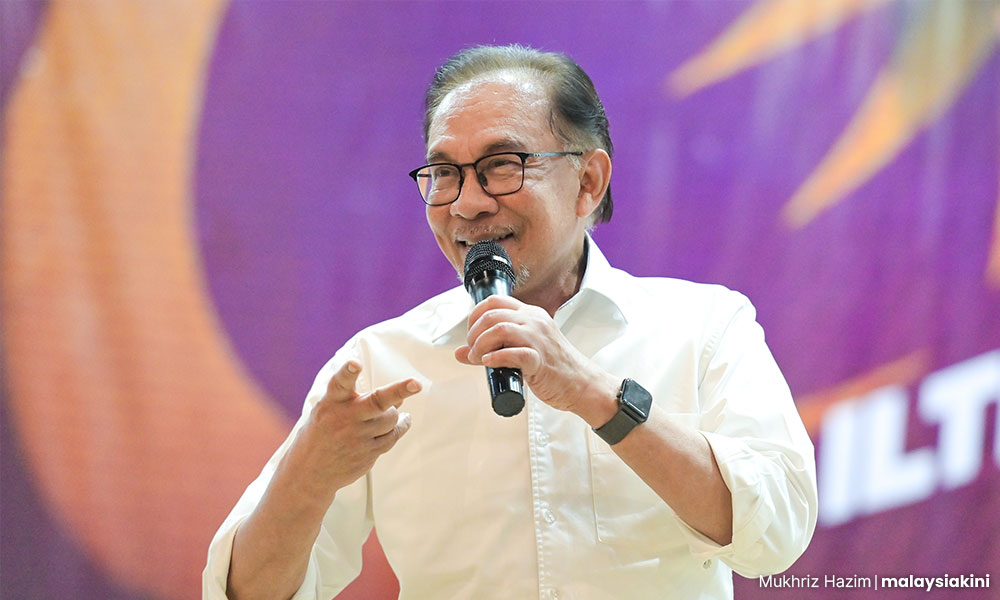 This is a pity, more so if Umno, as seems increasingly likely, nominates Health Minister Khairy Jamaluddin as their candidate to contest Sungai Buloh.
That would make it one Oxford alumnus against Rhodes scholar Sivarasa. Both could debate each other.
Khairy, if he is the Umno pick, would not deny Sivarasa's invitation to debate, even if caretaker prime minister Ismail Sabri Yaakob thinks that such debates are not part of Malaysian culture.
This would redound to Anwar's advantage in his strategy to entice Ismail Sabri of Umno-BN and Muhyiddin Yassin of Perikatan Nasional (PN) to prime ministerial debates.
Anwar's choices over the last few years have been an embarrassment to the man before his second conviction (2015) and imprisonment for sodomy.
The collateral damage from that is the diminishment of Indian Malaysians' intellectual lustre in PKR and in DAP, too. - Mkini
---
TERENCE NETTO is a journalist with half a century's experience.
The views expressed here are those of the author/contributor and do not necessarily represent the views of MMKtT.