Amanah has dropped four of its 11 incumbent MPs from its lineup for the upcoming 15th general election.
The Pakatan Harapan component party will contest a total of 54 seats, a 35 percent increase from the last general election.
Those dropped are Hanipa Maidin (Sepang), Anuar Tahir (Temerloh), Hasanuddin Mohd Yunus (Hulu Langat), and Hasan Bahrom (Tampin).
In an official announcement by Amanah's top leadership this evening, the party also revealed that incumbent Shah Alam MP Khalid Samad will not be defending his seat but instead would be fielded in Titiwangsa.
The party is sending Azli Yusof, a new face to contest in Shah Alam.
Amanah also announced former Malacca chief minister Adly Zahari as its candidate for Alor Gajah.
The party had swapped the seat with DAP in exchange for Jerai in Kedah. Amanah had sacked its Kedah state chief Phahrolrazi Mohd Zawawi who opposed the trade.
On those dropped from contesting GE15, Khalid, who is Amanah communications director, said the decision was made as part of the party's transition plan where they want to give chance to new faces.
"This does not mean that the MPs were not performing well in their duties. But it was a transition process where we in Amanah wanted to encourage new talent and faces to be given a chance to contest.
"Like Hasanuddin in Hulu Langat, Hanipa in Sepang, Hasan in Tampin, all of them had shown good performance. But based on certain calculations, we take this as an opportunity for the new faces," he told a presser at Amanah headquarters in Kuala Lumpur.
Khalid added that Anuar, meanwhile, was initially listed to contest but had to be replaced due to health reasons.
During the media conference, Amanah secretary-general Hatta Ramli said the number of seats they are contesting in GE15 has increased by 19 from 35 in the last general election.
Among the new seats allocated to Amanah include Langkawi and Baling in Kedah; Sri Gading, Kota Tinggi and Pengerang in Johor; Alor Gajah in Malacca; Jempol in Negeri Sembilan; Sabak Bernam in Selangor; and two federal territories seats, namely Titiwangsa and Labuan.
Among other new faces Amanah is fielding include former MACC director-general Latifah Md Yatim (Sik), and Nik Faizah Nik Othman (Pengkalan Chepa), who started the "white flag" campaign during the height of the movement control order (MCO) due to the pandemic.
Kedah fiasco
Meanwhile, on the party's decision to sack its Kedah chief Phahrolrazi Mohd Zawawi, Mohamad said the leader still can "file an appeal".
He added that disciplinary action is normal in any political party.
Khalid, meanwhile, described Phahrolrazi's call for Kedah Amanah leaders to sabotage the party by boycotting GE15 as "outrageous" and disciplinary action had to be taken against him.
"In Amanah, we have no problem with differences in opinion, but when one calls for party members to boycott the general election, this would not only affect Amanah but also Pakatan Harapan.
"It is akin to surrendering Kedah to our opponents," he said.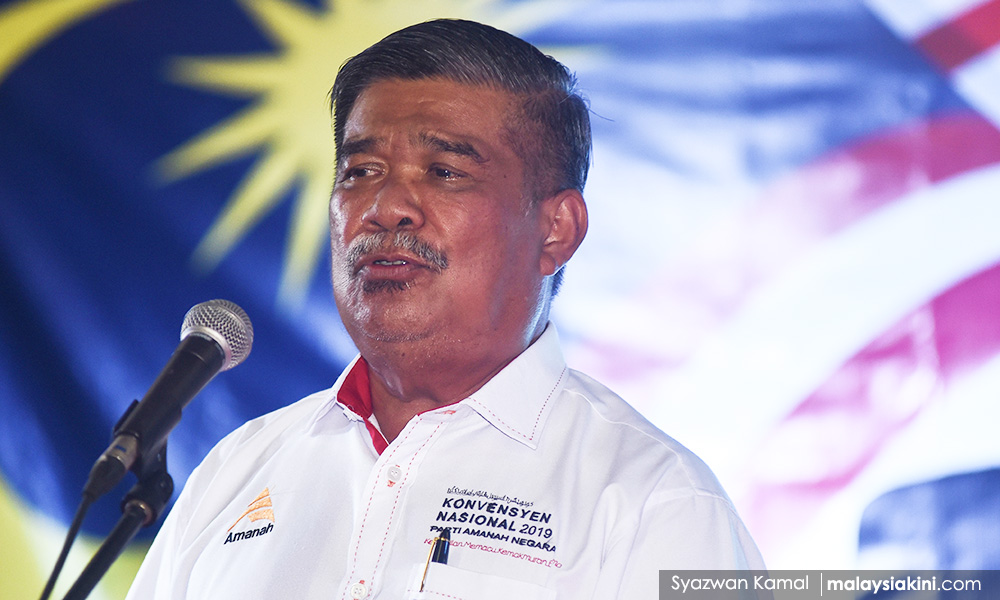 On two Amanah leaders Husam Musa and Nik Omar Nik Aziz contesting in GE15 under PKR, Mohamad indicated that it was okay for them to be fielded by another party as long as they stayed within Harapan.
"It is normal. We welcome them to be fielded anywhere. They can go anywhere as they are still within Harapan's sphere," he said. - Mkini