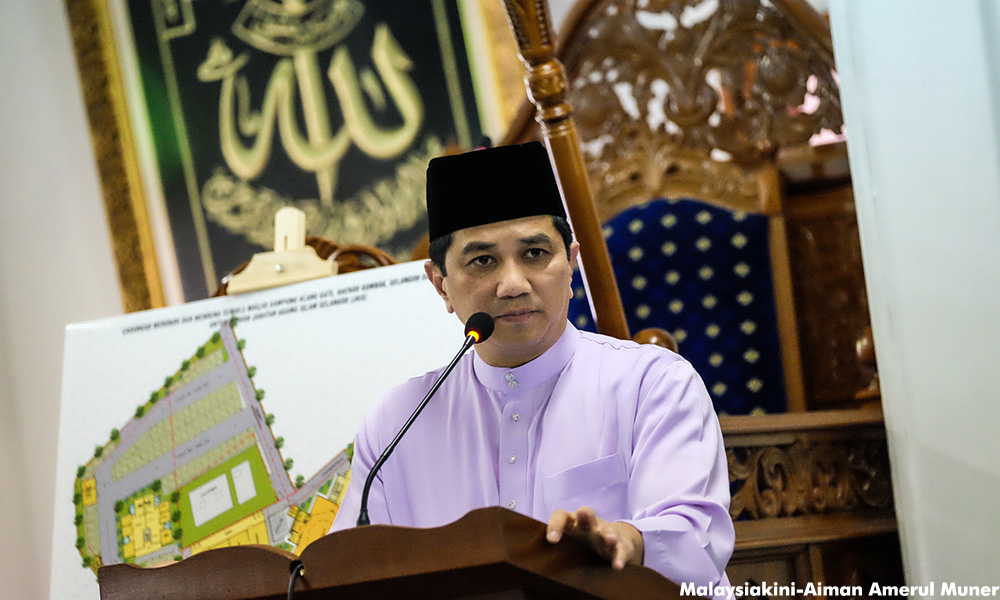 Political leaders in Selangor must adhere to the guidelines set by the Selangor Islamic Religious Department (JAIS) on organising of events in mosques and surau so as to maintain the sanctity of these places of worship, said Menteri Besar Mohamed Azmin Ali.
He said Muslim and non-Muslim political leaders should abide by the rules in respecting mosques and surau as places of worship which also unite Muslims.
"Elected representatives are allowed to organise events at the mosques and surau, but have them in the mosque or surau compound, not in the prayer area.
"On Subang member of parliament R Sivarasa making a speech at a mosque in Subang last week, I had an audience with the Sultan of Selangor, Sultan Sharafuddin Idris Shah yesterday to explain the situation," he told reporters after chairing a state executive council meeting in Shah Alam today.
Sivarasa allegedly marred the sanctity of An Nur Mosque in Kampung Melayu Subang, near here, when he gave a political speech in the mosque, last Wednesday.
The Parti Keadilan Rakyat (PKR) elected representative, however, denied giving a talk at the mosque, but said he was there to give a short speech on the state government's commitment to continue assisting mosques and surau in the state.
Azmin, who is also PKR vice-president, said Sivarasa had met him to explain the situation but he (Azmin) declined to elaborate on what was discussed.
Azmin also clarified that Sivarasa was not representing him as the event was organised by the Subang MP's office .
Meanwhile, Selangor Umno liaison chief Noh Omar said the repeat of such incidents involving non-Muslim political leaders showed the individuals' lack of respect and understanding of the sensitivities of Muslims.
Noh who is also housing and local government minister, said the issue was not something new because previously, a female elected representative from DAP had also committed the same misdemeanor.
"Although there was public outcry over this, it is still happening now due to the attitude of individuals who might have no respect or are ignorant of Muslim religious sensitivities," he told reporters after distributing rice porridge to the staff of the ministry in Shah Alam today.
Yesterday, Jais director Haris Kasim reportedly said Sultan Sharafuddin had expressed his anger and disappointment with the MP who was alleged to have given a talk on politics in the mosque.
According to Haris, the sultan conveyed his displeasure over the matter to him personally and had ordered Jais to take immediate action against the mosque committee and event organiser.
Several photographs of Sivarasa at the mosque have also gone viral, causing uneasiness among various parties.
-- Bernama