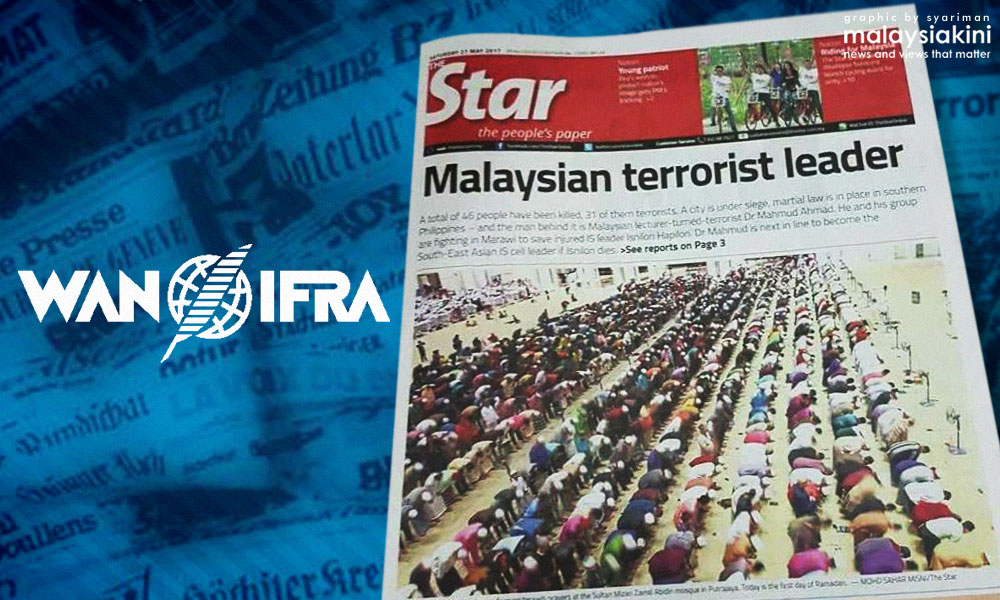 The World Association of Newspapers and News Publishers (Wan-Ifra) Media Freedom Committee of Malaysia today condemned the action taken against The Star newspaper over its front page published on May 27.
The showcause letter issued by the Home Ministry is yet another infringement on press freedom and underscores the urgent need for a repeal of the Printing Presses and Publications Act 1984, said the committee in a statement.
On May 27, The Star published in its front page a picture of Muslims praying under the headline "Malaysian Terrorist Leader", which was meant for another story.
Following backlash, the English daily issued an
apology
and explained that it is normal practise for the paper to print a picture of the first terawih prayers on the first day of Ramadan, and it was coincidental that the day fell on the same day it ran a report on terrorism.
Despite the explanation and apology, the Home Ministry yesterday gave the paper seven days to convince why its publication licence should not be suspended.
The daily, Wan-Ifra said, needs not further censure as it had behaved in a correct manner in addressing the audience's concerns, and taking corrective measures to rectify its mistake.
"It should be noted that the suspension of The Star's publication license will affect the livelihoods of hundreds of staff members, including support staff who are faultless in the matter.
"That said, the incident, which comes soon after newspaper Nanyang Siang Pau received a ministry warning over an allegedly offensive cartoon, also underscores the need for industry guidelines," it said, stressing the need for the formulation of guidelines for ethical reporting, to avoid arbitrary action against journalists and media houses by the government.
The guidenlines can also serve as means of self-regulation, by the media and for the media, it added.
"This can be done through the formation of a media council, with representatives from the print, online and broadcast media, and which would act as an ombudsman for public complaints against media.
"It is with this objective that the Wan-Ifra Media Freedom Committee Malaysia invites editors to join a roundtable session on issues raised as a result of this incident. We believe the industry needs to talk to each other and work together towards this common goal. A formal invitation will be issued closer to the date."
It cited neighbouring Indonesia, where an independent and industry-led press council kept the media in check without government intervention.- Mkini