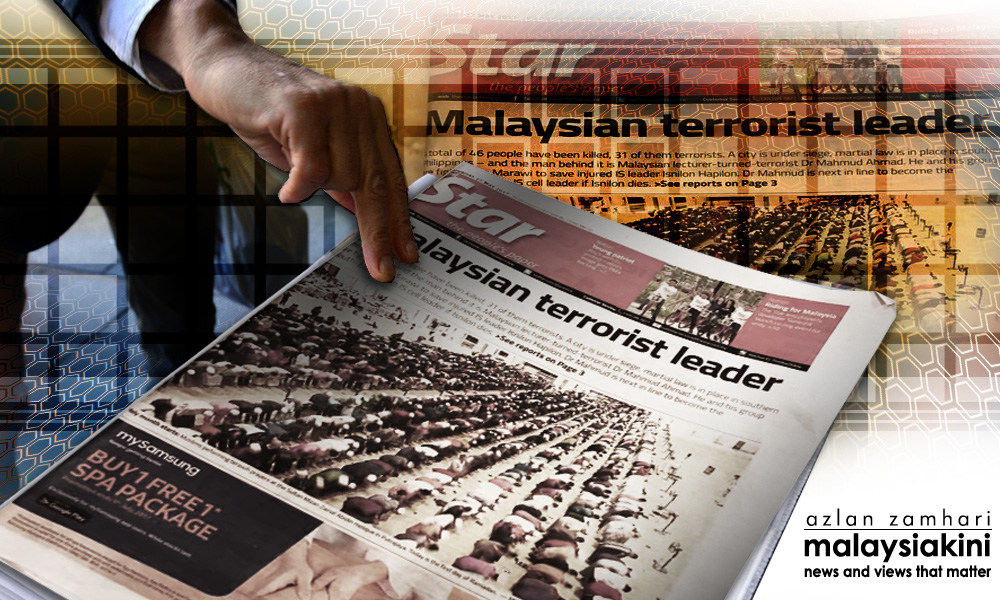 Firstly, it simply does not make sense that certain quarters should blame The Star for publishing a headline, "Malaysian Terrorist Leader."
I have not read the article myself but based on the image of the English daily, it is clear that the story is independent of the photograph of Muslims at prayer.
The two stories are equally important for a front-page treatment unless of course, we are saying that the first article should be given maximum highlight instead of the photograph.
From the editorial point of view, the story of the Malaysian terrorist leader is more newsworthy and should have been the main story.
This could at least have avoided the unnecessary fracas and rumblings from groups like Perkasa.
It is sad that while Prime Minister Najib Abdul Razak is telling the people "to reject all forms of extreme teachings", the government is bowing to the pressure from lobby groups.
By allowing this fracas to continue, it is akin to giving the thumbs-up to the lobbyists which the general public do not even agree with.
Over a small conversation I had with a G25 member, Noor Farida Ariffin, it is obvious that even G25 does not agree with such treatment of an English daily.
"I don't think The Star intended to insult Muslim sensitivities. At any rate the newspaper has already apologised. That should be the end of the matter," she said.
I also think that the inspector-general of police Khalid Abu Bakar is over-reacting by invoking the Sedition Act 1948 against the English daily when its intention was not even to cause religious animosity.
The two editors, Leanne Goh and Dorairaj Nadason, should not even be suspended by their employers just to appease certain quarters.
I do not think it was because the editors lacked sensitivity as suggested by Gerakan Hapuskan Akta Hasutan; rather, it was because certain parties are either being oversensitive or trying to win some brownie points by harping on a non-issue.
After all, we know that the general election is coming and nothing is better than to harp on something like this.
Both editors have served the papers for many years and investigations into such a baseless allegation should be stopped altogether. MCA should speak up, but they remain very silent about the entire fracas.
I can only say that it would be tragic if the Home Ministry continues to harp on this issue. From the observation deck, we are laughing because this will definitely turn away people from voting Barisan Nasional in the coming general election.
If the government is unable to control those lobbyists who are oversensitive and making a mountain out of a molehill, both Umno and MCA will surely lose more votes.
This should hopefully put things back in order again.
---
STEPHEN NG is an ordinary citizen with an avid interest in following political developments in the country since 2008.- Mkini