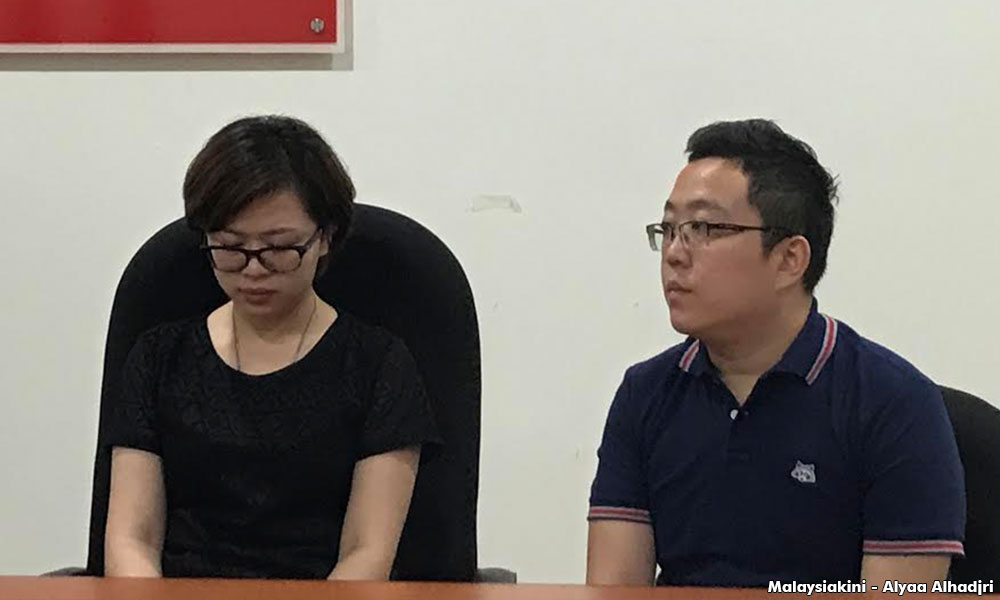 A 26-year-old sales assistant from Puchong, who was robbed by an Uber driver and his accomplice 10 days ago, has requested for an ex-gratia payment from the e-hailing company.
Selangor Gerakan chief David Ang said that the undisclosed amount was part of a settlement negotiated with representatives from Uber Malaysia on behalf of the victim.
"Uber came to see us and to find out further how they can assist the victim.
"We had a very lengthy discussion today. At the same time Uber also wants to know how they can compensate victim," Ang told a press conference at the Selangor Gerakan headquarters in Bandar Utama.
Present was the victim, Wong Mei Yan, and her husband Tiong Ting Siong.
Ang said the couple have accepted offer for legal representation by Gerakan Youth deputy chief Andy Yong and Gerakan Youth legal bureau chief Chai Ko Thing, both of whom were present during the meeting and press conference.
Ang said the victim has presented a compensation proposal to Uber, which includes an urgent request for the company to cover the cost of her medical check-up, following a miscarriage sustained about one week after the incident.
"At the same time we also urged Uber to give public assurance on safety measures and procedures they do to vet their drivers," he said.
Ang said the meeting today was organised at Uber's request but noted that the company's representatives did not immediately respond to their demands.
Wong had reportedly indicated her plans to sue Uber for emotional distress.
However, Yong today Uber now has two-weeks to respond to her request for an ex-gratia payment.
"If they agree, then we won't proceed with the suit," he added.
Wong's ordeal had gone viral after a passerby who found her by the roadside on the night of the incident shared the story on Facebook.
At the time, she had booked her ride home to Puchong Jaya from Mid Valley through Uber and got into the vehicle despite there being another man sitting in the front passenger seat.
When they arrived at One Puchong business centre, the other passenger allegedly pointed a knife at her and forced her to hand over her valuables.
It was also reported that police arrested the 22-year-old Uber driver from Kulim, Kedah, last Wednesday.
He was remanded for seven days until May 31 under Section 117 of the Penal Code for abetting the crime.
It is understood that the order has been extended until June 7.- Mkini